Single Page Web Design: Trends, Tips & Advice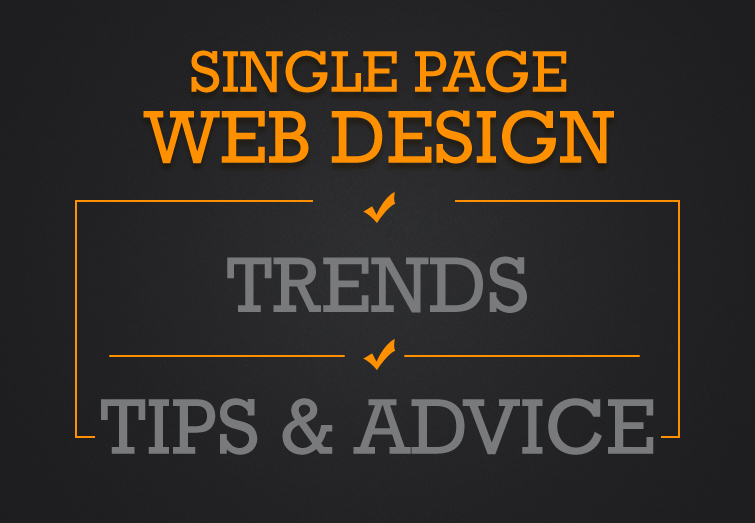 A lot has already been debated over single-page web designs vs. Multiple-pages. However, let us assure you that many websites work perfectly well with single-page designs. Most of these projects involve a lot of company websites, landing pages, product pages, and portfolio websites.
Every brand representative wants a website that may have little content but clear navigation and strong branding. And, that is precisely how you would wish to your website to be. As a business owner, you have always worked for providing the best experience to your users, and So, let us delve deeper and understand what it takes to create a massive impact with a single page web design. Our aim here is to cover every design trend, tip, and give you ideas on what web design is.
Auto-Scrolling Nav Links
An automatic scrolling navbar is the most used characteristic feature of single-page designs. Here, when you click on the link, it will be automatically redirected to the particular section of the page. This feature works totally like a regular navigation menu. However, it differs from the concepts of a custom animation scroll effect in the other web design services that can provide the users with a fantastic experience.
Using this option, you can ensure that the page sections take minimal loading time and navigation gets extremely easy to decipher. That is the principle that you need to follow while designing an auto-scrolling nav effect. You can look for tutorials on how to design a web page for further ideas. But before that, you need to check for the Critical SEO Checklist Items for Website Design & Development to understand the concept in a better way.
Side Navigation Labels
While with a single-page website, you want to keep things simple and easy, you might also not want to do away with your creative inputs. And, that is precisely when you design a vertical navigation option rather than getting it fixed on top of the web design page.
Such a navbar will still work as a typical navbar, but it would look a little out of the box and be more comfortable to access in the given space, however, if your website has a lot of text content or needs to handle a lot of smaller screens with the same menu. There are tremendous benefits of a responsive website. In that case, you need to opt for mobile-friendly sensitive web design menu techniques. Irrespective of everything else, this menu option looks pretty sleek and saves a lot of room.
Portfolio Layout Ideas
Let us make you aware of the fact that you have to keep a lot in mind while designing a portfolio site. This is the place where you get to showcase your work and creativity. All of your past projects are highlighted in this one page and speak volumes about you.
So, even though all portfolio sites cannot be fit in a single page, it would always be a great idea to incorporate minimalistic design sense. It will not only be clean and straightforward but also give the users a fantastic experience to look at. All you need to do is find the web design sites that can provide you with designs to fit your portfolio perfectly well, and you will be good to go.
Addition Of CTAs For Sales Pages
CTAs work well for pages that sell a product or digital course. Such a design would hold good in case of a landing page where that is the only page your user might see, totally like a single-page design. Encouraging conversions is the biggest reason for creating such pages. Such transformations can be achieved from adding options, including an email submission, purchase, or even a sign-up. It depends solely on your requirements.
Most of the fantastic CTA designing involves the use of excellent font choices, colors, position, and size. These will bound to get people clicking on the link at first glance. As long as you achieve your goals, you are on the correct path. One of the most vital signs of a great web design agency is that they would be aware of this.
On-Scroll Page Animations
Now, before you start apprehending that an on-scroll animation is the same as nav animation, let is burst your bubble. An on-scroll animation is a category on its own and is a pretty amazing effect. Here you can add page elements that can provide self-animation impacts throughout the entire page while scrolling. The idea is to add dynamic features and make the page look interactive.
The biggest misconception that you may have about this option and other Web Design Trends is that it would radically change the page's intent or behavior. It is, however, an aesthetic trend that makes everything look more straightforward and more comfortable. Also, this option is not feasible for every page. You can easily incorporate this idea into pages with lesser content that can be moved while you scroll through the same.
Splitting The Page Into Sections
Segmenting your content through a single-page navigation layout only entails better user-connectivity. You can always break up the page into sections by using dividers, icons, header styles, background colors, and everything else that suits your requirement. This only helps the users to understand your content faster and without any difficulty.
Page sections are all about color and design coordinations alongside the page detailings. It might look tricky to achieve in the first go; however, the more you practice design mocks, the more perfect you will get with your craft. You can try this technique with pretty much every page to enhance your creative horizon. This only matter that plays a pivotal role in this aspect is your ability and willingness to explore with experiments.
Parallax Single-Page Trends
If you are an avid web designer, we won't be surprised if you already knew about parallax scrolling or came across a varied range of websites that have used the parallax techniques continuously. These days, such a scale of the design is quite familiar with a diverse range of sites.
However, the only reason that we would not recommend you make use of the technique is that they are used too commonly these days, and the majority of the websites delve too deep with the whole idea. So, even if you decide upon having such a website, you can always set up the same in a single page design layout.
Today, a lot of free parallax plugins are available online, which might help you achieve your goals. With these plugins, you can create your illusion of movement on the website. You can use a combination of fixed and dynamic elements, including pictures and micro-interaction, to the actions of the mouse. Although the last option may be the most difficult to create, with practice, you will easily be able to get what you are looking for.
Despite all odds, you need to be clear about the fact that animated parallax feature does not exclusively use single page design as there may be other websites involved. You can, however, use an animated parallax feature with a solid amalgamation of a fixed background, to create a different and weird motion effect as the user moves through the content.
Therefore, irrespective of what you have in mind, you can always find a wide range of varieties in terms of headers, content, images in the different creative marketing ideas attached to the overall user interface of the single page web design. It will be a great idea if it blends with your project well.
The Final Words
Being a part of a reputed website design company, we have compiled the trends as mentioned earlier and techniques that we have come across during our tenure of designing single-page layouts. However, the information posted above is not the ultimate holy grail for the process. If you have an open mind and are ready to experiment with different trends, we are sure you will come across several other trending techniques to make your website the most amazing one.
Remember, no two websites must look-alike, or precisely similar. So, you will have a lot of scope for experimenting. So, you have all the creativity and space for studying the different single-page designs matching your taste and merging all of them to create a wholly new and version of fantastic website design.
Are you looking for an amazingly single-page website designed by experts? Are you trying to figure out how to find the best web design and development services? What are you waiting for? Feel free to connect to the professionals right away!