7 Web Design Trends to Lookout for in 2019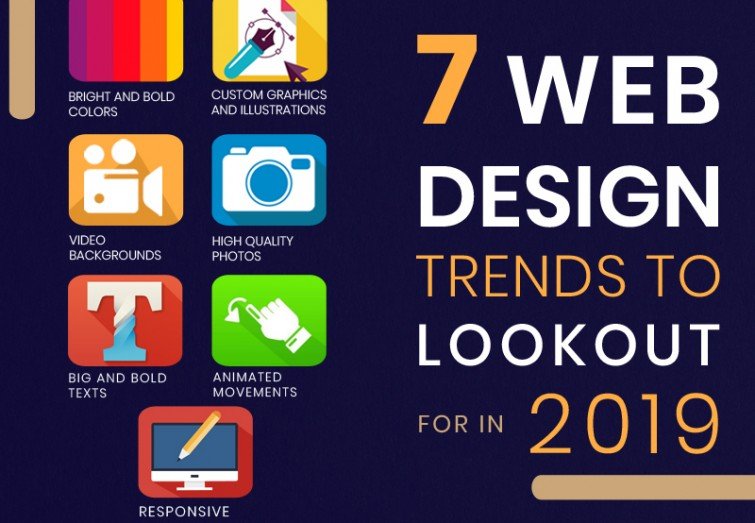 Like all other artistic fields, web designing is more like a fashion that changes almost every year. What got hit in the previous year can become obsolete, and a new trend may be popular in the New Year. To serve the customers and to make them 100% satisfied, you must design their website with the lookouts according to the current trend.
When it comes to designing a stunning website, it is crucial to develop the same as per the modern trends and for this; you need to stay updated with the latest trends in the web design industry.
Keeping all these in mind, we have discussed the seven web design trends to look out for in 2019.
Use of Bright and Bold Colors: Yes, the bright and bold colors are still popular this year. Gradients that are incorporated with bright and bold colors are going to rule in 2019 as well.  This is because, with these types of color gradients, you can easily customize your website's appearance to produce something more dynamic that can define what your site is all about. Also, using bright and bold vibrant colors will make your site stand out in the crowd.
Use of Custom Graphics and Illustrations: Graphic design and illustrations are not similar; there is a minute difference between the two. Graphic designs are used to carry out a specific message to your audience while illustrations offer a visual representation of an idea or text. Both of these were an essential element of a website in the previous years, and they are even in the latest web design trends in 2019.
Incorporating Video Backgrounds: Similar to 2018, when video background was the king of marketing content, this trend is going to continue even in 2019. Since videos are lively, it's hard for visitors to ignore them and thus, they can become the most powerful content in the digital industry. With social media marketing becoming stronger day by day, the trend of designing a website with videos in the background has become an essential trend in 2019. Use of video background in your site may have several benefits and can help you capture the maximum users' attention, but the most important advantage that this latest trend offers is that video background help in useful conversions. With this, your website visitors will be prone to stay longer in your site and will more likely to sign-up or opt-in your services.
High-Quality Photos: According to the old saying, a picture says a thousand words. Therefore, using high quality and creative image in your website design will be able to evoke people's emotion. Using little texts and more pictures have become a vital web design trend in 2019. Highly creative images enhance the online experience and moving forward in 2019 and coming years; they are going to be an integral part of web design.
Big and Bold Texts: Use of big and bold texts and typographies in the above the fold banner of a website is a hit in 2019. There are plenty of reasons behind this. Bold headlines look striking and help to create a strong identity of brands. Also, by using big and bold typography, you will be able to include more power in your message.
Animated Movements: Similar to the video in the background, small animated movement in the background is a big hit in 2019. Lively and integrated animation when placed strategically throughout the website can define great interfaces. It also helps to enrich interaction and make your site more exciting.
Responsive Website Design: The introduction of 4G has impacted a lot on the mobile users, and as more numbers of visitors are now opening their favorite websites on their mobile devices, the use of responsive web design has become an inevitable part of web design in 2019 just like it was in the previous years.