Content Management Systems: Trends & Effects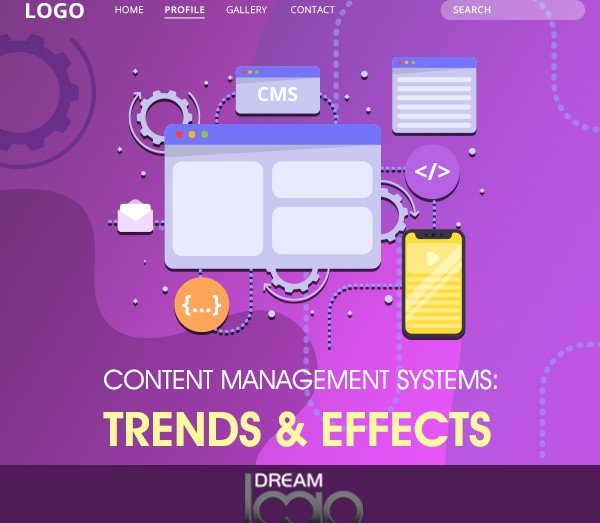 Content has been the prime focus for organizations and industries recently. Business owners are looking out for content that is current and relevant. Being a website owner, you must familiar with the difficulties of keeping your content under control. Your staff manually manages all the content while they search for relevant pieces of information. This whole process of manual searching, distributing, faxing, and photocopying can be expensive and time-consuming.
The fundamental goal of every organization is to scale its business and increase efficiency. Hence, they implement a content management system and enjoy benefits that increase efficiency. A content management system can revolutionize the management of content and information. It is a web-based application that gives you the ability to find, retrieve, and share your documents instantly.
They provide a lot of functions for various web projects. While introducing a new content management system, a lot of factors are taken into account. Some of the important factors are usability, content delivery, security, expandability, and collaboration. Various trends will have a huge impact on your content management system. It would be best if you considered that too. Here are some content management trends:
Digital transformation
In this course of digitalization, a lot of changes have come to our life. The work pressure has increased with the availability of internet. Communication and digital management of content, transaction, and applications became an important part of our life. Every business wants to expand its internet presence by extending its network of partners and customers.
A website with premium WordPress hosting requires applications, management, CRM, emails, analytics, chat, social media, and payment gateways. Customer relationship management can provide all these services if it is connected to the cloud. Hence, the next important trend is:
CMS hosting in the cloud
You don't need to separately install a content management system for a website that has woocommerce managed hosting. It comes as one of the services and makes it easier for the companies to handle. Businesses save a huge amount of time and money during installation and system installation.
 Enjoy the benefits and advantages of the cloud by not hosting your CMS in a private cloud. Integrate your CMS to a real cloud stack. This will help in the easy arrangement of the services.
Good usability
The most constant trend for all businesses is concentrating on their customers. If the company wants to be economically successful, then take this seriously. Developers write these management systems that are the problem. They think like developers while writing, and the user-friendliness gets lost there.
Hence, when you choose a new content management system, there are two factors that you should not ignore. Firstly, Never ignore the learning effects of your users. CMS should be so user-friendly so that they have to put in less training efforts. Your CMS structure should also have a modular structure that encourages real-time collaboration and content migration. There should be some fun factors for your editors too.
Frameworks for building websites
Frameworks collaborate with the cloud to provide a strong base for building websites. They save a huge time and money. Developers can easily reach their goals with the help of prefabrication. Apart from that, frameworks also reduce project costs and the amount of code required.
Experts suggest that the Bootstrap CSS framework should be your preference here. It has HTML and CSS-based templates for forms, buttons, tabs, and typography. With a lot of other elements for interface designs, they also have JavaScript extensions. JavaScript is more popular among developers than Python and PHP.
Content delivering networks
Speed matters in IT- almost all users have experienced trouble due to slow websites. Studies reveal that 70 percent of all internet users are daily annoyed when websites don't work properly. If you want to increase the conversion rate, your website should load in less than 2.5 seconds. Extra seconds can reduce your conversion rate. That is why business owners go through hosting reviews before hosting their site.
If you want to distribute your content globally with low latency, you should let content delivery networks take over. They will take the responsibility of delivering content to your users and stream applications. Every CMS needs to be connected to a CDM for its huge storage and delivery capabilities.
The positive effects of CMS
Business owners are choosing a managed wp hosting service to create their website. And every website needs a CMS to control its content. This system provides proper tools to add new content or update old content quickly. You don't need to wait for your developers to make the updates for you. You can assign this to your content team. There are a few positive effects of CMS:
   Archiving: You can write articles with the help of CMS. And once you're done, you can archive the article. You can also categorize your article, add tags and images, and link them to other pages on the web. Your CMS can give you complete publishing control on your content.
   Comments: A cool aspect of CMS is that it provides an option of leaving a comment. You can create a thread of discussion on your website. The audience always likes to leave a comment after reading a good article online. This comment section will indirectly tell the world that your article is worth reading. You can also start a conversation with your reader.
   Sharing: The third feature of your content management system is that you can share your articles across social mediaplatforms. Your audience can read these articles from your social media handle and share them with other readers. This is an easy way of marketing. All you need to do is add the buttons for directly posting on social media.
Conclusion
A content management system has a lot of positive features. They are quickly adapting to new trends, out of which we shared a few with you. Publishing content is all about generating leads that will later turn into a business deal. Collectively, a good CMS will help your business grow.
Here in Dream Logo Design, we provide you effective web development services and content management solutions. Our hard-working team thoroughly manages your web content to generate leads and increase your conversion rate. We make sure that your brand gets the exposure it deserves.