3 Essential Content Promotion Tips to Get Your Content Seen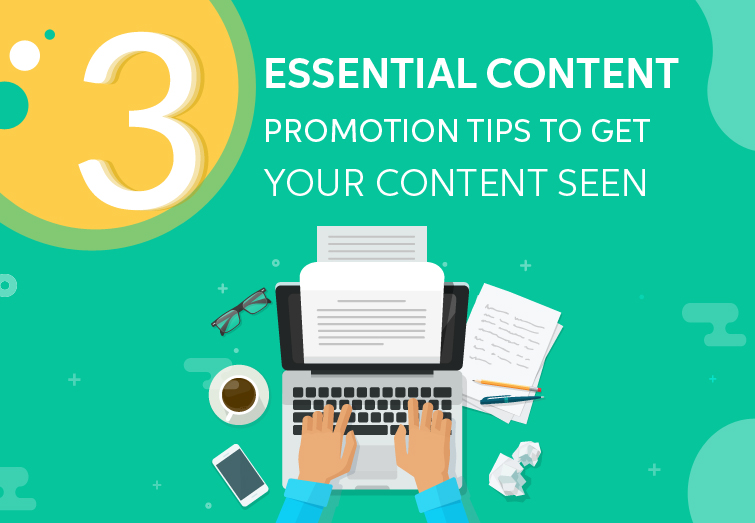 Okay, here's the thing! The currently prescribed strategy that we all follow for promoting our brand is writing content at a breakneck pace. It might sound quite a cliché to an outsider, but being into the industry for even a few months teaches you this: Write as many contents as you can, the quality of which may vary from mid to high range. Try to reach out to and infuse as many keywords as you can in those blogs, try to write-off your fellow competitors below the table, and boom – You discover the secret recipe to success! Isn't it? Honestly, NO! It isn't what you think!
It may sound too noisy and flimsy, but that is what you need to understand! Cracking content marketing promotion is not as straightforward or diluted as you may think it is. As it turns out, all of the processes described above are ineffectual. Today's market demands much more than just originality and quality of every content. If you are under the notion that you will bring in the much-required traffic by pushing in more quantity for the content, then it is time we burst your bubble. Such techniques will only bring in a dip in your site's visibility.
Biggest challenge that content marketers face
In the rat-race of trying to hit it off, you will never understand when you will fall face-down to get diminishing returns with duplicate contents. The biggest challenge that you ever face unknowingly is when multiple blogs challenge each other, fighting for the same keywords. The resultant, you wouldn't even know, and the ranking of your website takes a massive dip only to fail miserably to climb the ladders of Google again. And, we are sure none of us will like to face that; will we?
Considering the time slack
So, what is the proven way to reach there? Very simple, work smart while your rivals try to work hard to make ends meet! The success rate – 80:20! Sounds good, right? It only looks accessible and achievable as long as you know how to do it. Being a content marketer is not easy. It never was! If you look at it like this, writing a two-hours' worth of content probably takes the whole day of research to makes sure that it meets the creative aspect that the audience may want to look at. Now, that is an aggressive time-commitment!
Setting Goals and working on them
Your goal should not be to find the most creative ways of writing the content; it must be the most innovative way of promoting the same so that it can hit the right audience at the right time. Finding newer ways of promoting the content is somewhat more helpful than finding more unique aspects of writing the same thing over and over again! However, quantity cannot be dismissed totally. Statistics show that companies that publish more than sixteen unique blog topics on their website in a given month generate 3.5 times better traffic than the ones that publish around four topics at the same time.
So, what are the techniques that you may approach to get a surer rate of success? Let us discuss:
Tip 1: Videos on Social Media platforms are more effective
Let's get straight to the point. It is a fast-paced world out there. Nobody has the time to read through an entire piece of written work. The only way to project your ideas is to show them in clear and concise video footage. A recent study has already affirmed that around 80% of traffic generated on a particular website on a given day was accounted for video marketing. The figures only increase from here. So, you either adapt to the changing scenario or let the others take advantage of the fact and climb the ladder of success.
Tip 2: Do away with the cliché headlines already
Considering creativity, quality, and of course, competition, it only goes without saying that headlines like "Here is how you should make your website stand out" isn't an ideal way of generating that impression in the minds of your readers in the first glance. You need to understand that the more creative you can be with the title, without giving away its essence, the better traffic you can generate through the same. Titles such as "5 reasons for considering SEO analytics for your website" make more impact on beating around the bush with the kind of title above. You are putting in more effort in both cases, but your efforts must also be recognized and rewarded. And that, friends, is how you should project smart work!
Tip 3: Paid promotion may help too
Now, you may counter us here that despite plenty of options already available for unpaid marketing, what difference does paid promotion would make? While that is certainly a valid point, setting aside some budget for paid promotions goes a long way if you think about it! Paid promotion is undoubtedly the fastest way of bringing your content to the attention of your readers. And why so? Simple, while you pay for promoting your content out there, you also get the liberty of controlling your audience reach, and setting up a neat and pristine base of your ideal readers.
The parting thoughts
Success is not an overnight magic. So, do not expect instant returns. It might so happen that initially when you start with the promotions with a set strategy, you get to see a different rate of success, which would be devastating enough for you to quit then and there. However, that is just a phase, and that is when you need to stay focused and give your best shot. It is certainly not time to quit!
On the other hand, the same will not hold for a blog that is there in the loop for a more extended period. But, a little more traffic and consequent conversions won't be harmful, right? While every content marketer out there is trying to make it to the top, many are still struggling to find sure-fire ways of reaching there. So, the only way to reach out to your desired goal is to cut off the slacks and craft your next content more smartly. And, that is how you will reach the pinnacle of success in no time at all!