Branding & Brand Identities – the two faces of the same coin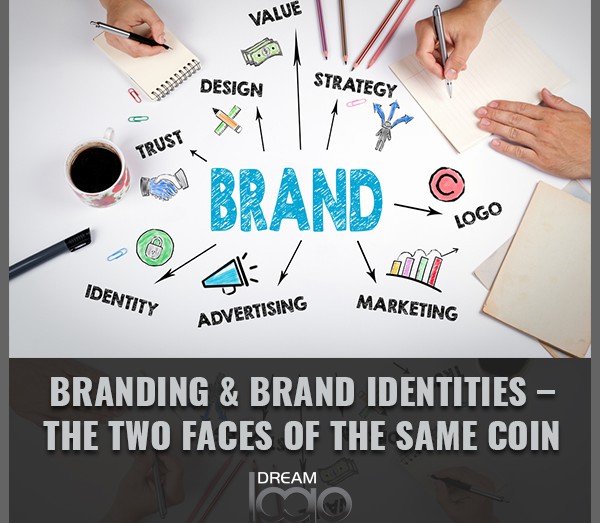 Your identity makes you unique; in the same way, brand identity is the special sauce that can make your business stand out – in other words, it becomes your USP. On many occasions, branding and brand identity is considered different from each other. But in reality, that is far from the truth; they are just the two faces of the same coin. To start a new business, you need to grow your branding and build a consistent brand identity. Just the design of your logo is not enough to create a good image for people to perceive. Entrepreneurs are visiting crowd-sourcing sites for designs. Everyone is on the hunt for a good design – if your design is not visually appealing then you might as well shut down your business.
If you are on a mission of building a great brand, instead of just a brand, you need to understand the thin line between branding and brand identity. Learn about each one of them to understand how the whole thing works. If you want to see your startup grow, you should know the exact purpose of each one.
What is branding?
Branding is a set of assets that creates goodwill for the company – your image depends on the quality of your branding, and so is your marketing. It is the definition of an emotional as well as a psychological relationship   between your client and your business. It is an experience. It consists of goals, values, visions, and the company's voice. Rather, it's your client's experience with your brand. It is a way of sharing your brand with the audience. The services, products, logo, and business cards of your company can create a good impression. They will remember these things when they think about your brand later. This psychological relationship between your company and the client, to simply put it, is known as branding.
Branding is also the personality and style of your business. Your customers will see and feel your style while using your products. This will give shape to your business, and it will make you different from your competitors. There is no denying that your Logo and other visual elements play an important role in this. Big companies are outsourcing logo designs even more because of the constantly increasing demand for innovative designs.
A great branding strategy will portray your values and your brand in the right light to your target audience. Once people are falling in love with your brand, they will start trusting you. They will believe in your superiority. When people believe in your brand, they will keep buying your products, even if they aren't the best in the   market.
What is a brand identity?
Your brand identity is what you can see about your company, much like your social media profile. Some call them visual identity because customers mostly see pictures. These pictures include color palettes, fonts, logos, and other graphical elements. The branding goes hand in hand with the brand identity, and sometimes, it is hard to distinguish between the two.
It will be easier to explain this with the help of an example. Warner Bros. Entertainment Inc projects an image of an exclusive and elegant brand. They are a perfect example of a brand identity pack. Their style is unique, and they have a simple website for all their movies. They use their iconic logo along with colors such as black, white, and other neutral colors. They also feature famous people in their ads. They have the perfect combination of brand, branding, brand identity, and brand design. All of these help in creating a special experience for their users. And that is their main objective behind the branding and brand identity.
How does branding and brand identity works?
If you want to understand how this works, you have to go a bit deeper. For a moment, let's assume that you are a middle school student. And like any other awkward per-adolescent, you also want to be perceived as cool. So, you don't build that image in a day – it takes time, and not to mention efforts. A lot of it, actually.
You need to make sure that you're watching the right YouTube channels to stay updated on the latest memes. You will start working on your free throw. You will also start cultivating an impression of your science and art teacher. These actions will work actively in developing your desired image. In simpler words, they are your branding. As a brand, you have to be updated with the latest trends and know what works for your brand, and well, what doesn't.
And finally, you will also have to be original and unique, to stand out – how else do you plan to beat competition? You immediately start saving up money to buy new shoes. You end up getting a new haircut for the same. You also try for that coveted gym membership. These tangible elements- the shoes, the haircut, and the gym membership- they're your brand identity. It will make you 'cool'. Your brand is just like you trying to be cool in their per-adolescent years – give it some time and effort, and see how it make waves!
Differences
Branding is not tangible; it is something that people see and have in their minds when they think of your business. It is an experience; in this way, people associate with your brand – it's very much psychological.
But your brand identity is tangible. It is more like the brand's face, the visual representation of the business. Everyone can see this. This promotes the recognition of your brand, making it different from the rest. People are crowd-sourcing graphic design from different websites to improve their visual identity. All the visual aspects of the brand can be seen as a brand identity.
How can branding and brand identity work together?
You create the foundation of branding while defining your missions, values, objectives, and target audience. And the brand identity is the visible face of your brand. That's why you have to make sure that your brand represents everything in a very distinctive and professional way.
Brand identity is the set of characteristics that will define the values and missions of your business. The product, company logos, and ethics of your business are a part of your brand. Some logo design bidding sites have emerged as businesses to fulfill the visual demands of other brands. The main objective of these visual and physical elements is to create a positive impression on your prospective clients.
Conclusion
We hope that we have clarified how branding and brand identity is different yet similar at the same time. They are just like the two faces of the same coin. Before designing your brand identity, you should take some time to think about how you want to incorporate that into your brand. Once you have a strong foundation, you can create a good branding and brand identity.
Here in Dream Logo Design, we help our clients in developing a good branding and brand identity. We design their logos, business cards, brochures, etc., to enhance their visual identity, thereby creating a positive impression on their target audience and prospective clients.