Social Media Marketing made Simple: A Beginner's Guide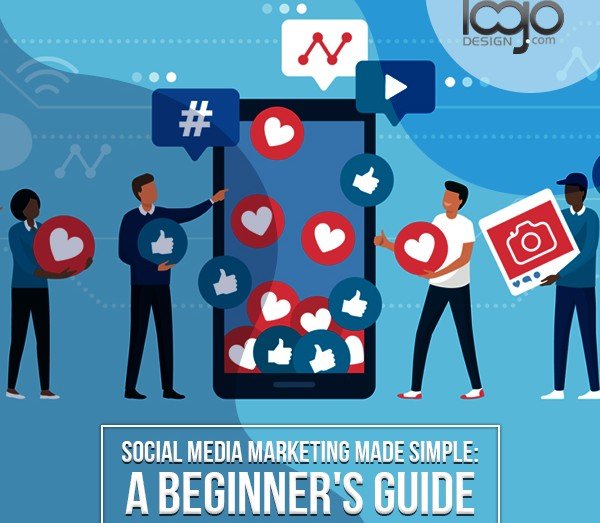 Being a network of about 3.5 billion users, social media platforms are inevitably the best places to showcase your brand. Despite this fact, many business owners struggle to find the best social media marketing strategy to turn the wheel of fortune in their favor. So as a beginner's guide, first, it's crucial to look out for the best possible marketing strategies to utilize these networks.
What does social media marketing actually mean, and how it can be rewarding for your business?
Well, the term social media marketing (SMM) term refers to the use of social media networks (such as Facebook, Instagram, or Twitter) to promote your company's product and services. The fundamental target of SMM is about meeting your target audience and ultimately boosting your conversions and increasing brand awareness.
Apart from promoting the brand name or generating leads, what makes these digital platforms unique is how it enables you to build a relationship with customers. In other words, social media allows you to connect with each follower separately. And this is not possible in traditional marketing platforms like newspaper or television advertisements. Also, in terms of marketing, it's perhaps the best place for brands looking to gain insights into their audience's interests and tastes. And this is why big brands like Amazon or Samsung continue to invest in social media marketing to achieve sustainable business growth.
Some Examples:
For example, you can interact with the audience on your posts, responding to their questions and comments or even asking for feedback about your products. Answering such platforms creates "spectator advocates" for your brand who are watching it from the sidelines. All these efforts ultimately create positivity among people that how much you value their inputs and opinion. Before sharing SMM strategies, it's important to understand the primary user base and what type of business some of the popular platforms can impact.
Users: Almost 2.6 billion users worldwide
Primary User Base: Generation X and millennials
Best for marketing B2C business
Best for advertising, promoting a brand name, and direct customer interaction
Users: Almost 740 million users worldwide
Primary User Base: Millennial, Generation X, and Baby Boomers
Best for marketing B2B business
Most popular platform to build B2B relationships, business development, and employee recruitment
Users: Total number of daily active users is 500 million+
Primary User Base: Millennials (primarily) and Generation X
Considered best to showcase your product
Users: Almost 187 million monetizable daily users
Primary User Base: Mainly Millennials or Generation Y
Both B@B and B2C business can be promoted
The best platform to build customer relations and cater customer service
Users: Almost 265 million daily active users
Primary User Base: Primarily Gen. Z
Best for promoting B2C business
Like Facebook, good to promote brand awareness
Users: More than 2 billion monthly active users
Primary User Base: Both Gen. Z and Millennials
Primarily B2C, however promoting B2B business is also possible
Best for promoting a brand in video-format
Steps to develop a winning social media marketing strategy:
There is a proverb - failing to plan is planning to fail.
Just like our daily life, this saying is very applicable in achieving business goals as well. And the first step to reaching the same is promoting your brand through the right strategic approach. Whether you deal in B2C business or B2B, to reach your target audience and ultimately shine in an internet community, you need an effective social media strategy. Following are the most constructive and proven digital marketing master plan to use in a social network.
Choose your primary social media platform by determining your target audience:
As mentioned above, each platform has its rhythm and a particular set of users. So select the ideal platform according to your business type and customer base. For example, if you are a software development firm, it's best to promote your product in a B2B marketing place like LinkedIn. But, if you deal in trendy jewelries, showcasing it on Instagram or Facebook will be the best way to attract millennials.
Create Quality Content:
Quality content always gives you the initial power to shine on social platforms. Create content that your targeted audience will like, comment on, and share. Remember, content is what you see on social sites because it helps to keep attention. Now, what is meant by high-quality content? Well, it's about creating content that is unique, engaging, easy to understand, contains a lot of visuals, and most importantly it should be easier to optimize for social sites and search engines.
Challenges in Creating Quality Content:
Unfortunately, many companies fail to create certain quality content. Hence it is highly recommended to hire a professional content management team that can turn your social media followers into customers for your business.
Know your competitor and their SMM success story:
Before stepping into digital marketing, it's crucial to have a thorough knowledge about your close competitors. Always have a close look at your competitor's social engagement policy and analyze the following parameters:
what type of media they are using the most, like videos or image
tones of the contents or advertising that making their posts engaging
what kind of feedback/reply they are getting from the audience
This will give you a solid ground to frame your marketing strategies and a good sense of what is trending in your industry.
Optimize your social media campaign frequently:
If you are already on social media platforms, make a research of your journey so far. You should take up tasks like reviewing your previous content, adding more visual effects into your old posts/ad, examining the contents that performed the best so far for your audience, and so on. In other words, do a social media audit of your entire SMM journey while keeping these questions in mind:
What's working and what's not?
Which platform seems to be the highest engaging?
Who is engaging most in your posts?
 Benefits of Social Media Audit:
An effective social media audit along with deep research of your competitors benefits you in two ways:
it optimizes your previous posts/ engaging strategies;
it provides you a clear and acute view of what will be the right approach of your future SMM journey
Create a customized social media calendar:
Whether it is reviewing your competitor's posts or producing creative content, it's crucial to plan when to share your content to get maximum impact. So it's vital to use an outline a roadmap to organize and publish all your content timely and efficiently. This helps an in-depth view of what works and what doesn't. Also, it will help you to distribute resources effectively.
Further, it's quite impossible to predict a channel that will produce the highest amount of social media leads. And that's why proper planning is always required to evaluate and adjust your digital marketing strategy from time to time.
Conclusion:
In social media networking, the approach techniques may differ among industries and social platforms. So if you are still struggling to find out the best marketing strategy or want to optimize your entire social media strategy, go for a professional social media marketing team.
An expert digital marketing team can offer you the best Social Media Optimization (SMO) practice to help you reach your business goal. To cut through the noise and make your business stand out from the crowd, put your plan into action with the marketing experts.