Why is LinkedIn important for B2B Marketing?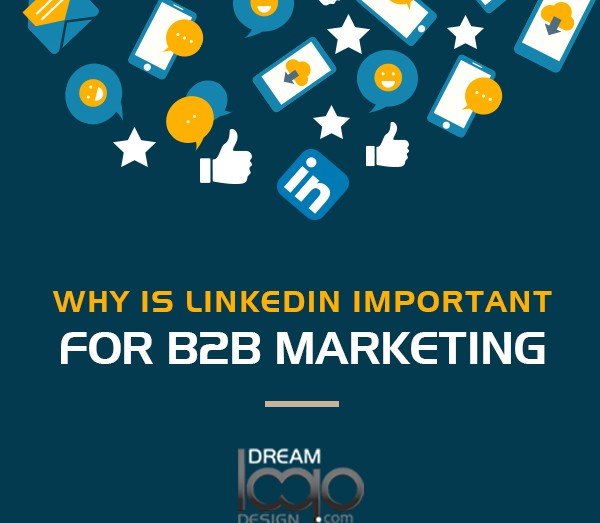 Are you looking for the best B2B Social Media platform? Undoubtedly, LinkedIn is your solution. It's the most effective social network to build connections with the professionals and reach out to business buyers.  This networking platform has more than 660 million members and this number itself says how powerful it is. But, this is not the only reason for expending some efforts for campaigns aimed at your target audience. Jill Rowley has rightly pointed out, " LinkedIn is no longer an online resume. It's your digital reputation."
What Does LinkedIn do?
Want us to decode the success story of LinkedIn as the best platform for social selling? Let us take a quick glance at its functions prior to that. This B2B social media platform helps you in the ways mentioned below.
Builds relationships with the prospect business partners, potential customers and aspiring employees
Establishes thought leadership
Helps in lead generation
Assists in gaining market insights
Performs market research
Improves reputation
Creates online communities
Boost Your Online Presence:
Do you want to spread awareness about your brand? LinkedIn is the ideal platform for you. Besides, LinkedIn B2B marketing strategies help you take the reputation of the business a notch higher. Every second, more than 2 business professionals are joining LinkedIn. So, you will get the scope for networking with a massive number of useful contacts. Besides, you can increase the visibility and credibility of your entity (individual/business) using different personal and group features in LinkedIn.
How to Become More Visible and Build Connections? 
Do you use the status update functionality regularly? You are doing it right. This feature is often not utilized to its fullest potential by the users. LinkedIn has introduced a new design which exhibits the updated status more prominently on the home page.
Present Yourself As the Leader:
Everyone knows that LinkedIn is the most trusted ground for leaders and influencers. It's no longer limited to being the best social selling platform anymore. You can also make your presence felt as an advisor on LinkedIn following the following steps.
Provide high-quality content
Improve your personal profile
Participate in LinkedIn communities to answer questions
Engage with other influencers
Best Platform for B2B Leads
Why is LinkedIn effective for lead generation?  It offers personal ways of identifying potential leads, keeping them engaged and ultimately transforming them into customers. Definitely, this is an added advantage along with the traditional techniques like sharing interesting content. Want to understand how the B2B leads can be tracked in personal ways? The entire process is a combination of:
Listening
Analyzing
Participating
Sharing
Responding
Answering the Questions is the Best Method for Transforming B2B leads into Customers:
Prospect customers regularly post questions and requirements on LinkedIn. These help you have an idea about exactly what they are looking for. If you can properly demonstrate know-how or if your answer solves their problem, they are most likely to make a contact. To further harp on the effectiveness of reaching out to the target audience, it is done indirectly through LinkedIn for an enhanced sales figure.
The Best Social Customer Relationship Management System:
Why is LinkedIn the best in the context of social customer relationship management system? It helps you have a better idea about prospective customers and other contacts. Simple CRM applications are adequate for gaining these insights. But, you can also use "connecters". Most social CRM solutions offer integration with LinkedIn. Even, you can opt for setting up a basic integration of your contacts.
What are the Benefits of a Social CRM Tool?
It allows you to see what the people in your contact are doing on a real time basis.
Offers valuable insights of their preferences and behavior.
Helps target a contact which can be your next business ally or potential business buyers
Helps in Building Traffic:
One of the most powerful LinkedIn B2B marketing strategies is link building as well as driving traffic. Like other social networks, it also comes with a share button. It helps you share any content on your status updates, visible on the homepage of your profile. You can also disseminate the content through the LinkedIn groups or communities, you are part of.  This is how any business related content becomes viral. No points for guessing the reason for business stories getting shared in greater number on LinkedIn in comparison to Facebook.
Facing stiff competition in reaching out to people on social media? Try out digital advertising if the organic methods are not working. LinkedIn's ad platform is surely something every marketing brain will love. As you spend on every advertising, LinkedIn makes sure that it attracts the right people at the right time. LinkedIn further comes with a host of targeting options and advertising products. To put simply, you will enjoy great results by choosing LinkedIn as the ground for advertising.
The Ad Objectives are Yielding Better Results:
LinkedIn has come up with various ad objectives. It is also trying to introduce some more.
Website visits
Engagement
Video views
Lead generation
Brand awareness
Job Applicants
Website conversions
Be a Listener:
Keep your ears open if you want to make the most of LinkedIn for marketing on social media. Ask questions. Get those answered by influencers and experts. It will help you have better insights.
Let the Employees Be Your Spokesperson:
Give your employees the tools to flourish! Introduce them to LinkedIn. Google will crawl the pages of your employees as it does for your company's profile. This is how optimized LinkedIn pages push you up the search engine result page (SERP). It further increases the visibility of your business on LinkedIn and across the web.
Conclusion:
Aren't you convinced that LinkedIn is the last word in launching B2B marketing campaign? Don't let all your business potentials go to waste because of protraction. Start using LinkedIn for effective B2B marketing today. It's time to engage the potential customers, business partners and prospect employees with intriguing content. If you need help, there's always an expert waiting for you!