7 Social Media Marketing Trends that you cannot ignore in 2021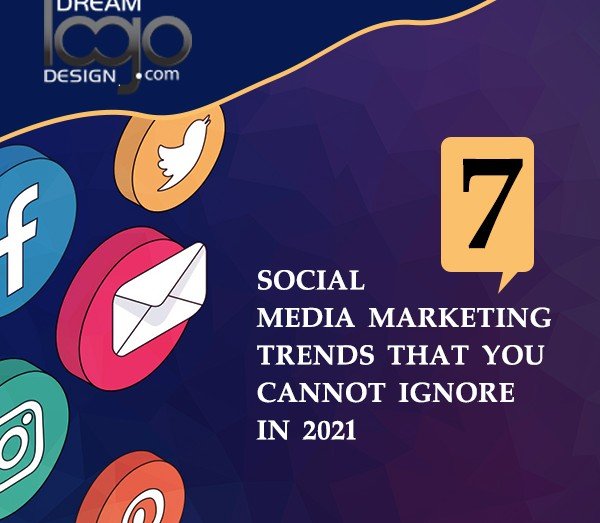 "Social media is just a buzzword until you come up with a plan."- Felicia Lin said it right! Social media marketing has helped businesses with every size, shape, and type grow their success rate upward. It is unquestionably a useful marketing tool for decades and has become one of the most formidable tools to influence the masses. As social media platforms are enduring and evolving their trends over time, the convention of social media has increased drastically. To be precise, in the last few years, the convention rate increased by 60%! Strange, right?
Let us give you a glimpse of what our company has experienced through social media marketing. Since we started establishing our presence on social media platforms, with a smart and generous marketing strategy, our company is able to generate higher traffic and leads collaboratively. We have seen a rush rise in our success rate through this blissful tool.
With our experience, we can assuredly tell you that social media is indeed a dynamic marketing tool, which eventually comes with user-friendly features. It clearly means you do not need core expertise to operate its features. And surprisingly, your one advertisement on any social media can reach about a ten times larger audience virtually. With the rapid and continuous growth plus changing algorithm of social media trends, any company or agency can cement its brand identity with ease.
Here, we have assembled a list of 7-divergent social media marketing trends that you can not ignore in 2021.
Popular social channels like Facebook, LinkedIn, Twitter, and recently added in the gang, Instagram, are no longer just a social networking site to have chit-chat or engagement only. They have transformed into marketing platforms to generate more traffic for your website or e-commerce store. Therefore, you can generate higher revenues from your offerings like products or services. In fact, statistically, 54% of social media users choose social channels while looking for new brands or products.
What are you waiting for? Let's jump straight away to the marketing trends you should implement into your overall digital marketing strategy.
Trend #1: Video is your new normal
Neil Patel stated, "Create content that teaches." and what content can teach better than a video? Yes! Videos are everywhere, you and I, everyone just loves watching them. If being honest, this engaging content is ruling the social media platforms with its informative, useful, and winning nature, more than any photos. Any content creator has endless possibilities of crafting creative video content. On big rostrums like Facebook, Instagram, videos are always trending. And a more interesting fact is, almost 70% of users prefer to watch videos about the product they are intended to buy.
Trust us, with creative, smashing video content, the chances of your brand video being watched are more than 50 times higher than any standard video. Users love exploring and spending more time on the website with stellar video content. So, start investing in designing video content to get an exceptional marketing result.
Trend #2: Stories got the spotlight
With the help of Instagram, Snapchat,and WhatsApp, who does not know about social media stories? If you are not aware of this feature, precisely, stories are a type of 24-hour content like photos or mini video-clips on a social media platform. Once you upload it, they vanish automatically after 24-hour time rotation. Though the concept came from Snapchat in 2016, in the present day, Facebook and YouTube also have their own version of stories and been increased over 800% in its popularity.
Because of its far-reaching effect, several brands have hopped into the trend, and you should espouse using it too.
Trend #3: Influencer Marketing is on-trend!
"Influencers"- they are the best thing since sliced bread. But forget bread; they are selling like hotcakes. They are creating huge returns, and they are only set to keep growing."
Social media influencers are the exceptional people who can start the epidemics. Therefore, the popularity and reach of influencer marketing are blooming like social-media. The influencers usually have a large follower base who trust and follow them blindly. And, rather than believing in the advertisement, they prefer to accept the person they trust.
Therefore, in 2021, 63% of businesses plan to increase their existing budget and invest in influencer marketing since the excellent ROI rate. Businesses, especially e-commerce website company, are gradually making $5.20 for every $1 spent. You must think about investing in influencer marketing as the return has increased up to 5 times.
Trend #4: Augmented reality is the upcoming mainstream
AR or Augmented Reality is arguably the brand new futuristic technology in marketing tactics. The technology is on-fleek today and intensifies itself as the future of marketing strategy. During the pandemic, many companies have used AR technology to launch their products, service, and to organize concerts. Along with Facebook, a lot of other platforms are presenting AR services to the customers. The technical design provides the customer to give a hands-on review of a product before physically receiving it.
You can fascinate your customers by having a mesmerizing website design incorporating AR technology. The services like AR videos, AR virtual stores on social media, AR and live events, etc., can transform the customer experience in a way never seen before.
Trend #5: Social commerce will aggrandize
Do you know the percentage of social media shoppers and purchases has increased 3x time more? The demographic says it all that Instagram and Snapchat have done all of it. These two platforms have influencers who acts as a massive driving force and can swiftly revamp the users into customers.
If you merge social media and e-commerce website, you can see a staggering 80% of people who visits e-commerce sites after being redirected from social media. This marketing strategy is called "Stopable post."
Trend #6: Chatbots- modern customer service maneuver
The time is gone when businesses used to apply the IVR idea of communication. It's 2021, and nobody has time for a phone call communication with a customer service executive. Nowadays, people are more tend to chat; therefore, this is where chatbot hits its popularity.
"Welcome to the new era of marketing and service in which your brand is defined by those who experince it"- Brian Solis.
Chatbots are remarkably faster, smarter, and 24/7 available for the customers. 90% of businesses have claimed that they can resolve customer complaints quickly and effectively. Shockingly, chatbots can save up to 30% of your annual cost on customer service.
Trend #7: Users may go for a Digital Detox
As per the insight report of 2019, there was an average of 3.5 billion users on social platforms, which can reportedly decrease by 10% (nearly) in 2021.
Why?
Reasons are cited as growing risks of physical and mental health because of excessive time spent in digital media, concern and trust issues involved in data and privacy protection over social media, and so on.
Wrapping Up:
Here you go with top social media trends in 2021. All you have to do is accumulate all these points and fabricate a plan of action. At this juncture, you may need professional help from an expert web agency.
At Dream Logo Design, we can help you with creative social media marketing strategy. We are a renowned web development agency, having white collar developers and SEO experts. They are available 24/7 to assist you to execute all the plans accordingly. Moreover, our professional hands of designers will design engaging plus interactive video content; so that you can change the game on social media.
Our web design agency helps our individual clients with all the necessary services; therefore, they can heed to create a new social media wave.