5 major 'SEO' and 'Content' trend change that is indispensable to know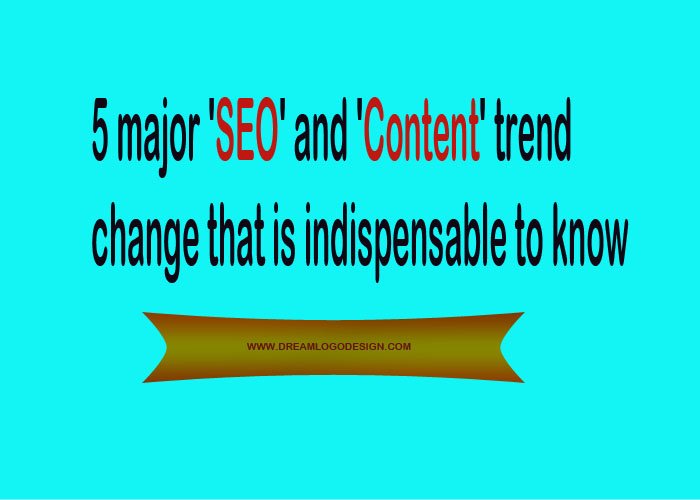 Google has given a tough time to marketers in the past five years. These shifts encompass the new algorithm updates to the mobile-first approach aiming at the same target. That is for proving most relevant and best results to the users. Not only that Google ensures users can get the right result at right time as fast as possible. This leaves the marketers with an option to have similar goals i.e. you have to try to stay ahead with content that has a memorable impact, engages users when the users find the content. It's high time that you keep up the pace with momentous shifts for the prominent presence and business online. Here are five SEO changes that are requisite to know as we move forward towards the latter part of the year.
Now it's not only SEO but 'SEO cum Content'
Neither content singly can assure successful SEO nor can alone SEO efforts can interest audience to engage in your website. Data helps the marketers as guiding principle to understand the potential customers intent in order to create an agile content which is relevant for the consumers leading to successful SEO effort. Here are three simple tricks that can help in creating a successful strategy:
Create the content basing on the data – Use the data in the content that the audience can relate to, in favor of your brand and it enhances the authenticity. Provide insights that will help the users to refer back to for reference.
Foster search, implement social and content marketing techniques - Social contents largely help in gaining brand recognition and direct interaction with the consumers. As well as better content is a good tool to improve search visibility.
Follow the SERP footprint - Create interesting infographics or video content and optimize it for maximum ROI. Provide the answers to general FAQ's in the content and don't forget to include the sharing options and the website link.
The shift marks mobile to mobile-first
For a few years, Google made it clear that to be in the digital competition it's the mobile-first approach that can help. In 2015 mobile searches overshadowed desktop searches, so now mobile optimization is no longer an option but is obligatory. How you can deal with this shift:
Understand the mobile-first approach - Websites that are not mobile friendly lose 68% of traffic which they could have got. Knowing the behavior and intent mobile users and customizing the strategy accordingly can give the best user experience or you are at a loss.
SEO for fast loading – Along with a simple website, easy navigation a mobile website has to be very fast as 53% of users leave the site if it takes more than 3seconds to load (By Google). With best SEO practices like image optimization, Javascript and CSS you can deal with issues successfully.
Use context-based content – The mobile users have a research spree and the information you provide should be restringing and inspiring so that the brand in able to affect their decision and converts to a lead.
Local optimization more specific now (hyperlocal) Hyperlocal targeting enables you to reach the audience based on their location. A great opportunity to optimize for the local services like "where can I find a restaurant near me" and give extensive relevancy or hyper-relevant.
Voice assistance to overrule text
Though it's not the right time think that voice search (e,g. Amazon's Echo, Apple's Siri and Cortana of Microsoft Windows) has replaced text searches while 25% of mobile search queries are already done with through voice assistance. The trends show that it will keep on rising in the coming years.
From data to machine learning Google depends on machine learning so marketers you must also pay heed to machine learning to know the user behavior, intent, and interest. You can employ AI and machine learning and determine from the data and matrices for achieving the target.
Conclusion- Informative content, data inclusion together can help in creating a digital strategy that can promise good ROI. By going through the given points above will help you to create an engaging and interesting content making the path to revenue generation.