Your Brand is more than your Logo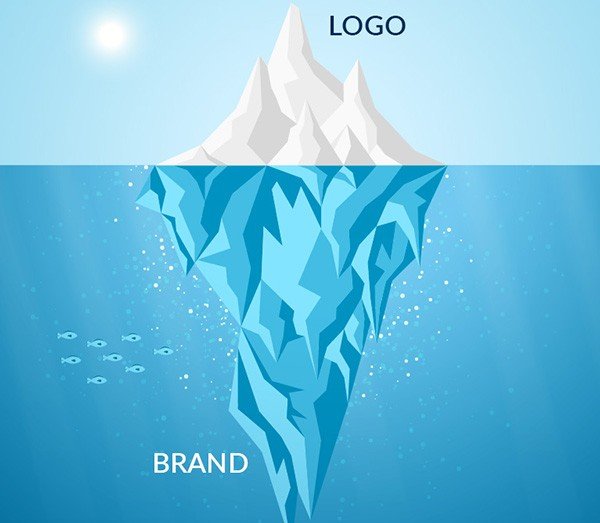 Your logo represents your brand, at least a significant portion of it. Yes, a great logo is right for your brand, but so are other factors that together form your corporate identity in the world of sales and marketing.
A brand identity is much more salient to survive in the crowd. If asked, what is a brand, most people address their brand logo or utter their brand tagline. But the brand is much more than that, and people need to realize it. A brand is much more than a logo or a name or any tagline.
In the market of thousands of commercial commodities, a successful brand stands high and tries to grab attention. And to touch the peak of success, there are certain mandatory hard works involved. First, every entrepreneur must perceive the concept of branding. A substantial, vibrant logo does not always work.
When you are creating a brand, that means you are also forming a relationship with your clients. Your brand must connect with your clients. Therefore, your brand has to be meaningful, with an understandable purpose and it's own unique feature(s). Remember, your brand represents your business purpose.
A brand comprises various traits like logo (obviously), font, color, typography, pattern, texture, all of which together forms an identity. You have to understand who your customers are and their field of interest. You have the power to create your own story, your own identity.
To create a successful brand identity, you must focus on a visual-friendly logo, color palettes, style, imagery, typography, etc., and much more.
Logo: Logo is the visible element that provides your brand with a professional shape. It is the first thing pop-up while looking into any brand name and creating an eminent brand identity. It is merely a symbol that helps in brand building and marketing. That's all! For example, a healthcare organization uses a subtle logo or orthodox box type logo for its healthcare marketing. They won't use any zig-zag, sparkling logo for their organization. You have to think of designs that justify your purpose of business.
Colors: Colors add a glance to your branding. Using such subtle tones will add an extra pillar of success to your brand name. And the mixing of high vibrant hues will make the brand name look gaudy.
Typography: Font style and size does matter. Typography captivates the customer's first impression, either positively or negatively. Experimenting is fine, but try to finalize something that goes well with your brand and does not look overflowing.
Imagery: Want to construct a unique and reliable impression on your customers? Consider professional, quality images to add up some spice to your brand because the best quality images increase the brand visuality and brand persona.
Texture and Design: Adding minimal texture and motifs to your brand design will highlight your brand name and never go off-track.
Tagline: Tagline is a phrase of words that condense the brand identity within customers. For example, everyone remembers the brand Nike by its tagline, "Just Do It."
Mission: You must have set up a brand vision and mission while dealing with brand design. If you are seeling cars, your brand design or brand identity must be focused on none other than cars. Without a focused mission and vision, your brand credibility is zero.
Commitment: Brand is nothing less than a commitment. When you are coming up with a service or product, you are committing yourself to your brand. Sticking to your commitments will increase your product demand on the market.
As mentioned above, branding is making a relationship with your customers. Also, the relationship with your prospective customers does not form overnight. It is a time-consuming process. Once formed, stick for a more extended period, and become healthier over time. And to acquire this result, one must plan effective marketing strategies like Deck pitch, Chatbot, Net Promoter, collaborating with micro-influencers and marketing with influencers, etc. An effective marketing plan also boosts up your brand image, brand positioning, brand development, and brand building for entrepreneurs, as well as existing renowned brands. Let us tell you how you can improve your branding by following such progressive marketing strategies.
Micro-influencers: Micro-influencers or called Social media, influencers with thousands of supportive followers, are responsible for changing or influencing his/her followers' lifestyle. Influencer marketing or marketing with influencers is unique, authentic, and result in an oriented marketing procedure. You can easily cope with your brand image and spread your brand awareness and brand image among a hefty mass within a brief period. They are the connector between the brand and clients/customers.
Micro-influencers promote your collab product or service in their social media handles with a brief description, the fair use of tone, and manipulate mass to purchase the product or service. Collaborating or marketing with influencers helps a brand reach among a huge mass, develop significant exposure to the brand identity, and increase sales. In simple words, Micro-influencers has special boons to crowned you with triumph.
Deck pitch: Pitch deck or Deck pitch, a type of modular book or presentation deck to incline business idea, sales, allotment of shares, business assets, etc., in front of a colossal number of audience. It is also called Confidential Information Memorandum. The overall company description and financial records are being mentioned in this marketing book. Entrepreneurs or Investment banks, etc., uses this process for their Brand positioning before people.
Chatbot: Chatbot or Bot for a chat can be considered as a Brand development method by companies. It is a software that conducts online chat-process with customers via text or voice. Similar to having a conversation with another individual. Bot for chat messaging system is designed and developed, mainly to Brand building. In this process, chatbox explicates as per human queries and imparts a pre-set answer.
Net Promoter: Net Promoter or Net score promoter(Net Promoter Score) is the percentage or index of customer ratings that show the customer's desire for recommendation towards the company or their products or service. Net score promoters acknowledge customer satisfaction and loyalty concerning the company's product or service. The positive ratings will escalate the brand building, and the negative response will hamper the brand image exceedingly.
Now you know, a logo and a broad aspect of various elements are responsible for creating a brand among thousands of marketed products and commercials. And after creating brand identity, brand building and brand development are equivalently important for a business organization. And therefore, the need for proper marketing strategy comes. Holding into these above strategies will help you to grow more intensely.