Wix vs WordPress : 9 Differences to know for 2021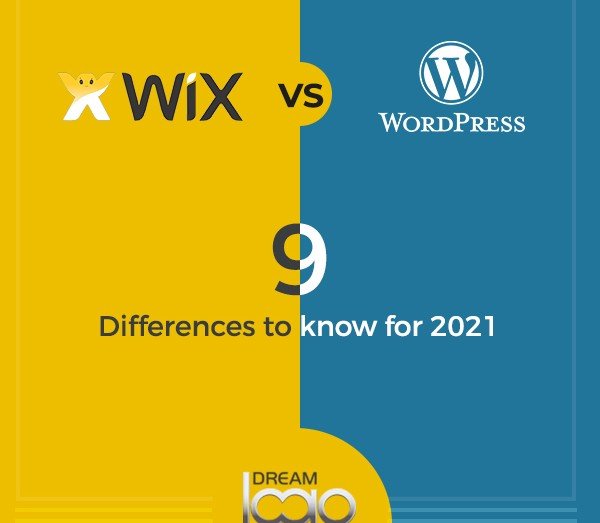 Can one compare apples and oranges? The answer is no. However, both these fruits bear the similarity of being rich in nutrients. Similarly, Wix and WordPress are effective tools for website building. But, both stand poles apart in terms of design layouts, range of themes and approaches. To begin with, Wix is a website builder. It is quite easy to use but does not come with much options for customization.
"What separates design from art is that design is meant to be functional." – Cameron Moll
WordPress is a CMS or Content Management System platform. It offers better options in designs and customization compared to Wix. With advanced coding, you can customize themes and edit almost anything according to your choice. This article will be your entourage in understanding the key differences between the two and which one to choose as per your requirement.
Wix is Better for Beginners and WordPress for Tech Savvy Users:
Are you are new to website creation? We have  just mentioned that Wix templates are limited and not perfect if you want to increase website's functionality. But, it is perfect for people like you as it is an easy-to-use platform. It even does not require any coding. Power, flexibility and customization – these are the things which summarize WordPress. If you are technically sound and good at coding, choose this Content Management System.
Cost Comparison Between the Two:
The paid version  of Wix will cost you only around $14 per month. WordPress is open-source. One can use and modify it for free.  However, you may have to spend some money to set it up on a host, customize themes and choose some plugins. On an average, you need to spend $200 for the initial set up of WordPress. Then you have to pay the monthly charges for continued service.
Difference Between the Editor of Wix and WordPress:
One of the key differences between Wix and WordPress is the editor. Go through the points below to have a detailed idea.
Its visual drag and drop editor functions like Powerpoint or Keynote. You can move any element to anywhere on the page.
Most elements are edited visually in Wix. The process is simple. You see something, click on it and change it.
Wix editor is less cluttered and quite user-friendly.
The newly launched block-based editor of WordPress is Gutenberg.
It does not exhibit the full page within the editor. It is abstracted from the page.
You have to switch between the editor and published website to check how the page will appear to the viewers.
It also abstracts the interface from the page. For example, plugins like WPForms are used for creating a form using a different interface. Then you can use "short code" to embed the form into pages.
It is more abstract and utilitarian for being sophisticated in design layouts.
Is There Any Difference in Hosting?
Wix comes with hosting. So, you don't have to even set up a host. This feature however has a limitation as you cannot move your website to a new host from Wix. On the other hand, you need to set up WordPress on a web host. You can find many hosts offering installation simply with one click.
Comparing the Strengths and Weaknesses of a Closed and Open Source
As mentioned earlier, WordPress is open-source. But, Wix is completely different. Let us weigh the pros and cons of these website building tools.
| | |
| --- | --- |
| Pros | Cons |
| It has a massive range of themes and plug-ins, created by the open-source community at the time of writing. | The backend of WordPress  can become very confusing.   |
| WordPress. Org had more than 55k plug-ins at the time of writing.   | Technical setting and jargon can leave you wandering.   |
| The themes are more than any website builder has. | Some themes and plug-ins may not work properly all the time.   |
| It can be easily customized. | Many people are not comfortable in tweaking codes for fixing any incompatibility. |
| | |
| --- | --- |
| Pros | Cons |
| It is user-friendly. Its visual theme editor allows you to design your own theme from scratch. | The collection of themes and plug-ins are small. |
| All the themes and plug-ins work properly. | Wix templates offer lesser options for customization. |
| No need to tweak codes. | Wix is not ideal for professionals. |
Are you looking for some conventional features while creating a website? Do you want to go unconventional? For the first question, Wix will be your solution while WordPress will be ideal in the second scenario. Now the question is what the conventional features are and what do we understand as unconventional attributes. For example, if you need a photo gallery, Wix has a plenty of it. But, if you want a photo gallery, which is moving in a particular direction, you will need WordPress.
Go Unconventional with WordPress:
It's ecosystem is diverse with around 55k plug-ins and 12,000 themes.
You can find bbPress, YoastSEO, BuddyPress, Redirection, Advanced Custom Fields, TablePress and TinyMCE for all sorts of features.
Choose Wix for Conventional Websites:
It offers simple solutions for creating conventional websites for businesses such as restaurants, photographers and non-profit organizations.
Wix helps your website to get up and run quickly.
WordPress has around 12,000 themes to choose from while Wix offer a humble number of 500 themes. However, sometimes, all the themes of WordPress do not work properly and demand debugging with code. But, with Wix it is not a problem. You can use "Customizer" tool to experiment with styles in WordPress. Wix follows a completely different method. It allows you to select elements and customize on the fly.
Difference in Customer Support:
WordPress is open and free source. It does not offer the facility of customer support. But, you can choose a paid theme or plug-in for this additional support. Wix includes phone, chat and email customer support in their packages.
It's Quality Vs Quantity:
By now, you know that WordPress has endless features, plug-in (around 50,000) and themes. So, it will always top your priority list if you are looking for quantity. But this is also one of its most prominent drawbacks. The junk  ones are enough to make you feel lost in the course of finding the one you need. On the other hand, all the 250 apps of Wix are integrated with it. Besides, those can be added to your website with few clicks.
To sum up, you need to focus on a website's functionality while choosing Wix or WordPress as the tool. Wix is an easy to use and integrated website builder for creating a great website. Meanwhile, WordPress allows you have the ultimate control over the design and safety of your website. So, if your search is for a user-friendly builder, opt for Wix. And, get going with WordPress if you need a flexible and powerful system.