Why & When To Back up Your Website?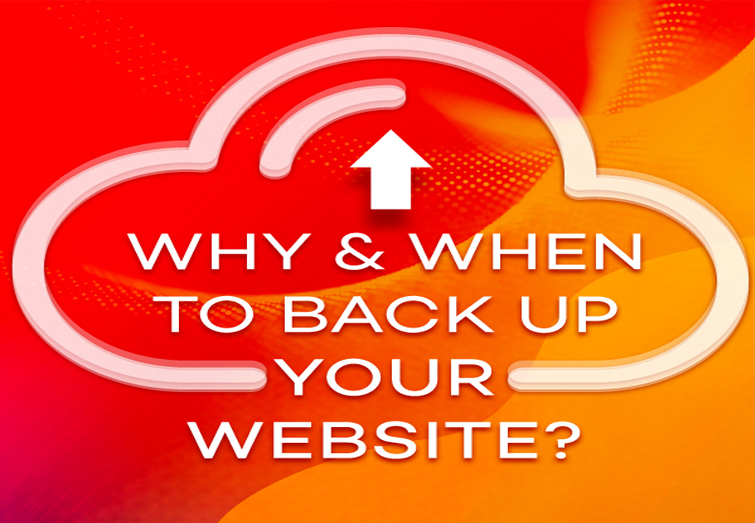 Modern-day website management is easier than it was before. However, mistakes can happen almost anytime. For example, your website could get hacked, the website could collapse once you update the same, or you could remove some of the most critical files by mistake. The only solution that can save your website in an unwanted situation is to take a backup.
A website backup is a process of storing all your website's essential components. A website backup should include all crucial elements like website codes, databases, images, add-ons, plugins, themes, etc. As a part of your regular site maintenance, you need to take daily backups of your website. By keeping a monthly website backup, you can ensure that you have everything ready in hand in case your website faces an issue.
Why you need to back up your site:
It is tough to understand what losing all of your website data feels like unless you've practically gone through this situation. The only way to avoid this type of situation is to take a website backup beforehand. The best way to back up your website is either daily or weekly backups. Whether you should go for a daily or weekly backup depends on how active you are in updating your website. For example, if you only upload a blog post per week and nothing else, then weekly backups will suffice. However, if you update your website daily, upload images, videos, and if you have a vast database to manage daily, you should go for a daily backup.
Mentioned below are the situations when you need to back up your website.
Accidental Situations:
You have to admit that people make mistakes. This is true for your website as well – one of your website managers could accidentally delete an important file which can break down the website entirely. Therefore, it is vital to back up your website regularly. Many site owners assume that they can get help from the hosting providers during such situations. However, the truth is your hosting provider won't have the latest copy of your website. Some website hosting providers perform regular backups when you take a subscription of their website backup service.
Your Website Get Hacked:
Another reason why you should perform a regular backup of your website is to regain your website in case it is hacked. The most commonly used content management system WordPress accounts for almost 30% of the website currently available online. As WordPress is an open-source platform, anyone can access the coding of your website. If you are running a WordPress site, you must take regular backups of your website to avoid critical situations.
Problem after Updating the Website:
There are times when you experience an issue on your website once you complete an update. Things can go wrong with your core files, or a plugin may start malfunctioning. Also, you may experience a situation when you click on the update button, and your site is no longer live. Taking a backup of your website ensures that you have everything handy and you can restore the website to its previous state just by making a simple click.
You Failed To Renew Your Hosting:
It can happen anytime, especially when you have a new credit card and forget to update the billing info with your hosting provider. When the billing date comes, you hosting provider attempts to charge your old card and failed. This can eventually break your website, and you may need to purchase your hosting plan again. However, in case the hosting provider is unable to restore your old site content, you are all lost. Although you can submit a restore fee to bring back your original site, the process takes time, and your customers may view a new site for a while. In both cases, a proper website backup could save your time and money.
Server Outages:
Your hosting server may encounter a sudden outage and can have severe problems with their data centers. No hosting companies can provide you with 100% uptime. During this situation, your customers may experience irregular downtime. There could be several reasons why a server is down. However, frequent outages occur due to software errors, hard drive failures, etc. Whatever the reason is, it is important to back up your website beforehand to avoid unfortunate situations.