Why is SEO the most important aspect of Digital Marketing?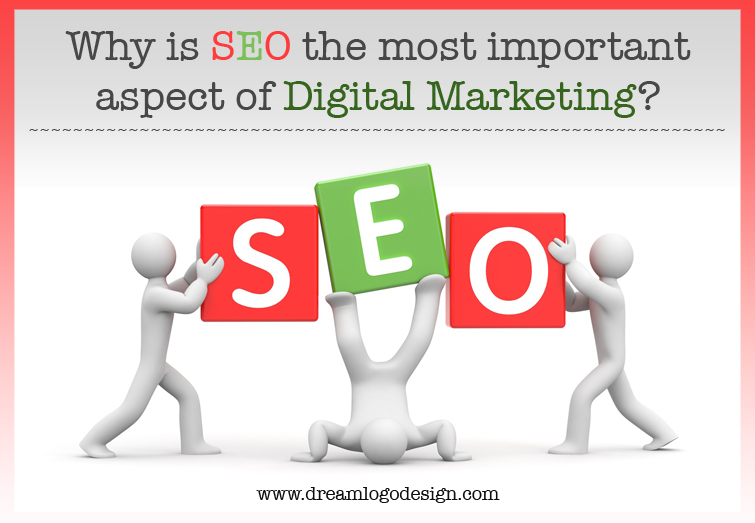 SEO can increase the website visibility and help in gaining more relevant traffic. Digital marketing is an umbrella term in which Search engine optimization is the indispensable component that can help to boost the site presence online. Proper search engine optimization has various benefits like increased views, more leads, ROI, increased conversion rates.
Now, digital marketing is the complete process that involves various smaller subsets that are: Search engine optimization, social media optimization, search engine marketing, content creation and marketing PPC, email marketing, affiliate marketing, display ads and brand promotion by using various platforms. It's all about the business promotion and should be implemented step by step to have an ensures success.
Though the primary step is SEO as it makes people aware of the business by improving the visibility online. And to have more clicks to your website nothing can help better than strategized SEO work. Various search engines like Google, Bing, AOL are the platform where people type the key phrases to get the products or services. Google is the pioneering platform people search globally and your website should be user-friendly and informative to come in top rankings on Google. Here SEO services come into the picture, the SEO experts employ the latest techniques keeping par with the updates in the market to ensure maximum views from the target audience and great organic reach.
Every emerging business is taking help of digital marketing to establish a strong position in the web world and SEO involves two main phases that are the on page optimization and off page optimization. Both constitute together to make the website flawless for the search engines.
Let's have a glance on both factors of SEO:
On Page - It's the crucial techniques that need some intricate changes and modification in the coding section of the web page to increase the web traffic by improving the views. For example, this includes meta title and meta description inclusion will be liked by search engines. The content section also comes under this and it must have proper keyword density.
Off page – It's all about creating quality backlinks and promoting the website on various platforms through profile creation, article submission, blog posting and so on. The ranking is majorly affected by the good links added to the website. The links from the domain authority sites can be very useful is improving the search engine ranks.
There are other benefits too like it's lucrative and helps the site to achieve rank and audience both. It makes the website mobile friendly also user-friendly. Collecting more ROI is easier with expert SEO strategies implemented. To top it all it helps your business to surpass the competitors in the market.