Top 7 Ways to Get More Organic Traffic, Without Rank Your Website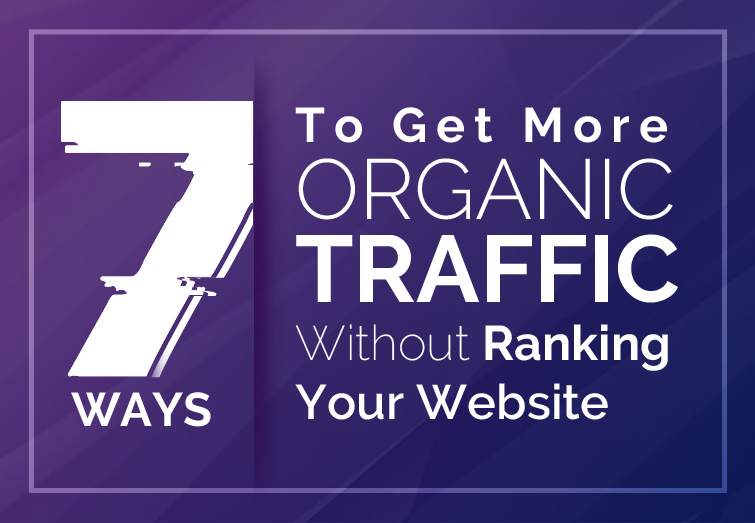 In today's world, just having a business is not always enough. It would help if you had a strong digital presence to make your mark. Once you have a dedicated website for your business, you need a robust customer base. To ensure your success, a steady flow of customers is imperative.
This is where organic traffic comes into play.
Pouring in endless resources into ranking your website might not always help your case. Often, some simple tricks can help you increase the organic traffic for your website.
There are several benefits of high organic traffic :-
1. Write a Blog Regularly: - Blogging is the primary and main source to get lots of organic traffic. If you know how to write good content that relates to the visitor's mind, you are a winner of the content industry. You receive dozen of organic visitors, and also a large number of visitors come a second time in your blog or website. But when you wrote copy content, poorly written, spammy content, you can lose a significant amount of visitors, so avoid it.
Following some easy tips to improve ranking can make a lot of difference. Using the alt tag judiciously to optimize the images on your website is extremely important. Relevant content, proper link backs to useful information, and tactical use of correct keywords can improve your ranking significantly.
2. Google Listing: - If you want to get unique, organic traffic, you must list your business website in google business listing. Google listing is the local listing of your business in your area; if someone searches things if related to your business, Google shows the local listing business first.you can give more organic traffic from your area. It is free.
The following steps to follow for creating google listing for your business :-
First, create a Gmail account
Go to the google my business page
Signing to your google account
Put your business name, address, the contact information you have
Choose a perfect category to suit your business.
After providing all the information, please verify the local industry.
Verify your business address.
After ascertaining all things, you can see your business in google listing.
3. Guest Post: - A knowledgeable blogger always wrote guest blogging from the different-different website.
Guest blogging is known as Guest posting. It creates a bonding relationship with a blog post provided by a blogger. It helps you drive traffic to your website. If you have a website or a blog, please check Step to Lighting Page Speed. Every customer always prefers high-speed loading webpages.
We all have very little time and patience in today's fast-moving world. As a result, webpages that take too long to load can cost your business. So, you must make sure that your websites load in the blink of an eye. The faster they charge, the better is your search engine ranking. Consequently, you get better organic traffic.
Links are the main factor in getting more traffic to your website from guest posts. Practicable link building refers to using relevant links from different web sites. When employed naturally, it helps to improve your SEO rankings. Must put your website links in guest posts, it enhances the audience and authority of the website.
There are some following steps to don't forget in guest blogging :-
Goal-based Guest post
Always focused your target
Design the best Proposal
Write a guest post in clear and proper grammar.
If you have a website or blog, you want to get more traffic; then, Canonical tags can be a blessing when you have more than one webpage for the same content. Usually, your SEO ratings can drop if you have more than one webpage for similar content. Further, Google can have a hard time indexing your webpages properly.
Canonical tags are simple HTML codes. These tags indicate the main webpage intended to describe a product and help in proper indexing.
4. Traffic From Social Media :- There are two types of social media marketing. You can get traffic from both ways. The first is organic social traffic, and the second is paid social traffic. But here, we are discussing organic social media visitors. If you are a serious guy and Write valuable content then you can be driving much more audience from social media. There are some steps to get traffic from social media.
Fill in your profile
Optimize your calls-to-action
Create a social media mission statement
Group posting
Content posting on social media pages.
Fill all details in your social media profile
Create loveable content easy to share
Post when your Target audience is active in Social media.
Target and Focus on visual content.
5. Viral content : - Viral content is content such as an article, videos that achieve high-level exposure in social media. It is used for email marketing, newsletters, news websites. The primary purpose of viral content is for famous overnight, and content viewed by a large number of people in the world.
Ways to Make Your Content Go Viral :-
Create visuals content to increase Visitor engagement.
Create Professional and Easy to Read content.
Write well-researched and plagiarism free content.
Targeting your audience and Know his requirements very well.
Get to promote your content by video blogger.
Make lovable and shareable content that generates more traffic.
A thorough SEO checklist is essential in improving organic traffic.
6. Answering FAQ or Quora Questions :- To reach your target audience, Quora is helpful to you.
Quora traffic can provide you essential leads for your business. It is the best way to get more visitors to your website — some steps to use Quora to get traffic.
Choose the category of your interesting question :-
Make a Killer Profile.
Create your Brand.
Perform Content Research.
Answering the issue with the researchable article.
7. Website Bookmarking :- Bookmarking websites allow you to index your pages and bookmark content that you can share whenever you deem necessary.
Website bookmarking allows you to create and publish a series of niche-related content, which should be original and related to your product. They should be tagged with relevant keywords for maximum search opportunities.
Social bookmarking also helps marketers to embed URLs back to their landing pages, thereby creating a better organic outreach through naturally accredited backlinks.
For example, you can create seasonal or promotional content following an appropriate time for engaging a crowd of users to your website. Also, by creating a library on one of these social bookmarking websites, like Pinterest, you can join your users. Through it, they'll know about the solutions you provide through your brand.
Conclusion :- There is no alternative to quality content for making people notice you
Developing and maintaining quality content will always help your objective. The more you can keep your customers hooked to your webpage, the higher is the conversion rate. Well-curated content with proper usage of infographics, attractive themes, and informative visuals can lend an aesthetic appeal to your website. This can lead to higher digital traffic for your business.
Dream Logo Design understands the importance of high-quality organic traffic for your business. We provide top-notch services to assist you. Our team of experts specializes in designing the perfect digital solutions for your business so that you can receive a high inflow of organic traffic and grow in leaps and bounds.