The logo file type formats we all knew and the one's we didn't…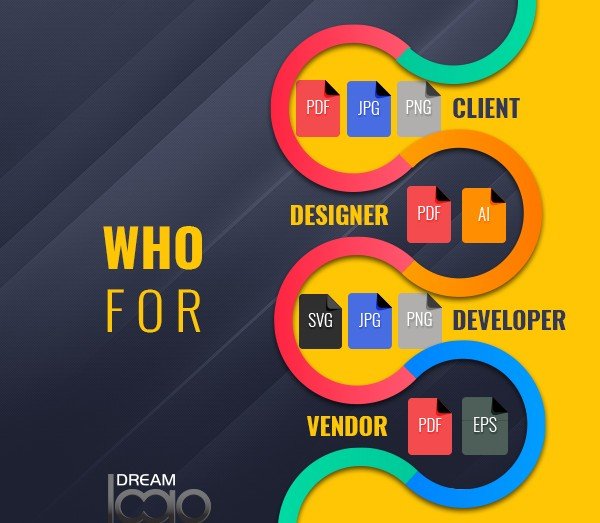 A logo stands as an image that embodies a business's objective. Owing to its gravity and implication as a stepping stone towards building a brand, there are plenty of choices available on its format. However, if you are new to creating a logo, expect yourself to get baffled with its variation.
Having a powerful visual brand is a requisite for creating an impact on the market. Your designer would pass you several logotypes, allowing you to explore your creative mind and develop something crisp yet captivating.
Before you embark on this journey of becoming a logo designer, let's delve deep into the different types of logo file formats.
Most common types of Logo files
Understanding the logo file formats is a crucial step towards building a brand image. Whether you are updating business cards or creating imagery, knowing the formats stand indispensable.
Vector - Vector files are unique as they have mathematically detailed points and can be created anywhere without compromising its quality. Get your logo print anywhere, even to a larger scale, by retaining its resolution. Vector logo files are further categorized into types.
AI - Adobe Illustrator is one of the most widely used prototypes for logo editing. You can correct your editable file and curate the design through this tool.
PDF - Portable Document Format, one of the most used illustration tool by designers and non-designers. It comes with a myriad of programs plugged in for better graphic-editing capacity. Review, redesign, and save your logo design as many times as you want without any requirement of professional design software.
EPS - EPS files are very much akin to AI and it's functionalities. This file type is an ideal choice for high resolution. Arrange the size if the image according to your requirement and still find the image intact without blurred at parts. The only point of difference lies in the fact that it can be opened using other program versions like CorelDraw, QuarkXpress, Photoshop.
Raster - Raster files are formulated from tiny squares known as Pixels. When scaled to a higher resolution, these pixels persists and becomes evident, causing the image to be blurry or blocky. This blurriness in the picture is termed as pixelization. Raster files are suitable for computer use only, as this format is not compatible with printing or designing unless there is a shortage of options.
The types of Raster file formats are elaborated below.
JPEG - Joint Photographic Experts Group or JPEGs are the most widely known logo file format for designing logos and images in homes or office printing. Archiving and distributing pictures have become easy with JPEG files as the file's size can be compressed and resized as and when required.
PNG - Portable Network Graphics or PNG is a pixel-based prototype that mostly uses digital websites. It banks on transparency, owing to which it is widely preferred by logo designers who are willing to use their logo design on a colored or printed background.
The categories mentioned above of logo formats feature the ones that are most preferred by designers. However, some lesser-known tools are similarly productive and beneficial to create wonders if enforced correctly.
SVG -Scalable Vector Graphic or SVG is a relatively new file format under vector art that allows the designer to expand the image scale to the desired size by holding on to its resolution. This format's unique feature is that it is embedded with XML code, thus enabling several online browsers to read SVG files.
GIF - Graphics interchange format or GIF is an animated logo file type. This format finds it's usability in web projects as they take no time to load and are swift in the display. GIF logo uses up presumably 256 color bases in a color space resulting in a short-sized file with limited color accessibility.
INDD - Indesign document or INDD enables designing template on an intricate layout, embedded graphics, or typography. This format is mostly used in creating visually alluring images used in ebooks, magazines, and newspapers constituting rich color gradients. Create designs using INDD and operate them using Adobe InDesign.
TIF - Tagged Image File or TIF is used for restraining compression and retain the image data. ThThisormat is ideal for printing photographs and images.
Colour Profiles - one thing that logo files tags along is the color formats. Colour profiles are integral for both print and web use, to offer a professional look to the final image.colour designs are classified into three types
CMYK - useful for creating four-color gradients, cyan magenta, yellow and black.
RGB - used for creating digital images with different combinations of red, green-blue.
Pantone - used by designers for color matching using a single ink. It breaks the color into gradients and fuses them for originating different colors.
 A logo designer should be well aware of the logo's file formats to get into the mold of designing. Although, as an alternative, pro designers have come up with apps in the internet domain for brands to originate logo symbols free of cost.
Brand marketers can also resort to an online logo maker that recommends a myriad of customized logo templates for your business. Find visually appealing logo ideas originated from most preferred tools at free sites available online.