Pros & Cons of Adobe Illustrator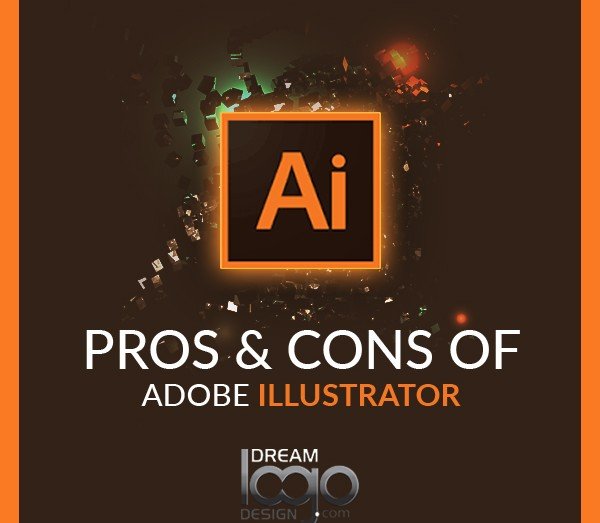 "The details are not details. They make the design."
If you are a graphics designer, you would know about the difficulties that you face everyday especially when you are bogged down by deadlines! On such days, it might happen that you are in dire need of a great graphics software. You might need a software where you can work with both vector and raster graphics. Moreover, what if you need another important thing? I am talking about accessibility from whatever workstation you might find yourself on that particular day.
Well, Adobe Illustrator is exactly what you need to meet all these requirements at one go!
Wondering about the various benefits of and difficulties that you might come across, if you are opting for Adobe Illustrator? Well you don't really need to worry because I am here to tell you all about the advantages as well as the disadvantages of this increasingly popular software.
Keep reading to find out!
"Design is to invent with intent."
The Pros Of Using Adobe Illustrator:
It does not really matter what operating system you are using – You can be using a PC or Mac or even any source operating system and Adobe Illustrator will work perfectly on all of them as long as your device is not more than 5 to 7 years old. Connect your Creative Cloud account, download the Adobe Illustrator and you are ready to create great graphics without a worry.
Smooth integration with every other Adobe software
As a designer if you already love using Adobe Photoshop or Adobe Flash then Adobe Illustrator is a great choice for you. Adobe proves a very effective and smooth integration with any of it's software which is great because you can now create anything you want to without any hassle. There are so many effects and other elements to choose from!
An upgraded sense of clarity
Who does not like their graphics designed with a sense of exactness and clarity? You are surely no different. Naturally with Adobe Illustrator on your side you can meet any designing project of any size or scope head on now, especially if the project demands you to start from the scratch. Moreover with the smooth integration as mention above, you can finish most of your work on Illustrator and then use Photoshop to put the finishing touches, making designs that are memorable.
"Where you innovate, how you innovate, and what you innovate are design problems."
Avoid pixels with Adobe Illustrator
Adobe illustrator allows you to work with graphics that are of high resolution in without any hassle – your designs can be used for the web or for printing purposes and you do not need to work extra for that any more. On top of that, Adobe Illustrator allows an infinite scalability without the loss of resolution letting you to keep the sharp lines that actually make your designs stand out to an extent.
Multiple page outputs with Adobe Illustrator
If you are working on a website, you might just need to work on multiple web pages at the same time to get a feel of your complete design. Here comes in Adobe Illustrator with it's magic want that allows you to work on multiple pages conveniently whereas any other software do not allow this and you are stuck with single page outputs only.
The Cons Of Using Adobe Illustrator:
If you are not familiar with any other other Adobe software or older versions of Adobe illustrator then it will definitely take you some time to understand how this works – this happens due to it's high quality learning curve meant for veterans in this field instead of beginners. Try spending time on this software for better results.
Without attention to details, you might just fail
Let's get this straight. If you are in a hurry and you have ten to fifteen minutes to finish your design then it's best for you to leave Adobe Illustrator alone. This is because Adobe Illustrator is great for designs that are realistic – designs that demand a fine attention to detailing which can really test your patience as a designer especially if you are running out of time.
You have to understand that your AI files are relatively smaller than any similar software available in the industry today even though you are working with graphics which in general much bigger as compared to text files. A number of file sharing systems do not really endorse Adobe Illustrator simply because of the size of the files. So this depends on your set-up really.
"A designer knows he has achieved perfection not when there is nothing left to add, but when there is nothing left to take away."
Restrictive editing options
Have you ever wondered why most designers finish the bulk of their work on Adobe Illustrator and then move on to Adobe Photoshop for putting the finishing touches? Yes the level of vector support is amazing and so are the page layouts as well as the special effects but for that final finishing touch you will need to take the help of any other software simply due to Illustrator's lack of photo editing options.
No pixels with Adobe Illustrator
Yes I said this still counts as an advantage but then again if you think about it, it's a limitation too. Why?  Of course you might just want to use pixel art in your design from time to time but Adobe illustrator will not allow you to do that, making this great feature a disadvantage too!