Photoshop vs Canva : 5 disadvantages of Canva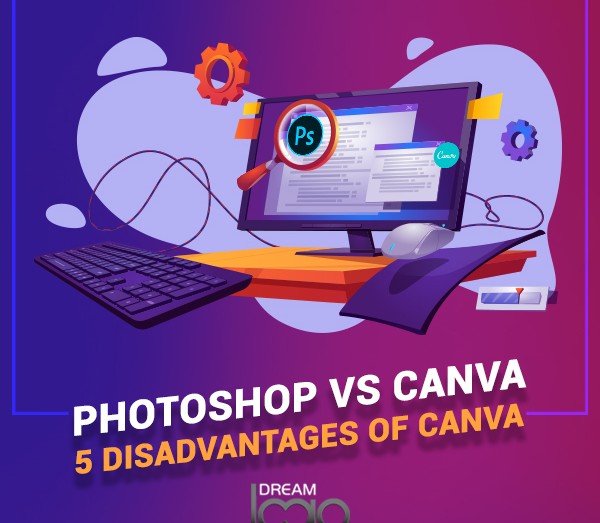 Design  is a crucial factor behind building a brand. Your design communicates your brand values, beliefs, and creates the visual image for your brand. Naturally, it is believed that graphic designing tools enhance brand communication.
"Digital design is like painting, except the paint never dries."
However, a large portion of effective communication relies on editing tools. It enhances the meaning and impact of the visuals produced. This is done through,
Eliminating unnecessary elements.
Adjusting brightness and contrast.
Turning visuals into high-quality images.
Adobe Photoshop and Canva are the two most popular editing software in the market right now. It is used by most creative professionals. However, this blog primarily looks into the disadvantages of using Canva. But, that does not mean it is devoid of any positive aspects.
What is Canva?
Canva is a simple graphic design tool for users with no design skills. Most users can use it for free or get the premium version. It comes with an extended list of functionalities. Nevertheless, the free version provides more than enough.
Canva is best suited for online entrepreneurs, marketers and business owners who like to get things done easily. Photoshop, on the other hand, is complicated. To use Photoshop you have to invest in a better and more expensive device.
If you are not a graphic designer and have budgetary constraints, Canva is your designing solution. The free version offers you with generous tools and ample templates for creating stunning graphics. Using Canva you can create,
Social media posts and storyboards
Flyers, invitations, posters
Logo, business card and brand identity
Resumes, portfolios and presentations
Videos
Social media banners, ads and others
What is Adobe Photoshop?
Adobe Photoshop is a product of the Adobe family. It is mostly used by professionals to create digital design. It is the perfect tool in editing raster images. Some cool features of Adobe photoshop include,
Image creation.
Create website mock-ups.
Add effects to your design and many more.
5 Disadvantages of Canva:
Not everything is perfect. Just like any other service, Canva is not alien to certain disadvantages. The 5 common disadvantages of Canva include,
1.Design and Templates
Canva is popularly know for is their variety of designs and templates. Even though the collection is amazing, there are measurement restrictions. However, with Adobe Photoshop you can fix the measurement easily. It is also less time-consuming.
With more users adopting Canva, people are starting to take notice. Businesses may get caught for lack of creativity. It might not look much, but audience like authenticity. Instead of using Canva templates, try starting with Blank templates.
2.Exporting or Downloading files
One of the major drawbacks of Canva is its limited export or more simply put, downloading options. The settings are restricted to PNG, PDF, RGB and JPG formats. However, they have expanded their option with PDF print.
Another drawback in these settings are the CMYK format. Most packaging and magazine design departments depend on CMYK format. This makes Adobe Photoshop more preferable than Canva.
Additionally, Canva offers low file sizes adding pixelation risk. Comparatively, Adobe Photoshop allow change in its export settings to choose between CMYK and RGB formats.
3.Object alignment
Another Canva disappointment includes the missing rulers. If you are Canva user, you know what we are talking about.
Creating visually appealing images requires definite guidelines. For instance, applying a logo or other imagery on a precise position. It requires time and energy. The absence of a measurement ruler makes pixel-perfect alignment quite difficult. The lilac lines, also, do not help. Adobe Photoshop has done a better job in such aspect.
4.Offline vs. Online
Canva is a website application. There is no need for download. Just open the browser and start working. It also comes with a mobile version.  All you have to do is sign-up and you are ready to go. However, you cannot use it Offline. That means  you cannot access your files without a network connection. All the designs are saved on the server.
Although, you can download the files, but certain features won't be available to you. Adobe photoshop on the other hand, can be installed on your machine. Photoshop, by default, saves all your files on the machine.
5.Photo Editing skills
You often want to use animated graphics, or photos in your design. So most design tools offer photo editing capabilities. Similarly, Canva offers basic photo editing. Some of them include,
a)Adjustments: Such as basic saturation, lightning, contrast and brightness.
b)Cropping: Basic cropping of images but not as in-depth as Adobe.
c)Effects: Limited to pixelation, liquify and other effects.
d)Filters: Ready-made photo filters that most of us are acquainted with.
However, Canva has a long way to go in terms of user-accessibility.
Adobe Photoshop, on the other hand, offer:
Raw files: Photoshop supports all sort of files including raw files. That is why, most photographers prefer using adobe photoshop.
Select and edit: Photoshop allows cool features and variety of selection tools. It allows you to select specific part of an image and edit it.
Sharpening and Blurring: Although Canva supports sharpening and blurring, it is nowhere what Adobe has to offer.
Photo alignment and stacking: Adobe allows stacking or aligning of multiple images. This is ideal is you are creating panoramas or HDR images.
Masked editing: Adobe has some cool features to combine multiple photo layers. You can also use it for advance image composition.
Noise reduction: Adobe's noise reduction capability can save grainy photos. The effects are better if you are using the raw format of the image.
Levels and curves: Although Canva has the same features, but Adobe offer better levels of picture tune-up.
Additional Disadvantages:
Canva does not allow creating custom graphics. You have to assemble pictures that suits your need.
Free users have no access to graphic designing features. On paid-users can have it.
The stock images and templates are somewhat generic.
There are functional inconsistencies between the web and the mobile application.
The collaboration tool does not allow adding team members. They have to work separately.
Canva is difficult to use on small screens.
Conclusion
There is no doubt that Canva is a better option for small businesses, bloggers, and influencers. However, a bigger visual impact requires Adobe photoshop. All things considered, Canva and Adobe photoshop are both great applications in their zone.