Motion Graphics: Trends & Hacks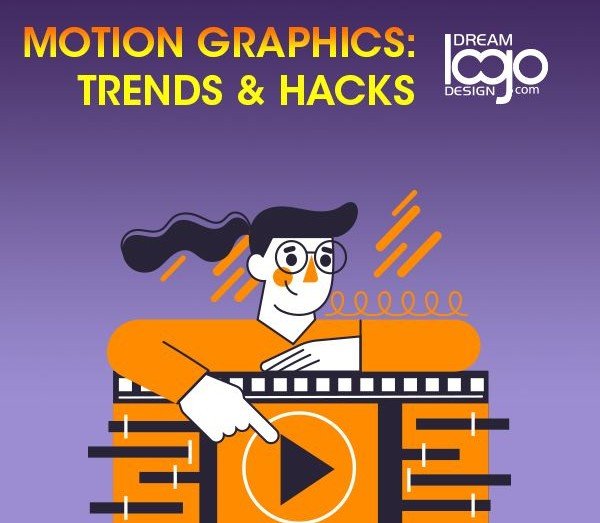 Introduction
Animation that creates the appearance of movement or rotation is called motion design or motion graphics. Some of the latest and most effective advertisements on Instagram have utilized designs in motion to a great extent. Motion graphics can include everything from a moving text bubble to an illustration of characters walking through an environment.
Main Objective of Motion Graphics
Motion graphics are great for:
Explaining a complex topic
Showcasing a new product or feature
Building brand awareness
Differentiating a company from its competitors
Storytelling or self-expression
5 Quick Motion Design Hacks
Motion design is not an easy task. These motion design hacks will help you get great results if you're short on time. It is a real challenge to create awesome motion design sequences. The good news is that there are several simple things you can do to make the process easy. Here are 5 great motion design hacks that will provide the advantages of creating animated videos.
1. Depth of Field
The human eye and the camera both have a depth of field, so it makes sense that introducing some depth to your designs will enhance their visual appeal. Despite the fact that it can get out of control quickly, depth of field is a great way to quickly add visual interest to your scene.
2. Smooth Movements
You can make your designs more custom by easing your keyframes. The graph editor should be used instead of its built-in ease of interpolation. With the graph editor, you can specify how your keyframes work precisely. Disney animators Ollie Johnston and Frank Thomas included smooth motion in their book The Illusion of Life: Disney Animation in 1981, which was a compilation of 12 principles for animators to follow.
3. Excellent Font Choice
It is really challenging to choose the right font for motion design. As opposed to still design, viewers of motion design will only be exposed to a font for a predetermined period of time. Consequently, you need to choose a font that is clear and easy to read yet intriguing enough to capture your audience's attention.
4. Move the Camera
A still camera creates a static scene. Moving the camera around in 3D space, regardless of how simple it might be, will increase visual interest and provide greater depth to your scene. You just need to create a new design in Adobe After Effects and set the layers to 3D. Besides looking great, it is also fast and easy to do!
5. Pick a Color Palette
Motion design is incredibly dependent on color theory. If you want to pick great color palettes, rather than try to decide what looks good, there are lots of great online resources available. You can navigate through the color palette quickly with keyboard shortcuts and then export them as a PDF when you're ready!
Some Trending Motion Graphics Animation
An animated visual presentation of your brand or product gives your audience an unforgettable experience. Whatever the video content may be, motion graphics usually take it to a whole new level by enhancing the message and making the video almost unforgettable. Your audience can be engaged in real-time with trending graphics, such as 3D animation techniques. Another benefit of incorporating motion graphics is that videos can generate 1200% more shares than text or images. Check out several animation trends of 2021.
Liquid Motion Graphic
The After-effects software has literally pushed motion animation to new heights, and we will reveal its secrets. There is nothing more creative than liquid motion animations. Moreover, the videos are well-presented, smooth, and colorful, which makes them extremely engaging. Apart from all of the other factors mentioned, the splashy shifts and transformational shapes are only enhancing the experience and bringing the viewer's attention.
Isometric Design
Most brands commit the same mistake of including too much in just one motion graphic animation. There is a problem with this approach. By using too many images, facts, and figures, the audience feels overwhelmed, and, as a result, the idea of engaging them is compromised.
Bold Typography
The highlights of your business can be showcased by bold typography-based motion graphic videos. Clear and strong messages are delivered in these videos. Additionally, you get to emphasize the core message of your video using bold and large typography.
Virtual Reality
Virtual reality graphic animation is the one type of animation that just about everyone is familiar with. It is possible to give your customers a real-life virtual experience related to your brand, service, or product by taking advantage of this animation trend, which has been growing and evolving continuously over the past few years. Furthermore, virtual reality is highly focused on quality and creativity, so you may convert your viewers immediately.
Thin Lines Motion Graphic
How about creating a graphic animation that connects your brand's different products and services in your video? Thin lines are a perfect choice if that is the case. A thin line reveals the person behind a brand to your audience. This motion graphics animation has sketchy vector lines that reflect hand-craftsmanship and in a subconscious manner, represent the people behind the brand.
Morphing Animation
Morphing animation is basically a graphical representation of your whole brand like GIF. The logo, images, and culture of your company can be represented with the help of this animation graphic. This animation will help the user to get engaged with your brand in the shortest amount of time. Animated transitions will play a large part in a variety of branding campaigns, as users spend 2.5 seconds on any internet content they access.
Website & Application Motion Graphics
Thanks to the modernization of the digital world, we have many opportunities to engage our audience. The average viewer skips your brand and hops on your competitors if it does not have an aesthetically pleasing website today. The same goes for apps. With motion graphics, you can retain your audience by integrating a video on your homepage or loading screen that is interesting and enticing and that allows them to interact with it.
Conclusion
A motion graphic is an increasingly popular way to communicate design ideas with style and ease. Animations are an effective way to engage and retain readers, plus they provide plenty of creative opportunities for animators. Always encourage new ideas and new approaches by keeping an eye on trends.