LinkedIn Ads Rules 101: A Guide to Creating the LinkedIn Perfect Ad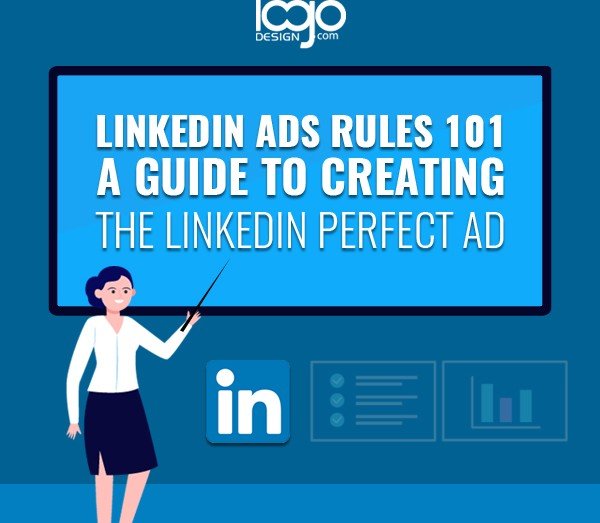 Introduction
LinkedIn tops the list of popular social media marketing platforms in both the B2B and B2C segments, and it is a great resource for marketers of all sizes. It is also important not to ignore this platform. Although LinkedIn Ads can be quite costly in comparison to Facebook and Instagram, it allows brands to target specific individuals according to their job title, industry, education, and other criteria to reach people from the specific industries they are targeting, & it is worth the investment. Connecting with your target audience is possible If you are able to target the right audience at the right time and send the right message.
What are LinkedIn Ads?
With LinkedIn Ads, you can access LinkedIn social media platforms using various sponsored posts, as well as other marketing strategies. It is a great tool for online advertising, building leads, gaining online recognition, sharing content, and much more for B2B companies. LinkedIn Ads allow companies to promote their presence within the professional market through LinkedIn marketing. LinkedIn is a social networking platform popular with both professionals and businesses, with more than 660 million users in over 220 countries.
How to Create the LinkedIn Perfect Ad?
You can improve the success of your LinkedIn marketing strategy through the LinkedIn Ad Campaign. You will be able to get strong results when you advertise on this platform if you follow these steps.
Create a free LinkedIn Page
You can establish your brand on LinkedIn easily and for free by setting up a LinkedIn Page. A LinkedIn account and a valid email address are all you need to get started. If you want to run Sponsored Content and Sponsored Messaging on LinkedIn, you must have a LinkedIn Page. Additionally, posting high-quality content can improve your results in the bid auction. The LinkedIn relevance score rewards marketers who regularly publish content that generates clicks, likes, comments, and shares.
Determine Your Objective
In the new approach to advertising, you need to choose your advertising objectives first. Your campaign creation will be streamlined and customized based on your campaign objective. In advertising, an objective is what you want customers to do after seeing your advertisement.  From awareness-building to conversion, LinkedIn Ads support full-funnel objectives.
Know about the Different LinkedIn Ad Formats
It is possible to advertise on LinkedIn using a variety of different formats. In order to build a successful LinkedIn Ads campaign, you need to select the right ad format for each goal. The following LinkedIn ad formats can help companies to promote themselves.
Sponsored Content
LinkedIn's sponsored content ads work like native ads, and ads appear in user's feeds as promoted content. Similar to Facebook, sponsored content ads appear in user's feeds as clearly marked promotions. Sponsored content is available on every device. Your ads will receive the most views when you use sponsored content. In order to build out your marketing campaign, sponsored content is where you should begin. You can choose either a carousel, or a video, or an image post for your sponsored content ads. In LinkedIn, long-form content is more popular since users are more inclined to consume it than short-form content.
LinkedIn Message Ads
LinkedIn's Message Ads are private messages sent to the groups of users you want to target. Advertisements can appear on any placement or platform. The users receive Message Ads directly to their inbox, so the messages are more personalized. By personalizing ads, you increase interaction with them, and a great ad copy will result in a conversion or a click. Users receive a notification for message advertisements that can be useful for improving results.
LinkedIn Text Ads
LinkedIn's text ads appear on the right side of the main feed and only appear for desktop users. Due to its hiding ability, it can have a negative impact on the performance of ads compared to other formats. Using text ads can enable you to reach a wider audience and boost conversion rates in a targeted and effective campaign.
LinkedIn Dynamic Ads
You can target your audience with dynamic ads on Linkedin that are automatically personalized. Your LinkedIn business page can increase subscribers by using dynamic ads, and your shared organic content on the platform can be viewed more by using dynamic ads. Dynamic ads can also be used to promote products and services like sponsored content posts to drive traffic to a landing page.
Create an Audience
Your next step will be to create an audience that you wish to target through the ad. You can target your potential customers using LinkedIn's various attributes like employment history, company, profession, skills, and so on. A bunch of LinkedIn audiences is also listed according to their attributes. When you create your campaign for the first time, you can choose from the relevant audiences. Upon selecting your audience, LinkedIn automates the process of creating an audience by adding relevant characteristics such as job titles, group members, education, skills, etc., within the relevant sections.
Set the Campaign Budget
It is very important to set up a campaign budget to ensure that the budget stays within your control and does not exceed the pre-defined budget. There are two options after that: running the campaign continuously from the start date or scheduling the start and end dates. The campaign must be manually stopped if you elect to run it continuously.
Select a Bid Type
In this step, you have to decide how to allocate your ad budget. There are 3 types of bidding available on LinkedIn –
Automated Bid
By turning this on, LinkedIn can set the bid automatically for your campaigns based on history and member information.
Enhanced CPC Bid
Using this option, you'll be in control of the bid and you'll only be charged if someone clicks your ad. Your maximum bid amount can be set, and you will not be charged for anything more than that.
Maximum CPM Bid
In this type of bidding, your ads will appear 1000 times on the LinkedIn feed before being charged.
Set Up Conversion Tracking
By adding conversion tracking to your campaign, LinkedIn Ads allow you to track your audience's actions after clicking or viewing your LinkedIn advertisement. While conversion tracking is an optional step in campaign setup, it can provide you with valuable insight into how visitors visit website following their click on the ad.
Create Ads for the Campaign
In this step, you need to add the ad to the campaign for which you can create an ad or sponsor existing posts on the page. Yes, it is so simple! Creating a new advertisement is as simple as clicking on "Create a new ad" and adding the title, the introduction text, the destination URL, the image, and the header.
Launch Your Ad Campaign
By clicking the "Create" button after completing all the sections, your ad will be live soon. Lastly, click the "Next" button and then "Launch" on the next page to get the campaign live. Your ad is now live, but do not expect it to start delivering immediately. LinkedIn will have to review according to the advertising policies and approve it before your target audience sees your ad. In Campaign Manager, if an ad's creative status is listed as Ad Not approved or Rejected, it means that the LinkedIn team has reviewed your ad and it does not comply with their Advertising Policy.
Conclusion
Companies can improve their online marketing strategy by utilizing LinkedIn Ads. LinkedIn is a powerful tool in a number of ways for businesses that can fully take advantage of its potential.  You can reach every professional in your industry using LinkedIn ads, regardless of whether you're looking for B2B leads or to reach out to targeted professionals.