Imminent Digital Marketing trends for 2016 - Elucidated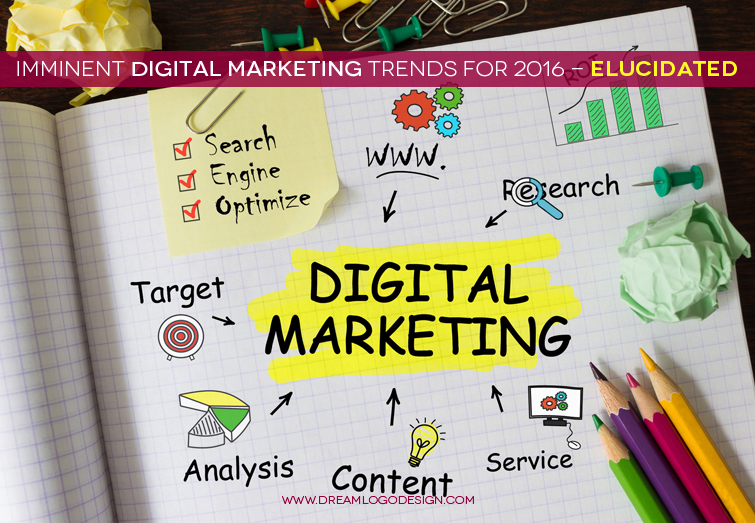 Digital marketing in the present is moving at an alarming pace, and to ensure a prominent place for our business in the competitive market we need to keep up with it. The digital world is filled with unlimited new and appealing products, services and digital newness. Search for the products by the buyers is not only restricted to browsing the internet as various social media platforms also every minute provide information about upcoming or new products. Creativity and logical approach is the trend of 2016 and the results are worthwhile.
Have a glance at the advanced trends in digital marketing that are effective in building brand reputation online:
Primarily, while creating a website the sole emphasis should be given on making it user friendly. The products and services should be described in such way that with a glance consumer can understand the functionality and utility.
Competitor analysis is an imperative part of an infallible internet marketing so as to know what the tactics that your competitors are up to. Taking the example of popular E-commerce sites, by following some of the reputed brands can be helpful in getting back links this will improve the search result on Google page and will fetch your more business
Secondly, it has to SEO friendly to have a better position on Google search page (SERP). No prizes for guessing, viewers only click on the websites that comes within first few positions on the page. So to attract more number of customers you must have a simple yet much describing site. As the latest update in the Google algorithm 'content is the king' concept still rules. To become a Google loved site and have maximum business your web page needs to have quality and unique content. Keeping it simple and avoiding use of jargon makes the content easy to understand for the viewers and their stay at the website for long.
Thirdly, every minute hundreds of searches are being carried out by the users on mobiles, tabs more that desktop. You will be amazed to know that more than 80% of local searches are done on mobiles and approximately 64% of them go for the products or services. Responsive or mobile friendly web design can fetch you the maximum amount of business.
Social media promotion is like a boon for reaching your brand to large traffic strategically. Every moment users keeps checking on their Facebook and other social media platforms and an ad or informative link sharing can get you a huge amount of traffic generating leads. It is an open secret Google has a keen watch on social signals. We need to know which platform impacts more whether it's Facebook likes shares or tweets or more number of re-pins from Pinterest as all are captured in its radar. It is seen that more preference is given to Google +1's followed by Facebook for search ranking.
The latest research on digital marketing in 2016, hints that marketers are opting to integrate advanced and traditional techniques for better results. Digital marketing services create eminent quality websites along with advanced optimization to ensure utmost traffic and business, keeping at par with the search engine updates.