How To Identify Long Tail Keywords for SEO Success?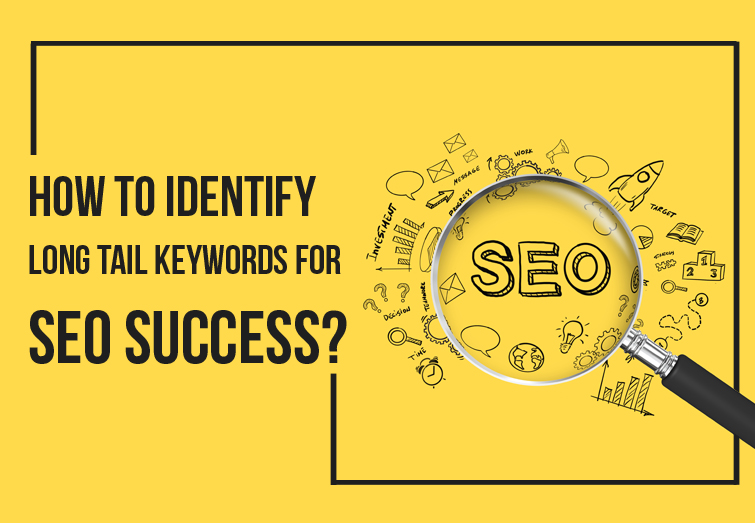 Let's get straight to the point. The success of an effective SEO strategy lies a lot in focusing on long-tail keywords. It would not be incorrect to state that such keywords practically become the foundation of Search Engine Optimisation. Going by the latest data, nearly 70% of the web-search results are based on the utilization of such keywords.
You might not have realized their importance up until now as we bring you factual proof about the importance of these key-phrases. Put, long-tail keywords account for the massive traffic generation that your website sees. Call them the holy grail of SEO, they are here for what they are; and that is, the basis of what Digital Marketing stands for. Let us now classify the identity of such vital aspects, and why at all they are so very essential.
Outranking Competition becomes Easier:
As per the latest reports of a New York-based survey agency, the on-page optimization results with long-tail keywords were much more impactful than the ones with single-word head terms. Well, any layman will be able to understand the importance that such keywords have held here. And, with better-optimized posts, you will be at the liberty of gaining traction amongst your fellow rivals. With more refined keyword queries, you can also tighten your niche and make smarter and calculative SEO speculation.
Defining Practical Internet Search:
Ask yourself, why are you even searching up on Google for a piece of particular information. Isn't it because you always want to hit the right triggers and end up with the most hard-hitting facts? Who would want to beat around the bush with something that isn't even relevant to what they want? This is when long term keywords help. Honestly, that is how people look for a specific something on the internet. They add as many points as they can to assure that the search results redirect to precisely what they might be looking for. So, as a savvy gadget freak, you might not want to look for "a Samsung phone," in fact, you would instead look for the "price and specifications of Samsung S9" if you wish to get absolute results. That is just one example, though. Many other instances indicate what clients are looking for in practical searches every day.
Adding Context to the Content:
The latest Humming update of 2017 has indicated Google's fondness for researches based on context. And, nothing much has changed in 2020 either. Today, the refined search results on the SERPs have given a tremendous boost that the well-structured Algorithm that Google works on focuses a lot on context and clarity of thought. Long-tail keywords certainly help a lot. So, it would help if you also put them to as much use as you can. Simple!
Gaining better Conversion Rates:
WordStream, a dedicated survey site, has affirmed that most of the top-rated landing pages have found successful conversions at a rate of 11.46%. This includes conversions from long-tail keywords at a whopping 36%. While this is undoubtedly a fantastic success story, it doesn't just end there. If you want to elaborate on the success rate of your website, you will find that your average conversion rate stands somewhere between 2-5%, or even less if you have just kickstarted your business.
Now, if you expect the scenario to change overnight by adding just a few long-tail keywords here and there, you are sadly mistaken. It directly doesn't work like that. Life has no "easy buttons"; what makes you think SEO has? Long-tail keywords will only restructure your CRO funnel and make it stronger. After all, it is more pocket-friendly to look for specific long-tail keywords and writing blogs about them than paying enormous amounts for PPC campaigns. Now, this is something you cannot afford to miss.
Attaining Better Rankings for Single Keywords:
Who isn't looking to gain higher rankings on the SERPs for their short keywords? If you know what we mean, you will understand that long-tail keywords do precisely the same. These keywords are, in fact, the catalysts for bringing in the rankings for these single keywords, which you might be struggling with so long. Do not believe us? Just go through the SEMRush report of your website after adopting the strategy. You will know what we are talking about. It is not only Neil Patel who claims this, but the same is also being proved time and again by Huffington Post, one of the most significant online bloggers. So, if it is their sure-fire success strategy, why not make it yours?
Fueling Your Blogging Strategy
Without further buildup, let us reiterate – BLOGGING IS THE BEST WAY OF RANKING IN THE SERPS. It is the foundation stone of any dynamic content marketing strategy. However, you need to understand the basic concept of utilizing these keywords in the proper context, and carefully placing them within the body text, title tag, and even the URL. Using these keywords in the headers and images could also help you grab the much-required attention. This, indeed, is a useful tool for optimizing your website. If you think that merely writing a single blog about a specific topic, would be enough to garner the rankings that you might be seeking for so long, we need to burst your bubble here, but you are creating a grave mistake. It would be best if you continued creating content with long-tail keywords.
Building a Stronger Conversion Funnel through Rankings:
What can be a better reason for making more use of long-tail keywords than to build a stronger conversion funnel? Traffic and lead generation is the biggest challenge that digital marketers face today. If you think you are the only one, let us reassure you that as much as 65% of companies are worried about the same issue. The only reason that can be solely held responsible here is the poor strategy adopted for content marketing and the resulting weak conversion funnel. So, long-tail keywords help you in this regard by assisting you in channelizing your conversion rates well.
Parting Note
If you ever had glamorous ideas about how keyword research works, it is time you must think again. If you think about it, keyword research is not beneficial to SEO. The entire foundation of Digital marketing lies on its shoulders. And, regardless of what you plan to do or strategize, it is effective long-tail keyword research that is going to win brownie points for you in the end. So, this is where you need to identify these long-tail keywords and utilize them to benefitting your SEO strategies.