How to Generate More Leads from your Website?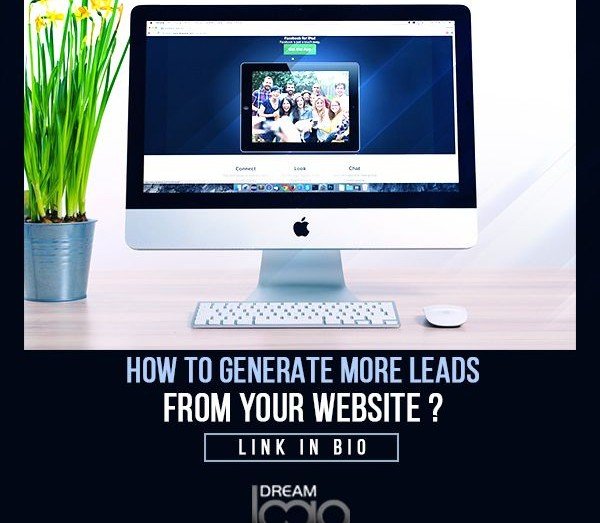 Is your website driving leads for your valuable business? Most B2B companies are struggling to create an online lead generation strategy through their company's website. But they are unsure where to begin and how to begin to get more leads.
Marketers and web designers need to consider a more strategic approach to create a landing page that will help them to build a more lead-generating website.
Benefit of Creating Website Conversions
Anybody can develop a website, but not everybody can create a conversion machine. Your website should consist of a mechanism that allows you to convert prospective visitors into interested leads who will later become your customers. Besides, your website should be able to guide the customers about the products and services that you sell.
Implementing the Conversion Process
All website owners dream about this mechanism, but they typically fail to implement the correct measure that will help to streamline their conversion process. The correct implementation will benefit their businesses in terms of sales, engagement, inquiries, and referrals. Once you have developed your website to be a conversion machine, you will be able to acquire an endless flow of quality website leads that will help your business to thrive.
Learn the Right Way with Examples
For example, if you are doing a real estate business, then you can try the best real estate lead generation websites like Leadpropeller, Bold Leads, Boom Town, and others to generate more web leads from your website. You can also learn how to create an optimized lead capture page that will generate leads for your business.
Seven Tactics that will Help to Generate More Leads from your Website
The following tactics are proven to be lead generation boosters that can not only increase conversions but also increase the trust factor and authority of your website.
Sale your Product or Services to your Niche Market
Many people make the mistake of selling one product or service to everybody. Although it sounds good in theory, in reality, every person who visits your website has different motives, values, as well as desires. Every step of the journey that they take on your website should add to their experience and take them a step closer to find their desired result.
You will increase the conversion rate of your website by tailoring your site to appeal to different micro-niche audiences. The more granular you make it, you will experience a higher conversion rate.
Make Sure that your Site has Web Pages that Convert
Before designing your website, you should test your lead generation pages to check which one provides the best conversions. There are many lead generation sites available in the market that opt to build a professional website but fail to focus on the conversion elements.
Test and Assess the Results
It is very important to test different web design leads and layouts to find out the differences in conversions, site engagement, and bounce rate. Investing in this at the initial stage can help your business to earn millions of dollars in revenue over the long term.
Make Sure that the Web Pages Get to Communicate your Exact Intentions
You should inform and persuade visitors to your website so that they will gain the confidence to commit to the conversion. Before asking the prospects for sale or submitting an inquiry, you should be able to acquire their trust. Otherwise, their instincts will tell them to leave your website. You can achieve this trust in the following ways:
Include a contact number on your website
Include a contact number on your website for prospects to contact your business and speak to a customer care executive who can answer any questions or queries that they might have.
Prepare a compelling sales headline
Prepare a compelling sales headline that will exactly define what you offer to your customers and clients.
Upload high resolution images
Upload high-resolution images that will resonate with the current experience of your customers or the experience that they desire.
Publish the sales report on your website
Publish a sales report on your website that will inform and demonstrate value to the website visitors so that it will compel them to take action on the website.
Use the calls-to-action prompt
Use the calls-to-action prompt on your website to define your customers exactly what actions they need to take in order to get the outcome that they desire.
Focus on Registering More People on Your Database Network
This will help to get qualified prospects to register the interest of your customers in your products or services by subscribing to the email list of your website or following your business on social media platforms. By doing this, your business will be able to:
Maintain communications with prospects
Retarget your customers in the future so that they will gain more trust in your brand and commit to converting on your website in the near future.
For example, getting leads for contractors can be easily done by using the best lead generation websites for contractors available in the market.
Use Pop-ups Function to Get More Engagement
Your customers need a trigger that will make them convert. Using pop-ups and welcome gates are great ways to increase the number of conversions on your website. There are various leading pop-up software solutions available in the market that will surely increase the conversion rate of your website.
Implement Retargeting Tags
You should implement retargeting tags that will help to promote the contents, products, or services of your website. It is very much easy and cheap to retarget a visitor to your website to convert them as your potential customer in the near future. You should simply add the retargeting code to your website to target previous visitors and compel them to return.
Publish Testimonials and Reviews
What other people think about your business is more important than anything that will communicate to your prospects. You should try to publish more positive reviews, feedbacks, and testimonials that will help to convince more people to convert to your website.
Conclusion
Once you have developed your website with a conversion mechanism, you will be able to experience an endless flow of qualified leads that will help your web business to thrive. So start to implement the recommendation that has been provided in this blog, and in the next 90 days, I guarantee that your business will see a substantial change in conversions.