Find out why People are opting for Illustrative logos?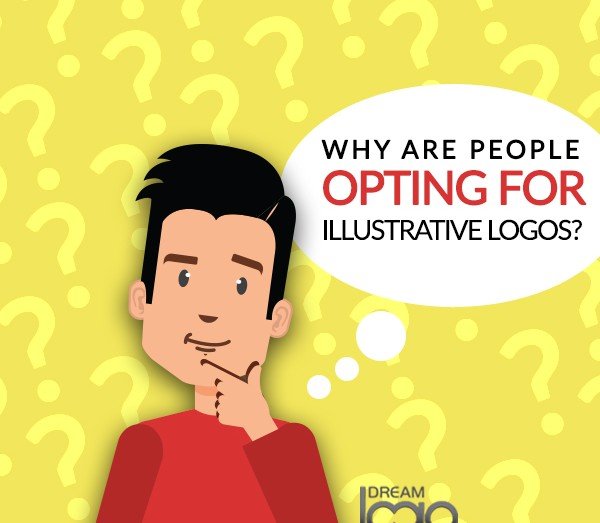 Logos have always been identified as the imagery that represents the company and its ideologies. It is your brand's corporate representation on any media, even though whether you are present there or not. So, a company logo must be catchy and effective enough to allure every eye at first glance.
A business logo is the most cost-effective tool to promote your business and can be used efficiently in various t-shirts, flyers, brochures, and so on. And hence, custom logo designing services have become a quintessential element for businesses irrespective of their sizes and nature.
An illustrative logo is one of the most comprehensive and uniform types of logo designs currently available in the market. Such a logo inspiration has gained massive momentum within a very short time due to its ability to portray its basic concepts and sometimes even its name.
Such logos speak at length about the basic principles that the company was founded on and represent the finest blend of quality and creativity of the images, designs, fonts, and sizes. So, suppose you are looking forward to getting an advertising company logo design. In that case, we will always advise you to opt for an illustrative logo that speaks profoundly about your brand ethics.
How can an illustrative logo help?
Today, brands like Starbucks, KFC, Nestle, and such others have also resorted to illustrative designs to represent their brand niche. A reputed logo maker is supposed to give that required depth and character to the logo and make it trending enough for the audience to watch.
Logo designing is not an easy task. A lot goes into making the best from the existing resources, which is why even the most experienced designers use the adobe illustrator logo tutorial. The most effective logo gives you a clear picture of what the brand represents at first glance. Hence, every effort must be taken to ensure that it stands out without even reading the adjacent slogans.
If you want to learn the right tricks to incorporate the perfect blend of quality and artistry, use the "adobe illustrator create logo" option. And Tada! Before you know it, your perfect logo is ready to rock and roll! All you need to do is choose the right blend of the design elements as discussed below, and you will be able to make a mark for yourself in the industry.
Essential elements of the perfect illustrative logo design
The adobe AI logo designer is the perfect tool that helps you develop your business's personality and enhance the value of your brand. However, these logos do not apply to businesses of all types. Few specified business niches such as fashion and entertainment and alphabet company logo will always use these illustrations to get the maximum output. Let us now discuss the key elements of creating these perfect designs.
Color Combination
Choosing the right color combination for creating the best illustrative logos is quintessential. The perfect visual imagery must be maintained for creating an effective communication impact. If you want to create an eye-catching image, it is essential that you need to choose a multi-colored scheme and make it as attractive as possible.
Style and Design
Layout and design have always been the most critical elements of an illustrative logo. The most efficient experts know that the core formula to create a competitive design is to make it comprehensive enough to compliment the multi-colored theme and variant. A strong layout and color scheme are critical to communicating an effective brand image.
Typography
Most of the fonts used for illustrative logos are extremely minimalistic and straight-forward. And they are so created to complement the overall characteristics of the business in concern. So, it is always advisable to use bold and straight-forward fonts while creating these imageries to be easily distinguished when printed on the marketing materials.
Suppose you want to create a high-profile and distinctive brand image with complicated designs. In that case, you need to use retro designs, which are extremely popular in the art of illustrative logo designing. The designers must be extra careful with typography selection so that the end-product does not have an unprofessional impact.
An unprofessional and untidy design, especially on the logo, gives a shabby and negative impact on the logo. You must always hire professional experts like Dream Logo Design to give out the best logos at the most affordable rates. Such designs will balance the creative and quality output and give a significant competition to the competitors.
These logos will help your business flourish to a great extent and give you significant promotion as well. So, even if your logo under-performs at its initiation, you should understand that every business strives to make its presence felt at the very beginning. However, if you still feel wary about the entire situation, you can always develop better ideas for your logos after thorough market research.
Pros of Illustrative Logo
Since it is an itemized realistic representation, different parts of an organization can undoubtedly be clarified, given the designer is sufficiently capable. It is outwardly more alluring when contrasted with the icon/emblematic logo. Lesser odds of copycats as an illustration, as a rule, portray a specific situation. Different variations of the character can undoubtedly be made to portray another part of the organization. It looks extraordinary when imprinted on organization T-Shirts and other accessories. More viable when energized.
Conclusion
Illustrative logos, including cartoon characters, extravagant symbolism, or mascots, are more appropriate to speak to organizations or organizations that are more enjoyable and imaginative. Brands focusing on youngsters or food aficionados additionally use illustrative logos. Commonly, most sports groups in schools use mascot designs to front their sports groups. Care should be taken that occasionally plainly illustrative logo may be a mood killer for many people as it could almost be bombastic and dull.
With everything taken into account, the logo design direction relies upon how the logo is used to decide the sort of format to follow. It is likewise best to understand the core business and the organization's intended interest group to get a logo that would be an ideal fit. Feel free to connect with us right away to know more!