Easy Ways to increase mobile conversion to quality leads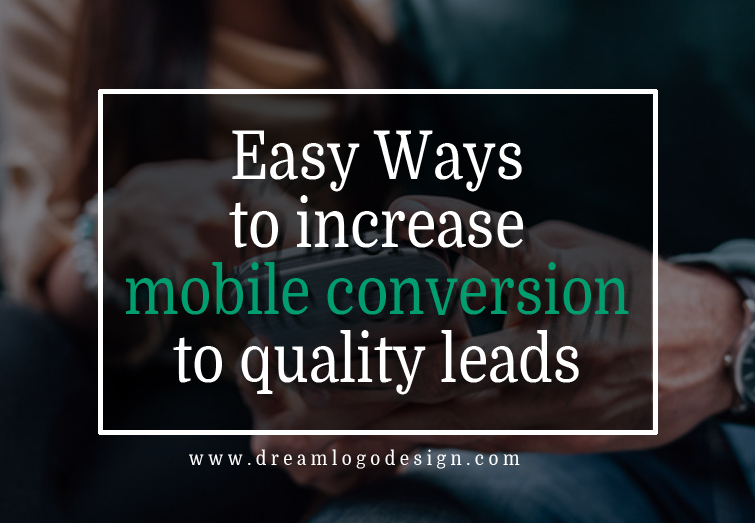 Some of the simple hacks of mobile conversion optimization to convert those to quality leads and increase the conversion rates. Gone are those days when only having a responsive website could suffice the engage the target audience and resulted in conversion. Present users are much smarter and are more choosy about their experiences. They want it to be customized for their devices. As the complete
SEO
process helps to get the relevant organic traffic to the website, here we will focus on the factors that can enhance mobile responsiveness. Here are some of the the key steps that can enhance your lead generation process though mobile.
Keep the page design simple
Put the required page elements instead of ornamentation, reduce the distractions nearby the main 'Call to Action' (CTA) button.
Don't engage your page with too many CTA's in the page 1 or 2 is proper for desired results. And create them in a way to get it highlighted with the graphical treatments.
Create the clickable elements with proper space without jumbling with other features around to be easily understood by the users and reduce the number of involuntary clicks.
Optimize the forms length and the merge the several-step process
1. Make it short and precise which reduces the chances of ambiguity for the users. 2. You can include some takeaways to the left of the form like:
Mention the form has two steps
Connect to the field which explains that they looking for.
Making the CTA prominent and visible with bold color
Offer the opportunity to change device.
Some percentage of the users seems to mobile surfers and desktop shoppers. Do not miss on this chunk of the audience, make it the way they want and try asking them for a shopping cart or website in an email. This can help the users to start the final process from where they left preferably from any device. Only creating an 'email shopping cart' button is not enough, not only that, if you guide them to emailing then must provide the reason for it. For example – purchase it after the discussion from the desktop or buy it once you are completed with your work. Around 68% of the mobile surfing's actually done at home on the bigger screened devices, so that makes it clear that final action is taken occurs though a desktop.
Make the check out process prompt and easier
consolidate the billing and shipping process in one page
Provide GPS targeting for better location information than entering information by typing
Include click to call with phone number.
Create an option for the users to to save their account credentials with the log-in which makes the second buy easier.
Make it pictorial
If any of the messages can be described in image form, then go for that!. A visual or image is always better conceived on mobile versions than having to read a long text.
Icons can be impactful in this respect they look trendy and are more concise. Intuitive icons can be used as can be easily processed.