Digital Marketing made Simple: A Beginner's Guide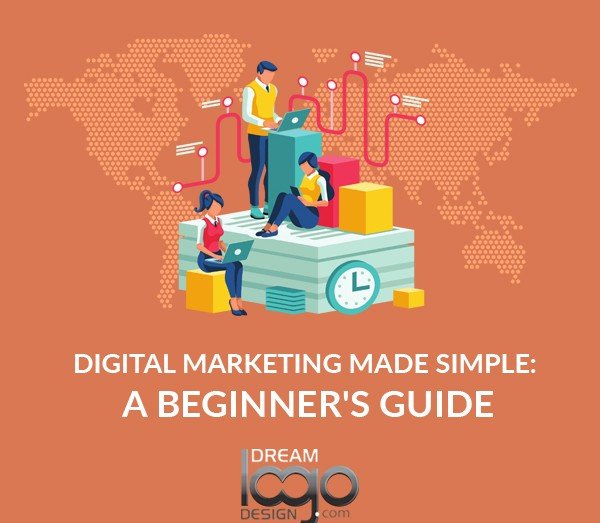 Digital marketing, also known as online marketing or internet advertising, is about marketing your business using online platforms. So it is an online marketing strategy where the promotion of brands to connect with potential customers through social media, email, and other web-based advertising points. So what is the extra potential that digital marketing has over "traditional marketing", such as magazine and television ads or billboards?
Well, with over 4.6 billion internet users, digital marketing always remains a mile ahead when it comes to connecting with people. And marketing or promoting your brand name is all about connecting with your audience in the right place and at the right time. Hence looking at the number of users, it's high time to build the best online marketing tactics and enhance your brand's visibility using the vast digital space.
Why Digital Marketing is important for your business?
First and foremost the visibility of the internet is far beyond traditional marketing of print ads or phone conversations. And this is why nowadays every business (both small and large) either has an own website or at least has a social media presence. Looking to its vastness and simplicity of promoting brand awareness, few benefits of digital marketing are discussed below:
It's cost-effective: Apart from having the power of reaching a broader audience than traditional marketing, it also carries a lower cost. Overhead cost for a TV ad can be high and doing any modification can also be expensive and laborious. On the other hand, for example in content marketing, you can create just 1 content piece that draws visitors to your blog as long as it's active. The same happens with email campaigns. Here also you can send mails to the targeted audience on a scheduled basis. And making any change in content or even in schedule is also very flexible under digital marketing.
Make promotion personalized: Digital marketing allows a business to identify and target a highly specific audience, and send that audience personalized. And it's always true that personalized messages always have a high-converting ratio than a general TV ad or a roadside billboard. So in one line, digital marketing enables you to conduct the research necessary to identify your buyer persona. This ultimately enables you to refine your digital media promotion strategy. For instance of social media marketing through Instagram makes you filter the audience based on location, gender, age, interests.
Quantifiable result: Here in digital marketing, you can actually measure the effectiveness of your brand promotion in terms of views, clicks, shares, online purchases, time spent on your website. Under traditional marketing, this is not at all possible. This measurement facility of digital marketing helps to see accurate results in real-time.
Additionally, online promotion of business enables you to track campaigns daily. Hence it eventually helps to decrease the amount of money you're spending on a certain channel if it isn't demonstrating high ROI.
The 7 most effective categories of digital or online marketing strategy:
Although the approaches of achieving the best online marketing tactics are constantly evolving, but here are some key strategies that can be really fruitful for your brand promotions:
Search Engine Optimization: Abbreviated as SEO, it's technically a marketing tool rather than a form of marketing itself. It's a process where you can optimize your website to "rank" higher in search engine results pages. And that's why it is always considered the best way to increase organic (or free) web traffic to your website. But getting a page to rank usually takes quite a bit of time and effort; that's why it's always suggested to involve an SEO expert when it comes to optimizing your business website.
To rank high in Google searches these three factors should be considered:
Quality of your website's content
Number and quality of inbound links into your blogs/ content
Level of user engagement
Content Marketing: Content marketing is all about strategy based on the distribution of relevant and valuable content to a target audience. This is the reason, search engine optimization is always considered the major factor in content marketing. Just like other marketing tactics, the final goal of content marketing is also about building brand awareness that can ultimately result in more web traffic and lead generation.
Content assets like posting blogs, eBooks, videos, info graphics are the top categories of content marketing. For example, writing and publishing articles accelerate generating organic search traffic for your business. EBooks are similar to blogs but in a long-form format. And info graphics are like the visual form of content that helps website visitors visualize a concept you want to help to know.
Pay-Per-Click (PPC): A method of driving more traffic to your website by paying a publisher every time your ad is clicked. Pay-per-click (PPC) advertising is a broad term of marketing in any digital media, where you pay for every user who clicks on an ad.
Social Media Marketing: An online marketing strategy that refers to the use of social media networks (such as Facebook, Instagram, LinkedIn, or Twitter) to promote your company's product and services. Because social media marketing (SMM) involves active audience participation, it's perhaps the most popular platform for B2B and B2C markets to highlight their brands.
Marketing Automation: Marketing Automation is a kind of software that is used to power digital marketing campaigns along with improving the efficiency and relevance of advertising. In other words, it helps to automate your basic marketing operations. For example, email automation helps you to automatically send emails to your subscribers, and that too according to the scheduled plan. Same happens with social media posts as well.
Buyer Personas: A buyer persona is a research-based profile that depicts a target customer. So buyer personas make you understand who your ideal customers are, the challenges they face, and how they make decisions. This in turn ensures you get an insight of all activities involved in acquiring and serving your customers are tailored to the targeted buyer's needs. Using buyer personas as your business guide can help you to get a clear idea of the needs of your customers.
Value-based Messaging: This strategic approach focuses on making a genuine connection with the customer beyond interest in a product or service. So value-based messaging gives your audience a reason to care about your issue by appealing to their values and addressing their concerns. Ultimately this can help your brand to establish greater trust with consumers.
Conclusion:
Digital marketing is all about building an online presence for your business. So whether it is SEO or pay-per-click marketing, every step needs research and perfect online marketing tactics or the best marketing analytics technique.
Last but not the least; only digital data can provide you the highest level of personalization and that's why it is considered the best way to stay in touch with your customers. Hence it's high time to realize your company's growth potential with the right digital marketing blueprint.