Creating a Brand Identity? 10 Questions to Consider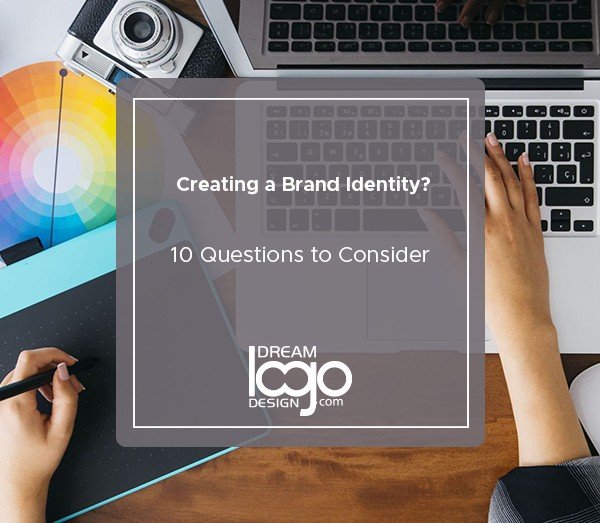 Introduction
Whether your company is a brand new startup or an established one, creating or redefining your brand identity will be a big challenge. You must consider not only the obvious things like logo design and brand name but also your personality, culture, tone of voice, and your online and offline identities. Nowadays, brand identity is a key component of success. Many companies provide brand identity development services or work as an individual branding consultant or branding consultancy to teach you how to brand your company.
What is a Brand Identity, and Why do I Need One?
The brand identity you have is determined by how your audience perceives you. Your audience might not understand who you are if you do not have a comprehensive, well-defined brand identity. Without understanding who you are, they are unlikely to promote you.
Branding and Brand Identity are Different
There is a difference between brand identity and branding. It is a byproduct of effective branding. Although marketers sometimes mix up brand identity and visual identity, these two are not the same. Branding services provided by the brand designers will help you to stand out from the competition, target the right people, as well as communicate your message effectively.
Components of Brand Identity
The brand identity consists of:
 Ten Questions to Consider
So, how can we get these five things right for brand identity designing services? You should ask yourself these ten questions.
Who is Your Ideal Customer?
A strong buyer persona profile or robust profiles of your ideal customer should be the first place to focus your efforts if your brand has not already done so. Almost every aspect of your brand identity should be shaped by buyer personas.
Point out what types of brands your buyer personas value
Determine what types of brands your buyer personas value. Do they want cost savings or the highest quality? Are they looking for deep relationships with their vendors or convenience? You can develop a relevant identity if you understand the pain points and priorities of the perfect buyer.
2. What Pain Points do You Solve?
Your customers do not search for your company because their lives are perfect. You probably provide a product or service that solves a certain problem. They might be worried about fines related to regulatory requirements since you provide compliance training. Your customers need you because they have a problem or a pain point.
3. What Kind of Personality Do You Have?
Brand personality can be defined as a set of characteristics that are associated with a brand. A brand with a strong, well-defined personality is immediately likable since customers can relate to it on a personal level.
4. What is Your Competition?
Competitive analysis can serve as a valuable starting point for any marketing strategy. The same is true for brand identity. Your competitors can teach you valuable branding lessons depending on your industry and level of competition.
What Will You Learn from Your Competitors?
Your competitors could be textbook examples of poorly defined brand identities. It is possible that their voice is inconsistent across digital mediums, or their logo is not original. Perhaps they have an excellent brand identity, one that is easily memorable, unique, and incredibly appealing. You should consider your competitors' statuses as creative solutions for creating a brand identity that is objectively superior.
5. How Do You Make Your Clients Feel?
When your most satisfied new customers communicate with your sales team or account management team, what do they say? Your interactions with new, satisfied customers can reveal a wealth of information about how you make them feel. It is crucial to know which emotions your customers associate with your company when building a brand identity. You can use this emotion to select aspects of your visual identity, such as the optimal colors and fonts.
6. What Makes Your Company Different from Others?
What does your brand offer that your competitors cannot? But perhaps more importantly, how can your brand identity convey this?  It is important to keep in mind that simply being different is not sufficient. To create a difference, you need to actively carve a niche and focus on your strengths.
7. Why Do Your Clients Trust You?
By conducting customer interviews or talking to your sales team, you can learn why customers ultimately choose your company. Brand identity can be determined by the factors that lead to prospect trust and customer conversion rate. The unique trust factor of your company could be:
Transparency
Expertise
Flexibility
You can use this trust factor to distinguish your brand from others and to build a memorable brand identity.
8. What is Your Story?
The brand story is one of the most important components of branding. Obviously, this includes both the literal history of your company, like when you were founded, and the role you play in your customers' lives. Customer experience should make your brand's story memorable. If you can make them more efficient at their work, their boss is sure to compliment them. They might benefit from your mortgage products if they intend to purchase a first home and begin a family. A story such as this can serve as an important basis for your brand identity and marketing content.
9. What are 5 Words that Describe Your Company?
In order to define your brand's identity, you may develop a list of five adjectives that you think best to describe the personality, look, and voice of your company. Here are five words that might work:
Quality
Consistency
Values
Customer Service
Commitment
10. What is Wrong with Your Existing Brand Identity?
Your organization has an identity, regardless of whether or not it has defined one in the past. In some form, you have an identity, regardless of how cohesive or well-defined it is. If you are considering a rebranding or brand definition project for your organization, it is important to consider why you are starting this effort. Are you struggling to create a brand that can compete with your competitors? Do you consider it to be a poor fit for who you are? Has your work culture changed significantly since you hired a new leader or ownership team?
Importance of Brand identity Design Services
You can make significant improvements to your brand by discovering the reason why you need to define it. You can inspire the right change by applying this knowledge. Whether you need a logo design, sales brochure design, product catalog, or corporate presentation, brand identity design services will help you to increase your business reach among your target customers.
Conclusion
There is no "fluffy" exercise that produces little measurable results in defining brand identity. Establishing a strong brand identity is critical to building loyal customers and retaining them, which can be an advantage in the competition. A brand's identity is essential to success these days since everyone is looking at the brand image.