Content Marketing Made Simple : A Step-By-Step Guide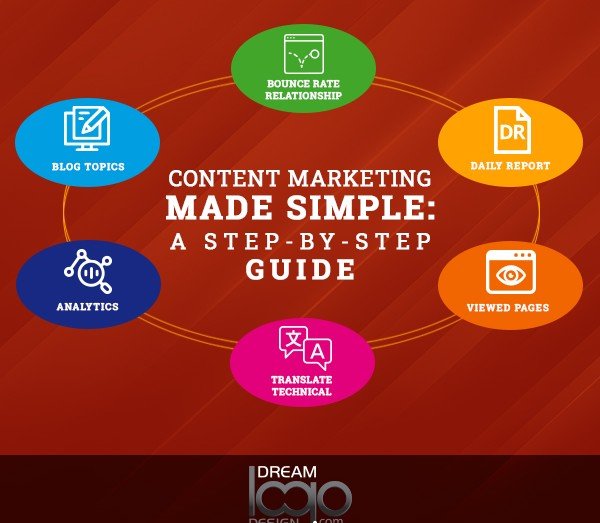 What is content marketing? Well, it is the method of using engaging and relevant content as a powerful tool of attracting your prospective consumers. Besides, it is the most trustworthy method to boost your business's visibility in the internet marketplace. And when done right, content marketing can be a successful PR exercise for your business.
Your content strategy should be based on impactful content creations and distributing those to draw and sustain a defined audience. Besides, you should focus on driving profitable customer action and boosting sales conversions while marketing content. Blog posts, social media posts, podcasts and videos are some popular types of content marketing.
If you try to grasp the true essence of content marketing definition, you will find that it's not about pitching your products or services. It's a way to reinforce the authority and credibility of your business among your target audience, and in the industry, you are operating. Besides, digital content creation should focus on offering answers to the problems your prospective buyers are facing.
Big Names are Adapting Content Marketing
You will be able to create a brand or a name with a well-chalked content marketing strategy. Companies such as P&G, Cisco Systems, and Microsoft can be the most effective examples of content marketing. They have owned this method as it works!
Even Small Business Can Reap Its Benefits:
Many small businesses today also hire a content marketing agency to boost their clientele and visibility. It's all the more important for a small business as they can enjoy larger revenue conversion or return on their investment of hiring a digital marketing agency. Julie Fleischer has rightly pointed out, "Content Marketing provides 4x the ROI of our traditional marketing spend."
Content at Core of Every Marketing Process
The types of marketing tactics you are using do not really matter these days. Marketing content needs to be a part of your process. In a nutshell, high-quality content is an essential element of all forms of marketing.
Usually, a business needs to have a powerful content strategy to enjoy three benefits. Those benefits are increased sales, cost savings, improved customer base with better loyalty. A business needs to know the different forms of content marketing to reach out to the right people at the right time! Various forms of content marketing strategies are:
SEO content strategy
Successful PR strategies
Pay per click content strategies
The Changing Scenario in Marketing Content:
We have come a long way since the initial days of marketing content. Who could have thought of stuff like video marketing and other advanced methods in those days? Today, we have tons of diverse content marketing strategies. We have endless marketing mediums and methods to explore and STAND OUT!
Have you heard of the in-trend "3D Content" model highlighted in a leading online publication? Primarily, it comprises three individual steps.
Mapping the content to the pain point of your prospective customers
Creating content to solve their problems
Mapping the content to the buying cycle of the persons who have that pain point
Offering the Right Solution to the Right People:
The focus in content Marketing has witnessed a paradigm shift from the marketer to the person that the marketer is trying to reach. It's no longer about preaching to people what they want. It's about understanding what they want and offering solutions based on their requirements. Is your content catering to the right people with the right solutions? If yes, cheers!
Let's Know the Take of CMI on Content Marketing
The Content Marketing Institute says that your content marketing strategy should be able to outline your key business and the requirements of your customers. Besides, it should also address how your content is going to offer solutions to your customers' problems.
So, CMI management harps on the importance of knowing your customers, audience, and prospects. Can you create impactful content without knowing your target group? It's next to impossible. Let's discuss the concept of content mapping in this context.
Content Mapping Based on Customer Journey:
Storytelling has changed a lot over the years owing to the changing circumstances. Now, everyone has many things and many mediums to focus on. A marketer today needs to be absolutely sure that he/she weaves stories in the year actually we are living in.
A Brief Idea About Content Mapping:
But, first thing first! Do you know about content mapping? It is the act of understanding your prospective audience. It's valuable and remarkable in every content marketing strategy as it helps create content that will guide the customers through each stage of their journey toward purchasing your product or service.
Making the Most of Various Options Available
The ultimate goal of content creations and marketing is to propel the growth of any business. Good content strategies always help in improved conversion rates. For example, check the strategies of CMI Media, the undisputed strategy-king in health, wellness, and pharmaceuticals sectors.
Use the Right Tools to Attract Your Customers At First
However, revenue conversion will remain an unfulfilled dream if your content cannot attract paying customers at first. Also, remember that it's the age of social media and endless internet space. So, use the right marketing tools and strategies to fortify your presence.
Few Things to Keep in Mind While Creating Marketing Content Strategy:
Are you a content marketer? Keep the following things in mind.
Content marketing strategy and content strategy are not the same.
There is no universal template for creating the content marketing strategy for all businesses.
Your marketing strategy should be well documented. A verbal strategy is as bad as having no strategy.
The success of your content marketing strategy will have an impact on the success of your business.
Hopefully, this step-step-step guide in marketing content will be helpful for you as a marketer. Know your audiences; create engaging content, and use that content to spread the word about your business. That's content marketing simplified for you!
Looking for a marketer for your business? Choose Dream Logo Design as the one-stop destination for all your digital marketing requirements. We boast of a sound clientele across various industries.