Canonical Tags - Where and When to Use Them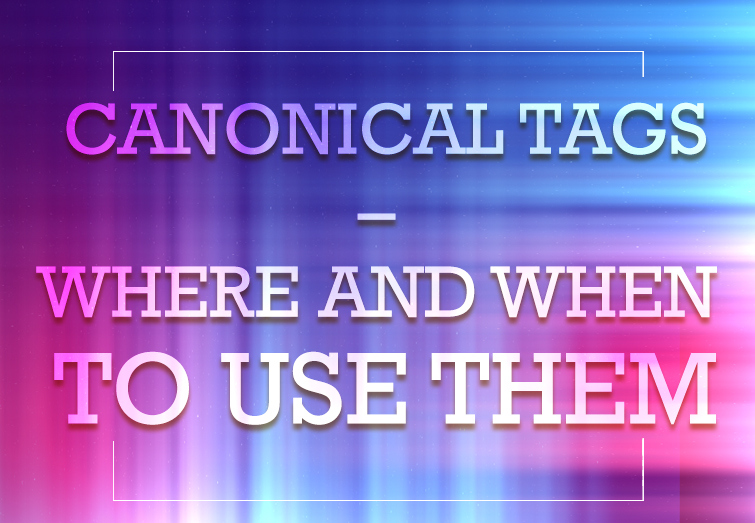 Canonical tags have been around since 2009, but there are still many confusions about the same among non-technical marketers. In simple words, canonical tags give website owners a way to resolve issues related to duplicate content.
What is a Canonical Tag?
A canonical tag is a simple HTML code which defines the main version of the website. It tells search engines as to which page they should index and display in search results. For example, if you have more than one web page that describes same or similar content under different URLs, you can use canonical tags to indicate which version is the main page and needs to be indexed.
How Does a Canonical Tag Look Like?
As mentioned, canonical tags are simple HTML codes that are made of simple syntax. They are placed within the
section of a webpage. A canonical sample tag may look like the following:
Importance of Canonical Tag in SEO:
If you have more than one web page with similar contents under different URLs, Google will consider them as a duplicate content. This is something which Google dislikes and is harmful to SEO. Since Google tends to index only one version of the webpage, they are in confusion as to which version of the page they should index. Also, this is directly related to the search engine rank of the webpage because google will not understand which version of the page to rank for different queries.
Mentioned below are the situations when you may consider to implement a canonical tag in your website:
There are many confusions among the SEO experts about the use of canonical tags. There is not a specific strategy which can be considered the best to take. However, mentioned below are some conditions where implementing a canonical tag could be beneficial for overall SEO.
Duplicate Content:
Duplicate content is the most common situation when you should use a canonical tag. It is essential to use a canonical tag to define the main version of the page when you have more than one web page with duplicate content. Defining the main version of the webpage by using a canonical tag ensures that google takes the right page to index and the correct version of the page comes up in the search engine rank.
Similar Content:
Sometimes, you may have a web page with the same but slightly different content under different URLs. For example, if you have an eCommerce store, you may have pages with products that are similar but may have slight differences between them. Most SEO experts would suggest a canonical tag in this type of situation to make sure Google has a clear idea as to what is the main product page. Google will give full SEO value to the main product page. This will help you rank better for the main product page.
URL Parameters:
This is another important situation when you need to use a canonical tag. Marketers often create URL parameters for a particular webpage for tracking purposes. This helps them to track campaign performance for each URL parameters easily. This is an easy way to track your web page performance when the same page is being used in different types of marketing campaigns. However, this may create a severe problem regarding SEO like Google, and other search engines consider them as the duplicate version of the main page. The only way to clear the confusions for search engines is to tell them which version to index by using a canonical tag.
You can also add a canonical tag to every page of your website regardless of whether they have a known duplicate or not. This is specifically helpful when you have many different ways to reach your URL. For example, if your webpage can be reached by using both the HTTPS and Non-HTTPS version, you can add a canonical tag to both of them to let search engines know that both the pages are individual and this is the versions that search engines should index and show in search results.
How to Use Canonical Tags?
As mentioned earlier, the best and the easiest way to add canonical tag is to insert HTML code within the
section of your duplicate page. However, if you have a WordPress website, you can install the Yoast SEO plugin that adds self-referencing canonical URLs to each page automatically. You can set the custom canonical tag by using the 'advanced' section on each page on your WordPress website.
Similar to the Wordpress, if you have an eCommerce store and you are using Shopify, it adds a self-referencing canonical URL by default. However, you can set custom canonical URL by editing the template directly.
According to Google, you should not include your non-canonical URLs in sitemaps. Therefore, you should only list your canonical URLs in your sitemap.