5 Best Social Media Sharing Plugins for WordPress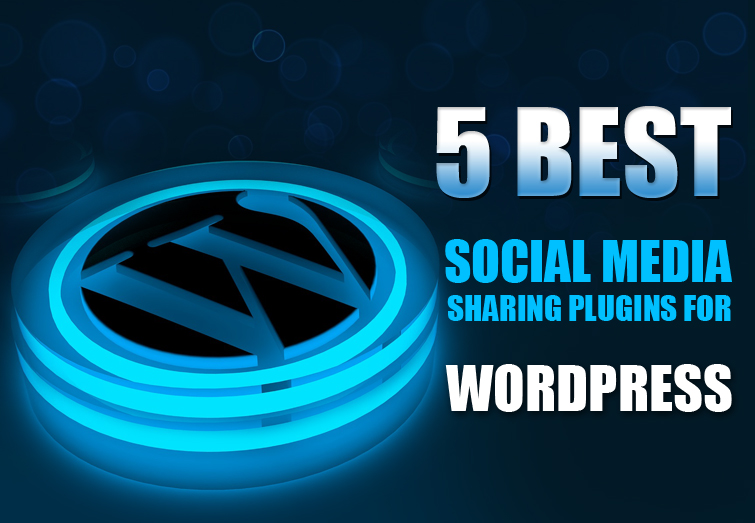 Selecting social media share buttons on your WordPress website is sometimes a tricky job. Social Media Plugins are the social media sharing buttons you see on a website, which, if you click on, lets you share the content on your social media profile. This is done so that more page visitors can share the content on your website efficiently and effectively with their connections on the internet.
Yes! It is an easy and effective way to reach out to more and more audience on the internet and share the information with them. Also, you can build a strong connect with the audience as they would go through the content on your website, which is shared by someone known to them. This can effectively build that inquisitiveness in them and eventually compel them to go through the content shared with them.
When you are on an endeavor to add social media sharing plugins for WordPress, you will be spoilt for choice. There are many options in this, and you need to make sure that you opt for good social media sharing plugins on your website. Sometimes an excessive number of choices are as sturdy as deficient choices.
Here in this article, let me take you through the five best social media sharing plugins for WordPress, which would prove to be the right choice while building your website.
1. Social Snap
Social Snap is a newcomer to the landscape of social media WordPress plugin world; a free version is available on WordPress.org. However, a considerable number of highlights are accessible in the paid versions, which you may use for making the plugin function well.
2. Monarch
Monarch is a social media sharing plugin from Elegant Themes, which is extremely adaptable and easy to add on the site. Some possible changes in the social media marketing scenario can be seen with this. In case you're not aware of that name, Elegant Themes is the creator of the famous theme - Divi, and various plugins and themes too. They sell the entirety of its items through a single enrollment.
That implies that this module will be somewhat more costly. However, since they are a well-known name in the market, they assure you to be the best. Social media promotion with this kind of plugins becomes an easy job.
3. Social Warfare 
Social Warfare is a well-known social media plugin for WordPress. Social Warfare comes in both free as well as premium versions. While the free Social Warfare version works for lightweight social share, the majority of the great features and highlights are, obviously, in the ace and paid variant.
It supports all the major social networking platforms. You will get multiple icons placing options; even you can include floating share buttons, which look good on the web page.
4. Easy Social Share Buttons
The easy Social Share Buttons offers one of the lengthiest lists of features that you could at any point see. Depending upon your particular needs, which could be a decent or a terrible thing. In any case, nobody can say you don't have alternatives to this module! This is one of the best for Social media to increase traffic.
Also, the way that Easy Social Share Buttons has kept up a 4.66-star rating (out of 5) this shows many individuals like its profundity of usefulness.
5. MashShare
MashShare encourages you to include a special kind of social share button to your WordPress site. Just like its name, you may make it on par with the type and style utilized at Mashable. If you are familiar with Mashable-style social sharing buttons, then choosing this would be a great option and give secure navigational and content sharing options to the audience.
Also, it can likewise assist you with showing both the real share tally, just as "virtual shares" to build social verification. Here you can either use the free version for the necessary style buttons in Mashable style or else you can go for the premium version if you want to have Google analytics event tracking system or more options such as a click or select to Tweet or share option. The paid version is just fantastic and gives you more freedom to use it.
If you need to show the essential social media sharing plugins for WordPress, any of these plugins mentioned above will prove to be useful. Just decide on what you want on your website, and based on that, you can go for the free versions of these plugins. And, if you want more freedom, then obviously the paid versions are best.