Advantages of Shopify – 10 Reasons to Love it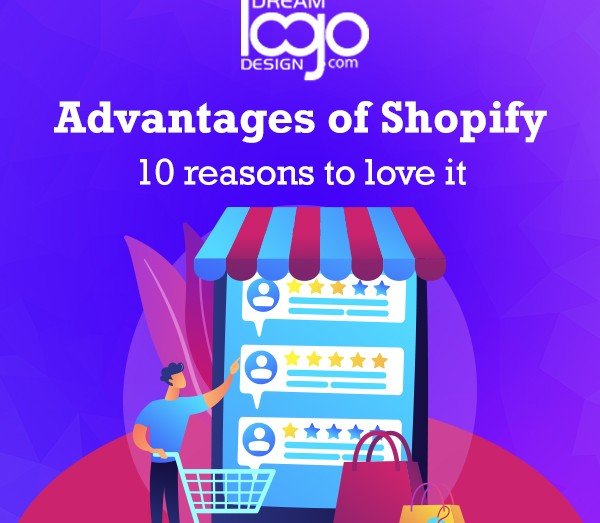 The invention of E-commerce has completely transformed the business scenario in a global context replacing the idea of transacting only through physical stores. An E-commerce store makes it possible for brands to sell their products online!
Wondering what's the coolest part ?
The simple benefit of owning an E-commerce store is you don't need to own an actual store made from bricks and mortar for selling your products. You can simply sell your products online from within the four corners of the room especially when it's practically unrealistic for people to even go for a walk outside in the present medical crisis the world is currently facing.
A good E-commerce platform blends aesthetics with functionality to create a store that is visually engaging and increases the probability of conversion. Some of the popular E-commerce platforms today are Magento, WooCommerce, OpenCart and Shopify but are favorite?
We recommend Shopify for building your dream E-commerce store. Wondering why? Well, we have 10 crazy reasons. Keep reading to find out!
Self-hosting platforms such as Magento incurs development costs as well as unnecessary overhead costs. Here comes in Shopify with it's hassle-free and user-friendly admin interface and well structured features. The site even provides extensive documentation alternatives as well as guidelines on video making. All you need are products to sell and you are ready to go.
If you are a tech noob like me then Shopify is your solution to an E-commerce store! Why? That's because you don't really need any tech knowledge to launch an E-commerce store on Shopify. Shopify provides hosting facilities and let me tell you, that this hosting will be not only be fast but also more secure. Apart from that Shopify also makes sure that you don't need to worry about any software updates as well. You can easily focus all your efforts towards getting your store up and running instead of worrying about any technical issues.
When you are launching an E-commerce store, you need to be prepared to handle clients who are impatient as well as sensitive information like bank details. How can you be prepared without a great backing from your site? Well if you opt for Shopify, your site is definitely going to be fast, secure and always online because security and reliability are two of the biggest benefits of a hosted platform, and Shopify is no different.
Shopify is great with helping clients. They are available 24 hours every single day with a fairly instant response time. Your store is thus never alone.  You can always get in touch with prospective clients through your phone or email without any difficulty. Also, the number of community forums and documentation guidelines available in the Shopify Help Center is plenty.
Consumers clearly prefer portable devices and that is probably why the number of website visits through mobile phones far exceed the number of website visits through any desktop. Thus having a mobile-friendly site is now essential and not an option you can gloat about. Fortunately Shopify is aware too! Did you know that all the themes of Shopify are mobile responsive and the platform also includes a built-in mobile shopping cart that's free? With Shopify, your store will not only look great on all platforms but also makes it possible for your clients to shop from any device.
Who doesn't like customization? When you can customize your birthday cake why can't you customize your online store based on your preferences? If you opt for Shopify, you can! Shopify provides at least 160 themes, both paid and free, to choose from in the Shopify Theme Store – these themes are all mobile responsive and can be easily customized by simply editing the code. Thus, you can easily create a beautiful store online that fits with your brand comfortably.
This is where Shopify wins the race with it's incredible app store, a functionality that you can easily add to your site. Benefits?
-Add reviews
-Introduce loyalty and shipping programs
-Get hold of customer wish lists and in-depth analytics
There are over 1500 apps to choose from and you will definitely find whatever you are looking for. The only problem? Not all are free!
Owning a visually engaging online store is a beautiful experience but if there is no traffic on your site then you might have to pull down those virtual shutters soon. Just like any new brand in the market requires promotion , your online store is no different. If you are opting for Shopify then you don't need to worry about this because Shopify has powerful SEO features that will make your website rank higher in search results, making it easy for potential clients to find you. Also Shopify's apps store provides an extensive number of marketing tools including Email Marketing and Social Media Integration.
Shopify is the most reliable when it comes to owning payment gateways. Inspite of being integrated with many payment gateways, Shopify happens to have it's own payment gateway powered by Stripe. The benefit of using the one powered by Stripe? If you opt for it, you will not be charged any transaction fees but that is not all. On top of that you will benefit from lower credit card fees and you will also not require any merchant account for conducting any transaction.
Remember those times when you added a product on your shopping cart and then just let it be? Yes we have all been there. How about the emails you got later from the platform reminding you about those abandoned items on your cart? Well that's exactly what Shopify does and if you think about it, it's a great marketing move that should be utilized more.
So why wait? Opt for an E-commerce store on Shopify today and enjoy working on a platform that's reliable, fast and 100% secure!