8 Huge Website Designing Trends for 2021 Revealed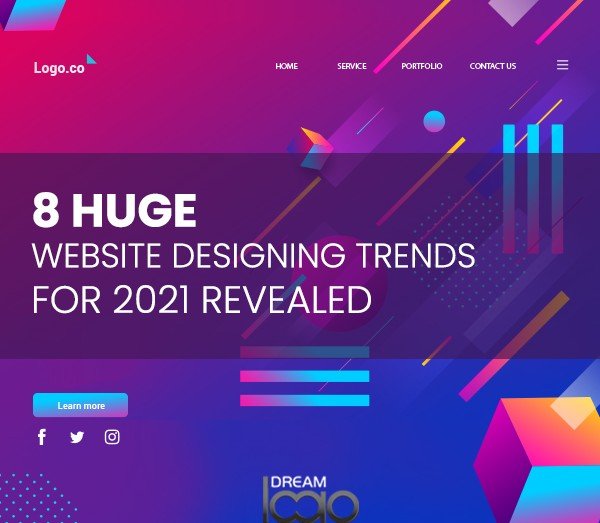 The past few years have witnessed a radical evolution of the website designing trends. This practice is generally influenced by the massive amalgamation of creativity and technology, which by default are two of the fastest moving areas of any industry. This comes as a little surprise to see how rapidly the website designing trends change with time. What was once a basic CSS grid design has now come a long way to make its dominance into the world of the internet.
Let us now discuss the latest trends that the webflow website designing niche is about to witness in 2021.
Dark Mode
Collage
Anti-Design
Minimalism
Organic Design
Illustration
Accessibility, Functionality, and Inclusivity
Interactivity and Motion
Irrespective of all the frequent changes and volatility that the industry goes through, there are a few aspects that never fizzle with time due to their surging importance. Some of these aspects include fast load times, data security, and user-friendly navigation. However, by keeping up with the ongoing trends, innovation, and styles, you can only ensure that your CSS grid websites pass the test of time in the ever-expanding online ecosystem.
Dark mode until recently, white was considered as the only mode of filling up the vacant space in a website and mobile app. However, perspectives have kept evolving, with designers attempting to go bold with darker elements and themes several years ago. The dark mode evolution is still a matter of recent trend as it took the industry of free CSS grid templates by a storm in 2020. This trend is here to stay for a long time now, and we expect to see more of it through 2021.
Collage and Mixing Mediums
One of the biggest trends in the social media landscape, grid layout CSS generator and graphic designing this year was collage. And, it quickly spread like wildfire across the world of website designing. This also marked the mixed media style's return with the massive encouragement of social media influencers and digital artists. Many brands, including Urban Outfitters, City Circus, and Chobani, have also incorporated them in their designs. So, this trend is also here to stay through 2021.
The year 2020 has taught me many aspects, including the crucial fact that expectations and rules need to be thrown out of the window. The resurgence of Brutalism in 2019 had spurred the Anti-Designing trend. However, this controversial yet popular designing trend has slowly and steadily seeped into the pop culture and social media realms, along with graphic and web designing. Often described as "unapologetic," "hideous," and "raw," this trend features distortions, exaggerations, layering, and even asymmetrical and experimental layouts that took the webflow eCommerce by a storm.
This is one designing trend that is not going to quit for a very long time. It has practically existed as the bread and butter for website designers worldwide since the last decade. Despite the trends shifting from webflow to Shopify and vice versa, this designing trend has never failed to mesmerize both the designer's and viewers' eyes.
The idea of using the basic elements of designing, including space, limited color palette, clean text, and basic shapes to create something functional, simple and memorable, has always enticed the minds of people. Minimalistic design has always focused on creating a designing principle rather than a visual style. This trend is being executed beautifully by brands all around the world.
Organic design is one of the biggest designing trends of 2020 that uses inspiration from the world and nature surrounding us. This trend has frequented its existence in graphic designing, product designing, and interior designing; it is also slowly yet steadily made its way into the realms of modern-day website designing. Today even the most reliable webflow animation tutorial will talk about organic website designing that uses raw organic textures, natural shapes, warm and earthy colors.
Today's platform, including web design, social media, and graphic design, has exploded with the use of illustration. This trend's popularity can only be estimated by the fact that even the bigger brands across several industries, including fashion honcho, Gucci, and health insurance chieftain, AHM have caught on with it and incorporated hand-drawn elements, illustrations, and digital arts into their websites.
Accessibility, Functionality, and Inclusivity
One of the key elements of the perfect website is website functionality and accessibility. With time, and increased requirement of page speed, mobile-friendliness, and fast load time, more focus is being put on website accessibility and inclusivity. This factor also caters to people with various disabilities, in general, to make the website easy and accessible by people from all spheres. Today more brands are adopting these features to give their users an effective online experience.
By optimizing your website through these trending features, you can easily boost your SEO performance and increase conversions.
If you ask anyone about what they find as the most engaging content format on the internet, the answer will hands-down be video. This comes less surprising that Motion has found its place in the top trending website designing features for 2021. Motion and animation on the website make it engaging enough and ignites the inquisitive mindsets of the audience. They can make an otherwise ordinary website far more exciting and engaging.
This is the reason why popular brands around the market are picking on the theme and adding more interactive elements into their websites, including surveys, polls, games, quizzes, and so on. Apart from raising the website's exciting and fun quotient, these online experiences also help your audience learn more about your services and such other aspects. However, make sure that these elements don't distract from the actual purpose of the website.
Conclusion
Today's website designing demands more of an essential element we would encounter in our daily lives than coming straight out of a sci-fi movie effect. This only shows the acceptance of the common websites as a part of our life with a touch of reality.
If you have any ideas or want to share further thoughts on these trends, feel free to connect with us right away! We will also be happy to assist you with the best in class website designing services at the most affordable rates!