7 Tools You Need for Designing Graphics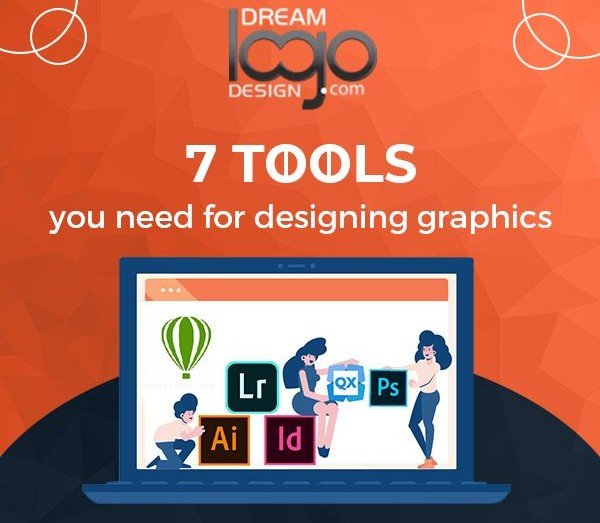 Introduction
You have come to the right place if you want to add some more essential tools to your graphic design toolbox. Listed below are the best hardware, software, and other tools for graphic designers at every level to make their work easier. No matter what you're looking for, our recommendations can help you select the best option. It is possible to combine art and technology in surprising ways to create practical, useful, and beautiful things. As the industry evolves, more creative freedom and lucrative career opportunities are created.
Importance of Graphic Designing Tools
The most powerful tool of a graphic designer remains in his very own creative mind. In the case of graphic design, the computer and other software are just indispensable to achieve a quality design. A good graphic designer must know which tools to use and must also be adept at using them. An effective graphic designer can even use Microsoft Word to create a simple graphic design. In addition, the range of software or applications that a graphic design company has in its toolbox demonstrates its ability to come up with highly customized designs that are excellent and truly unique.
Components of an Ideal Graphic Design Toolbox
With the help of a Graphic Design Toolbox, you can easily create flyers, brochures, books, magazines, and more, even if you have less graphic design skills or no design skills. It is designed to assist designers with creating printable layouts & pages. In a basic graphic design toolbox, there should be at least:
an image editing software
a page layout software
a multi-media development software
an image development software like Adobe Photoshop
7 Tools You Need for Designing Graphics
When it comes to graphic design, you will find yourself using an array of tools and hardware to remain agile and flexible. For this reason, we have compiled a list of the 7 most important tools you need for designing graphics.
Notebooks
We all have a preference between softcover and hardcover between a small or a large-sized notebook. No matter what you prefer, you need a place where you can doodle, sketch, make notes and write down ideas. A paper of good quality needs to be able to handle the medium you will regularly use, while still being convenient to carry around to school, the coffee shop, or on a bus. Spend some time researching and investing in a quality notebook.
Creative Software
Sketching out ideas and designs in a notebook is an excellent method for coming up with new designs, but graphic designers should also consider software as an essential tool. It does not matter if you are a beginner or a seasoned designer, as having the right digital graphic design tools can make a noticeable impact on your finished product. Many programs, including easy-to-use and advanced ones, provide you a great level of creative control. Adobe Photoshop and Canva are probably on the top of your mind, but there are many others to consider before you choose one.
Large High Definition Monitor
Monitors with large and high-definition screens can seem more like a luxury than a necessity. Nevertheless, the monitor you use can have a significant impact on your work. Most people have no idea how to choose a monitor.  We understand how easy it is to get lost in the jargon. Whatever monitor you buy, pay attention to its resolution regardless of whether it is a 4K monitor. The majority of graphic designers prefer to work with UHD (3848x2160 pixels) or QHD resolution. It's important to note that size does matter here, so designers typically advise between 27 and 32 inches.
Sketch
Photoshop used to be the ultimate tool for digital design. In a constantly evolving industry, graphic designers have to keep up with the latest technology. Although all of the new software has been promising, Sketch seems to stand out. Sketch is a vector graphics editor that combines a design toolkit with a logo editor to let you create unique logos, animated graphics, and layouts. Using Sketch is a pleasure due to its design and its cool features, which improve the user-accessibility.
External Hard Drive
Anyone who works with a lot of data, or whose work is dependent on many external files, needs a reliable external hard drive. The hard drive is a handy, portable storage device that can be used for large amounts of data. It is even more important to use them for backups, as they can vastly increase your computer's storage capacity, which is especially valuable if you plan to create large animations, films, or other files on your computer. A graphic designer cannot function without an external hard drive, even though they are not specifically designed for it.
Monitor Calibrator
Monitor calibrators are another piece of graphic design hardware that often goes unmentioned but is so valuable. Regardless of how wonderful your photos or video may appear, you may suffer if you work on a monitor with warped colors. As a result, you can rarely see this kind of warping with your naked eye, and it is frequently difficult to adjust after the fact. You must also use a high-quality camera and lens, and your monitor must be able to display real-world images as well.
iMac Pro
You might think that the iMac Pro would be on the list because it's one of the most popular graphic design tools. Is it not true? This is so widely used in the creative community that it has become the go-to hardware for design houses and ad agencies everywhere. Purchasing an iMac is well worth the investment whether you work as a freelancer, student, or for an agency. Graphic designers should not overlook this powerful tool, which is easily one of the most expensive all-in-one computer options available.
Conclusion
There are literally thousands of creative possibilities when it comes to graphic design. It is now possible to build a portfolio and a career that was not even possibly imagined 10 years ago. Investing in the right graphic design tools can be a great move in this context. Make sure you think about adding these gadgets to your list if you want to stay up-to-date on the latest technology and boost your creativity.