7 Popular Content Types & How To Use Them?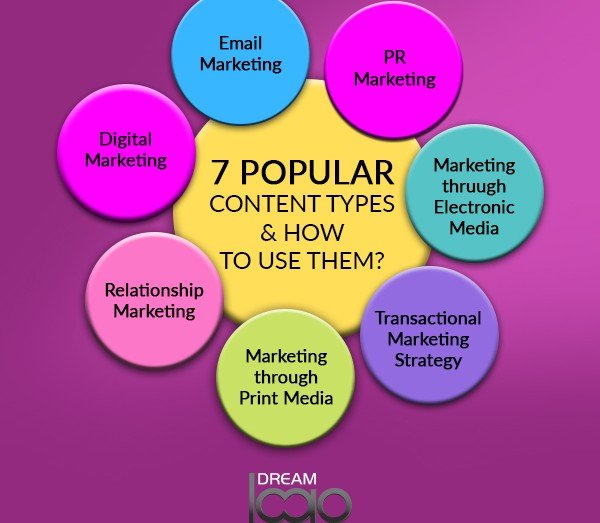 Are you thinking of capitalizing on the internet marketplace? Well, content is surely going to be your currency. As you can see, most of the leading brands are taking a plunge to create something intriguing with website content writing, SEO content writing, or by starting a blog. So, it's quite a competition! Your prospective audience or potential buyers have endless options to focus on. Why will they choose you if you are not answering their pain points in the most attractive manner?
Do I Really Need to Know the Types of Content Writing? Yes, You Must.
And that's not all! As a business, you need to know what kind of content is the most suitable for you. Your audience needs to feel that the website copy or the blog is written only for them. As Jamie Turner has rightly pointed out, "The only way to win at content marketing is for the reader to say, 'This was written specifically for me." Need some ideas about the types of content? Here we are with the top seven content types.
Blogging is probably one of the most important responsibilities of an SEO writer. One can be a travel blogger, a Google blogger, or take up practically any niche under the Sun! You just need to produce relevant, high-quality, and engaging pieces about the topics your prospective buyers find interesting. That's it! Besides, blogging can help a business build authority, trust, and relationships with the customers. And finally, that bond gets converted into revenue. Isn't revenue the ultimate thing every business looks for?
Benefits of Blog Writing:
Blogging is easy! Blogging is fun! And it has many advantages. Want to know the pros? Read on.
Easy to create
It can be published easily
The readers can easily share the content
Search engines easily discover blogs and boost SERP ranking
Stick to the basics and be innovative with your ideas. Try optimizing your blog with seamless and naturally flowing keywords. Besides, you need to focus on the topics that will draw the attention of your target audience. Further, use your expertise on the subjects as the icing to build trust and authority.
Many pundits opine that list articles are gimmicky. However, those are quite popular and effective. Can anyone deny its relevance? Those are easy to read, scannable, and visually attractive. And what's more? Do it right and be all over the internet as the readers find it highly interesting and shareable.
To Do Lists for Listicles:
Creating listicles is quite easy for an SEO writer. You have a topic, and you have a number! Just fill in the blanks. However, you cannot neglect the cognitive part because listicles have to be informative and engaging. Numbering the subheadings is a must in listicles, if you don't want to confuse the readers. Some other important features of listicles are:
Those should have introductions and conclusions
Need to be optimized with relevant and seamless keywords
Details are very important
Those need to have a unique and catchy content heading that matches the content
White papers hold major importance in reinforcing the authority of a business. These have information that aims to offer solutions during a crisis and specific data on a particular subject. So, a white paper takes more time to write as compared to website copywriting, article rewriting, or blogging. It will have an introduction and a summary. Besides, it needs to be organized into different sections. You can incorporate a table of contents if the white paper is more than a few pages long.
Your website is the ultimate digital representative of your business. So, website copywriting is one of the most important types of content creation. Be creative with the elements while creating a web copy! Use written content, infographics, and videos to make it more engaging. Besides, when a web copy has multiple elements, the search engines rank it faster.
No one can undermine the importance of infographics in SEO copywriting. In other words, it is probably the most popular type of content one can create. Can you tell me the reasons for it being very popular? It presents a great amount of information in the form of statistics, research, and other data. Besides, how can one avoid the lure of a visual content? It's intriguing, easily comprehensible, and shareable. Do you want to make your presence felt on social media? Here also, infographics can be the best type of content for growing audiences and backlink building.
One needs to have artistic qualities to create high-quality infographics content. Keep adequate white space in your design for a neat and organized look. There is also a trend to break the content into sections to keep the information separate. You can even think of using complementary colors to make it visually appealing. Finally, use a descriptive title and clear fonts for easy readability.
Google Business Page Content:
Once you have created a Google my business account, you need to write informative and crisp content for your business to reach out to your target consumers. It can be the details of products or services you offer, a brief history of your business, or the mission statement. But why do I need them? You need them as the description will ultimately help your consumers to decide whether or not your brand is suitable for them. If you don't write proper descriptions, the customers will be left to perceive their own ideas and draw their own conclusions based on the pictures listed on your Google business page.
Who does not love an engaging and well-made video? Try creating video content for your website and social media posts to reach out to a larger audience base. Besides, the video must have a content type header as a part of the http protocol.
The types of content may be different, but all those have the singular objective of creating something which the customers find relatable. So, put your thoughts in your words, pictures, and videos, and you are ready to grab the attention!