7 Instagram Growth Hacks That Will Change Your Life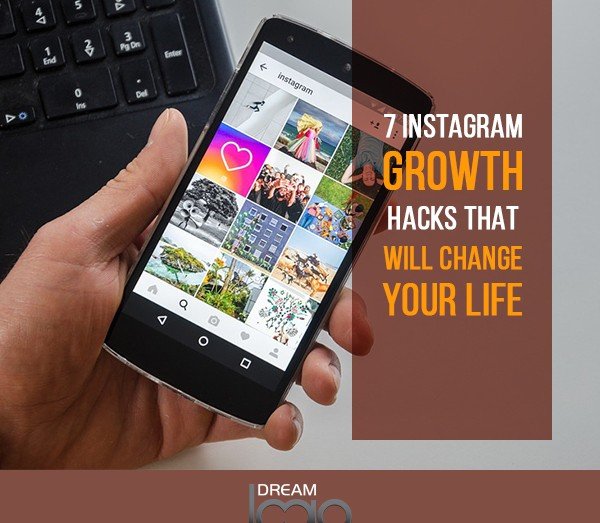 Instagram is the third most popular social media platform with 1.16 billion active monthly users that make it the third most popular social media platform after Facebook (2.7 billion) and Youtube (2 billion) as of 2020. Instagram is a mainstream social media platform that everyone is using whether they are listed celebrities, or multinational companies, or sole proprietors.
Secret behind the Instagram Growth Hacks
Have you ever thought about what the secret behind the Instagram growth hacks or ig growth hacks is? I am sure most of you want to increase your followers on Instagram but have not cracked the code yet.  We follow social media experts who are active on Instagram, but we don't try to extract the secret behind their success. Well, I'll share some growth hacks for Instagram so that you can crack the code.
Using the Social Media Management Tools
It's also true that social media platform starts to look more saturated nowadays. Therefore, the reach, engagement, and attention on Instagram are difficult to obtain as compared to 8 years ago. Here comes the opportunity for us to describe different social media management tools and tactics that will help you sort things out.
Most of you have already planned to seriously learn about growth hacking Instagram 2020. But before we dig deeper into Instagram growth hacks 2020, you should ask yourself three questions:
Whom do you want to reach out
What do you have to offer them
What can you provide that others can't
Let me elaborate on my view on these three questions. Blindly reaching out to the audience and expecting to get a return on investment is like living in the fool's paradise. For example, if any company knows its target audience, then the company can advertise on Facebook to attract that target audience. The advertisement should consist of an interesting headline that can create curiosity among the audience.
Provide Necessary Details:
Clearly defining the service that you want to offer will help your audience to connect with you. You have to find out some unique ways that make you different from others.  Self-awareness plays a key role in understanding the strengths that can distinguish you from the other competitors in your field.
7 Instagram Growth Hacks
Now let me define 7 hacking Instagram growth according to Instagram growth hacks reddit.
Use the Tagging Feature to its Full Potential
You can use the tagging feature to tag up to 20 other users in your post. You should make sure which Instagram accounts are relevant to the post. The result of doing all that your posts will appear on the tagged accounts' pages.  So when any user or follower browses that page, they will be led back to your profile. There is also the chance of sharing that post by the user, which is always a good thing for Instagram growth hacks 2021.
Share Your Tweets as Instagram Posts
Sharing your Twitter tweets as Instagram posts is a great way to keep pumping fresh content on Instagram. In my personal experience, if you don't post on Instagram for a while, then it will affect your organic reach. So it's very important to keep showing up with something. It is one of the secrets of Instagram hacks for organic growth.
Start Conversations in the Instagram Comments
The Instagram comment section can be used to talk directly with your followers. In my personal experience, I have seen most Instagram users don't respond to their fans when they start to pop up on any social media platform.
Commenting on Instagram helps to increase your Instagram account's engagement. So starting a conversation in the comments is a great idea to not only engage with the social media platform but also to build a solid connection with the followers that will help to hack Instagram growth.
Diversify Your Hashtag Selection
Hashtags are very much important to your visibility on Instagram. If you are not using hashtags in your Instagram post, then it probably the main reason why you are not getting many followers. Instagram's search function can only search three things: hashtags, geotags, and usernames. Nothing else in your post or captions will be visible.
So hashtags need to be added manually to make your post discoverable. You can add up to 30 hashtags for your every Instagram post. I will suggest you do a little research before you start to choose your hashtags.
Instagram allows you to search for locations with the help of the "geotags" feature. This actually provides an excellent opportunity to see what's going on in your area. You can browse around for a while and see what you can find. I will suggest you communicate with the locals, especially the ones you think you might have something in common with.
This is one of the most enjoyable approaches to get more followers on the Instagram platform. You should find the people whose sensibilities mesh with your own. After finding the people, you should take time to reach to them and develop a partnership. There are a lot of different types of collaboration that you can perform together like:
Exchange shoutouts and regrams for starters
Hosting a contest together
The goal here is to reach your respective audience to cross over and follow others. It will help to spice up your feed with some much-needed variety.
Establish a well-chosen theme for your feed
An Instagram feed operates as a personal portfolio that reflects who you are and what your business is about. Adding good-quality images and an eye-catchy theme will help to create an attractive Instagram feed along with a catchy username that is easy to remember.  The main objective of doing so is to gain attention immediately.
Conclusion
Nowadays, internet marketers agree on the point that Instagram is the star social networking platform for personal branding and business tool for many users. All in all, having a successful Instagram account could be easy if you put your time and effort into using Instagram management and growth hacking Instagram 2020 tools to make your growth easier and faster.