7 Digital Marketing Trends of 2021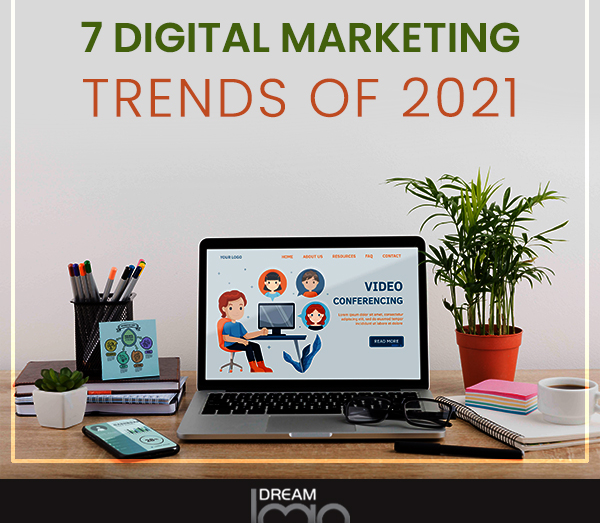 What is the most popular medium to influence your buying decisions these days? Where do you get your favourite movie or event ticket from? The answer to both the question is internet market place. The art of digital marketing means creating and spreading a buzz about a product or service using any digitized channel such as web applications, emails, websites, search engines, social media and many more.
Generic is Boring! Go Unique! Be Individual!
 " Inspiration is the most important part of our digital strategy" – Paull Young
Each business is different with diverse target audience. One of the main important digital marketing traits of 2021 is identifying and creating the right content for the right people. Moreover, it is like creating a brand identity pack consisting of graphic designs, logo, write up and other tools. Even you have to personalize the emails you send to the prospect customers. It yields better results than email blasts or batch emailing.
The Technical Fine Tuning:
Creating tailored and captivating content is a must. However, you can never undermine the importance of technical and mechanical practices to optimize your reach. There are some emerging features which will engage and satisfy your customers. You need to design new structures for your campaigns and introduce some up gradations in your SEO strategies.
Popular Digital Marketing Trends of 2021
As discussed, the digital marketing trends of 2021 can be classified into two categories. We will discuss about the developments in both the aspects in different segments for a better understanding.
Tailoring the Content for the Customers:
| | |
| --- | --- |
| Creating inclusive content | Ø  Inclusivity is the thing that every millennial looks for these days. Topics which cover a large number of races, casts, sexualities, religious beliefs, ethical practices and physical disabilities instantly become popular. Ø  You can design graphics, write up, video and images to engage more minds. |
| Sustainability for the Millennials | Ø  Millennials love brands and businesses which show concern for environments Ø  Spread a word about the eco-friendly measures you are introducing in your business. Ø  Use logos and create content to promote your environment friendly mindset as a part of your marketing strategy. |
| Let the readers interact | Ø  Content creation is not limited to writing blogs, articles, ads or reviews these days. Ø  You have to design something where the user can participate such as contests, quizzes, surveys, opinion polls and giveaways. |
| Know your audience | Ø  It is important to know the habits of your customers. Ø  You can segregate one group from another based on demography, socio-economic status and spending habits. Ø  Design and spread different email campaigns or newsletter for each group. |
Now you have a fair idea about the trends which you need to follow to create a tailored and impactful content. It's the time you make yourself familiar with the technical and mechanical factors.
Know the Technical and Mechanical Trends! Be Dynamic! 

Artificial Intelligence: Artificial Intelligence has been huge in 2020 and it is going to grow even bigger in 2021. It helps businesses to identify and analyze the typed or voice search pattern of their consumers. It also uses data from social media platforms to gauge the reaction of the potential customers to a particular product or service. Businesses such as Uber and Microsoft are one of the top most organizations to successfully use this practice. AI is known for effectively performing the following activities.
Helping identify and create tailored content for your target audience
Creating personalized emails
Recommending products and services after analyzing the search and shopping patterns of a customer
Transactions for e-commerce sites
Reducing customer requisition cost with real time bidding and automated ad buying
Interactive marketing with the help of chatbots
Incorporating Videos for Deeper Impact:
The concept of video marketing is very engaging. Most of the buyers get to know about a product or service by visiting social media using their mobile phones. These platforms of new media enable the users to share videos which they find compelling and engage more customers. Besides, it is proved to be beneficial for organic SEO results. Leading search engines like Google ranks the pages with videos higher than the rest.
Video optimization is becoming more and more popular with each passing day. A marketing strategist can incorporate title, file name, descriptions, text overlays and closed captions to improve the SERP ranking. Along with the conventional use of video content through YouTube and other platforms, there are newer methods such as:
Live video interaction on the product, service or any other relevant topic using Facebook, Instagram
Conceptualizing and creating personalized recorded videos of the business owners to add a human touch to the interaction with the customers
Creating immersive or 360 degree videos for a better presentation of any product
360 degree videos are interactive and those allow the viewers to choose the area the viewers want to focus on
In the Age of Influencers:
Social media influencer is a term which everyone is familiar with these days. It is one of the latest and most successful trends of digital marketing to reach a larger section of audience. It is also bringing the monopoly of the celebrities in brand promotion down. Many successful brands are collaborating with mothers, professionals and experts to share their real life experience of using a particular product or service.
This word of mouth method of digital marketing reaches a million people within no time. It is also experiencing huge changes thanks to the rapid advancement of Artificial Intelligence.
Artificial Neutral Networks help face recognition and incentive prediction
Natural Language Processing monitors the performance of any influencer
Highlights videos with no disclosure and eliminates spam or fake videos
Explore and Expand: An Area of Endless Possibilities: Along with all the 7 popular trends, one of the most popular practices of 2021 is social media messaging. It influences the potential customers more because of the humane element attached to it. Applications such as Whatsapp, WeChat and Pinterest have made this process easier for any business.
In 2021, every business needs to keep some factors in mind while chalking out the digital marketing strategy. Make the target customers aware about what you are offering, let them consider its advantages and why it is the best. Drive them to transform their consideration into the decision of buying it.