6 Reasons Why Flyers are Still Important in Marketing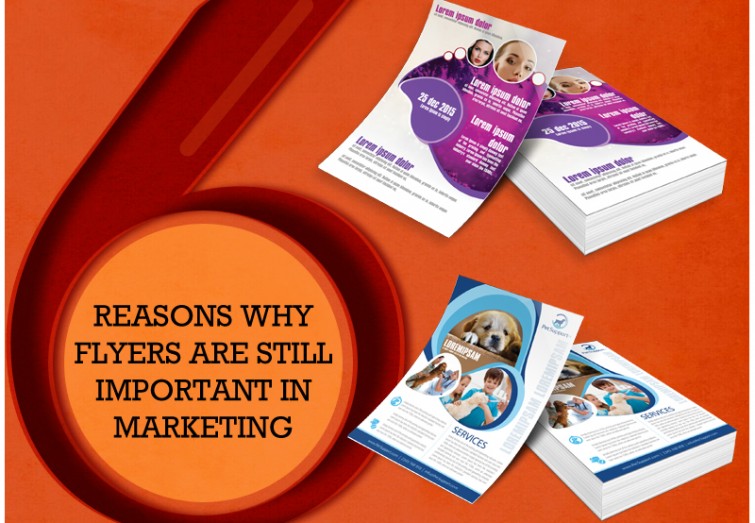 Flyers are considered as one of the oldest forms of marketing. Due to the advent of digital advertising medium, online marketing platforms like email, social media, etc. have become an essential part of marketing strategies nowadays. However, many companies are still using flyers as an effective medium of marketing. Experienced marketers have even suggested that brochure is one of the most important tools for offline advertising.
Advertising that utilizes effective flyer design is a budget-friendly option to deliver your products or services to your target audience. If used strategically, flyer distribution campaigns can provide you with unlimited clients.
The reason why flyer is still not outdated is that it suits all types of businesses and can help them achieve their marketing goal in the best possible manner. Apart from that, there are many other reasons why most people consider flyer marketing as a useful tool for offline advertising.
Flyers are Relatively Cheaper than Other Online Advertising Methods:
When it comes to choosing the option of a flyer, business owners need to think about the concept as to how the flyers can be useful. The first step is vital as you need to discuss with a team or other likeminded people. Once done, you need to come up with an outline of the flyer design. Once the initial ideal is finalized, you need to hire a professional designer to draft the flyer design for you. It is effortless and much cheaper than running an online Advertising campaign or booking an advertisement online.
Easy Access to Your Potential Consumer:
With offline advertising medium like flyer, you can reach your potential consumers very quickly by applying the minimum effort. Unlike online advertising, where you need to make a detailed plan about how to target your potential customers online, you can easily place your flyer at different locations of your choice or distribute them among your customers by your own. This ensures easy access to your customers as a large number of people can view the flyer on the go, or they can go through its content on their way to home or office.
People Easily Get Attracted to Flyer:
Despite the overuse of online advertising mediums like banners, websites, social media platforms, etc., flyers still can grab the attention of people. Because of their unique design, people easily get attracted to flyers. Therefore, it is vital to create a uniquely designed flyer that can draw a thousand eyeballs.
Instant Feedback:
One important reason why most people still love flyer advertising is because of their ability to reach across to the correct audience in no time. Unlike online marketing, you don't need to sit and wait for the results as people who get the flyer in hand give an instant reply. All you need to do is to distribute the flyers among the correct audience.
Compelling Art Form:
Flyers are a valid form of art as your target customers cannot even get a chance to overlook its contents. This is because people tend to read what is around them. When it comes to online advertising, there is a pretty good chance that a large portion of your targeted customers does not pay much attention to your ads. However, when people are at their workplace or in some other place, they surely read what is around them. Therefore, it is vital to create an effective flyer design that accurately conveys the right message.
Add a Personal Touch in Advertising:
When you are distributing the flyers in person, it can create a personal relationship with your targeted customers. Each time when the prospect will look at the flyer design, it will remind them of your promotional message. This adds a personal touch to advertising, and this is something that online advertising doesn't offer.
Flyer advertising gives businesses a chance to promote their business within a limited budget and helps them generate real results. The success of flyer advertising most depends on the venue you choose for distributing the flyers. It is also essential to design your flyer in such a way that it grabs the attention of people and controls their will to purchase your product or use your service.