5 Tips to counter Fred and other forthcoming Google Updates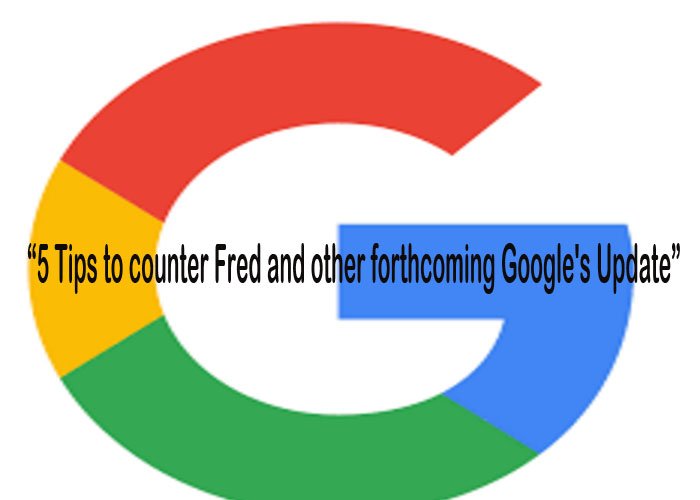 Quite a major algorithm update was rolled by Google on 7th March. The update, on a lighter note, Google's Gary Ill-yes referred it as "Fred" which impacted in websites losing its organic traffic ranging from 50 to 80%. And others experienced sudden traffic spikes. Fred is yet another recent update as the other important updates like Penguin, Panda, Hummingbird, Mobilegeddon and Possum have trembled the digital world and left search engine marketers struggling to overcome the upcoming algorithm change.
Let's discuss some basics on how to check if any latest updates have hit your website, fix the reducing traffic as the consequence of Fred, and even survive the upcoming Google updates.
Observe you website's Traffic: You always need to keep a check on the organic traffic. Obviously. But you might not have noticed is the change in the number of traffic that correlate to Google's updates. Go to Google analytics or check it by the software you use to see the rank and concentrate on the recent history for determining drops or rise in the traffic. Go through the dates when the changes happened and tally with the date of updates. You can make you the strongest impact the algorithm changes has laid, and you can fix the issues and if there is any penalization. When you know fissures now, read on for the corrections.
Fix Ad-heavy/Affiliate-heavy Pages:
Fred being the latest in the line-up of quality control as impacted content sites mostly. It includes blogs, which didn't have user-friendly content at the altar of ad and affiliate revenue. That is, Fred penalized sites with thin content, promotion or ad-centered and designed for high affiliate marketing. Well, some sites also noticed remarkable improvements after removing a few or all ads from the content. Ads placed in between the article, misleading ads with download buttons and video ads that are auto play when the visitor comes to your page. All these criteria can invite your page a penalty in future – if missed this time.
Make the content meaty
Demonetizing your website is not a choice - neither it's required. You won't see the famous names like The Times abruptly featuring no ad or suffering very low traffic rate. Fred effected the sites with both thin content and ad-heavy. To resort – make the content meaty and make it more relevant to the topic. Be keen about the metrics like word count and the bounce rate. Get quality content and have an ethical number of links in the pages.
Emphasize Mobile Experience
Google has prioritized the sites that offer superior mobile experiences to the users. They have already announced of indexing the mobile optimized site first over desktop sites. The next concern is that about 70 % of the web pages take 7 seconds for loading the visual content above the fold, that increases bounce rate by 113 %. Whereas, it shouldn't take more than 3 seconds. Other changes that you can make are same content for desktop and mobile, implementing proper viewport configurations.
Eliminate Harmful Links
Only keep right kind of links – high-quality back-links that have domain authority from people mentioning your contents to your friends can provide you some best ranking signals you want. By wrong links what Google means is, links from irrelevant sites, links with spammy anchor text can end up in a manual penalty.