5 Powerful Tips To Improve Your Email Marketing Campaigns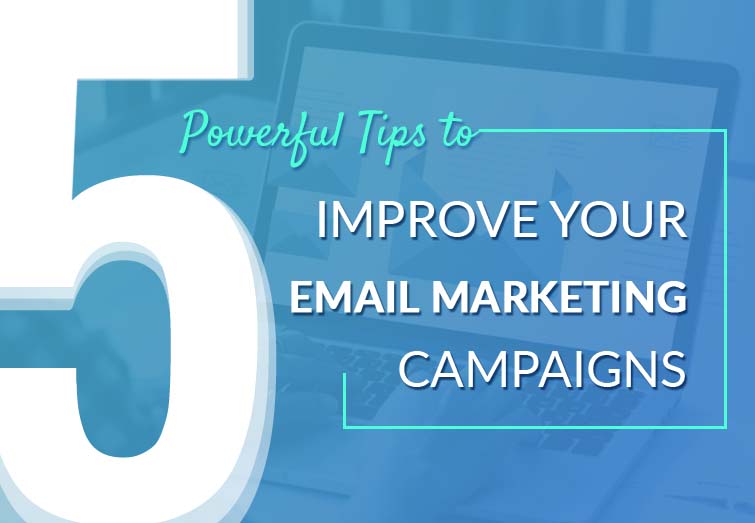 In the present competitive market, only a website is not sufficient to grow your business. You need marketing for your business with a robust digital presence. You also need a digital marketer for making a digital presence of your business. Email marketing is a marketing tool to get more customers.
Email marketing is the use of campaigning of services or products and businesses. We use email marketing to inform our new services, products to our potential customers. In other ways, Email marketing is an Ultimate Marketing Tool to develop a personalized relationship with our prospective clients.
In this digital era, technology changes day by day. The business owner must change himself and well prepared to match with the changing technology day by day. There Are some tips to makes perfect emails for Marketing your Services:-
1. Mobile-Friendly Emails:- When you get an email, which does not display accurately on mobile, then you ignore that email, so Mobile-friendly emails more essential to get more traffic. Here are some tips Makes your email mobile-friendly:-
To write short subject lines for easy to read
To display small images for mobile view
Use a single-column template to better view
Don't make your call to action an image
Make email under 650 pixels wide
To provide a distinct call to Action Button
2.User Best Subject Line:- There are some catchy Subject lines which you wrote in your email. If you want your customers to open and read email content, then you have to write a unique and eye-catching subject line. There is some point to improve your subject lines.
Self-Interest lines
Curiosity word can be used
Offer or discount in product
Urgency / Scarcity
Humanity subject lines can encourage to open an email
News related subject lines can grow your traffic
Uniquely telling a story in the Subject line.
A unique subject line can encourage you to open your email and read your content. The best subject line grows your potential clients.
3. Create an SEO Friendly Email Content:-  Email marketing is used for engagement and gets more traffic. You need to create SEO friendly content for email marketing to reach your dream goal.
Here are some tips to makes SEO friendly email:-
Add keywords to your subject line
Add keywords to the content of your email
Subheadings with keywords
Use alt tags with relevant keywords in your images.
Optimize your links and anchor texts for them.
Writing an SEO friendly Email will help you strengthen your email marketing. Seo helpful email content is the need for SEO strategy and email marketing. Effective content marketing can give you more traffic and targeted audience.
4.Segment your emails:- There are some tips to know:-
To segment your email by demographic data. Use customer information like age, gender, income, working knowledge, and interests in sending email to reach services.
Many email marketers run a survey or quiz. Results forget his potential client email address — their many tools to create reviews for your visitors. You can use a Word Press plugin for that. You use this plugin only on Word Press websites.
The old client list is a simple way of targeting your service. You can target your clients by segmenting past purchases.
You can, from today targeting your audience with segmentation strategies.
5. Encourage your potential customer to reply:- Email marketing connects future customers to business owners & generate maximum ROI. The primary purpose of email marketing is to create a lead and encourage them to buy products or services. so always keep in mind some tips:-
Attractive subject lines
An entertaining and distinctive voice
Targeted content
Bonus Tip:
Regularly update your email list:- You can be sending the offer and be creating personalized email to your targeting customers for selling products or services. So update your email regularly. Keep your email clean. If your email has no engaging content or valuable things and you send email again and again, then clients might report your email as spam, so makes email worthwhile. there is some process to email list management:-
To Avoiding Spam
Reliable Delivery
Happier Customers
Pay Less For Your Email Service
Segmenting your email
An email mailing list is an affordable vehicle for distributing a message to targeting people.