5 Features Your Landing Page Should Have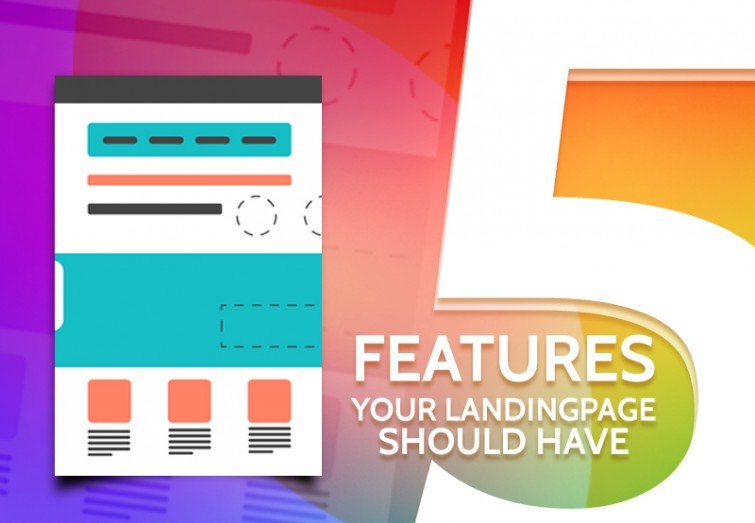 A landing page is considered the essential element for generating high quality leads for a business. However, it is often overlooked, or most companies don't utilize this marketing tool enough. In most cases, the website owners give more importance to the home page as it is the first place where visitors first land. Studies say that websites with landing pages can convert more than the sites with no landing pages. Therefore a landing page is crucial for any business as it offers a targeted platform for converting a higher percentage of visitors into targeted leads. A well-built landing page may have 10-15% conversion rate on an average.
This is reasons modern marketers have started to give too much emphasis on creating a unique landing page to driver targeted leads. Landing pages are being used in all types of marketing campaigns including email marketing, social media, Google AdWords, Facebook ads, and others. The idea behind this is to send targeted traffic to a specific location conveying the right messages to each potential customer.
Are you still wondering what to put in your landing to make it more unique and improve the conversion rate? Mentioned below are the five most important features every landing page should have:
Bold Headlines & CTAs:
A landing page must contain attention-grabbing bold headlines and sub-headline. This is something that connects with your readers; therefore you need to take time in creating an enticing but unique headline. The headlines should be followed by a brief description of what is being offered by you and at least one relevant image or a video. There should be important Call to Actions (CTA) through the page to capture customer's information. Apart from that, you can include a form at the above the fold section (the portion of the page that your visitors can see without further scrolling down) of the landing page to capture user's information.
Business USP:
Once the above the fold section is appropriately designed, the next step that you need to highlight in your landing page is your Unique Selling Propositions (USP). For example, you need to explicitly tell people about what your business is and why you are different from the competitors. This should be carefully communicated on your landing page so that visitors find it beneficial to go for your service/products, rather than looking for anywhere else. An excellent way to describe this section is to use bullet points rather than long and dull descriptions.
Visual Representation of Your Service/Products:
People love to view rather than read. Therefore, you need to include some visual representation of your business on your landing page. This will help your visitors to understand better what your business is all about and how your service could be beneficial for them. The idea behind using graphical representation in your landing page is to get your visitors a chance to place themselves in a similar scenario and visualize how they are using the same service or product. Choose high-quality pictures relevant to your service or product. Also, you can also include a video that describes your service or product. This is especially important when you are selling a physical product.
Proof of Company Credibility:
Online marketing is entirely based on credibility and the best way to show your company credibility is to show what people are saying about your business. It is important to include a couple of your customer testimonials. You can also add a testimonial video to illustrate that other people have purchased what you are offering and are happy with your service. Visitors are more likely to convert into real customers when they see that other people have used your product before or are satisfied with your service.
Closing Argument:
You should have a final chance to communicate the benefit of your service before your customers finally leave your landing page. Therefore, include something catchy and bold statement as your landing page comes to close. This gives visitors a short reminder about what they have visualized in the entire landing page and your primary value proposition. Similar to the above the fold section, the closing argument should also be included with a couple of call to actions.