5 Effective Ways To Keep Your Workplace Safe In The Face Of Corona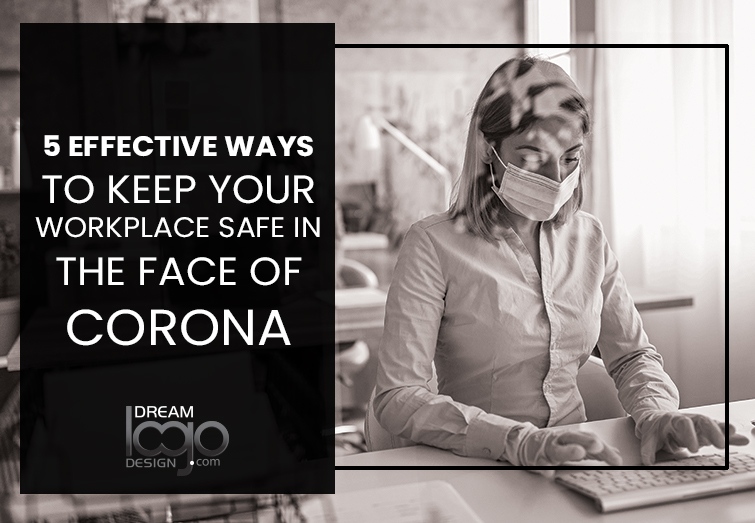 The year 2020 is no less than a nightmare. It is no less than one helluva experience of tragedies and losses which nobody anticipated. The stances get uglier every day, and the power and existence of humankind are getting questionable every moment. We being an avid Hollywood movie buff, could not help but link these dark times with the immaculate depictions from the movie series Final Destination. But, let's pause for a moment here and get real. With cases crossing a 7-Million mark on the global front, and no end to this mess any time soon, the global economy has also gone in for a toss; and that is just the beginning of the long foreseen problem.
Okay, let's get straight to business. The global economy practically hitting rock bottom, the struggle of humankind to survive the pandemic also gets more difficulty every passing day. But, what is the way out of this? While experts have already declared that you may have to live with the situation for a very long time, the biggest challenge that we are facing is trying to regularize life amidst all the crisis. And, this has already taken its course through businesses struggling to restart their journey after suffering the biggest standstill in history.
Now, while COVID-19 is in no mood to show mercy any time soon, employees and workers have been facing a dual panic –
a) Either Contaminate the Virus
b) Lose their jobs and starve to death
At Dream Logo Design, we have been extremely conscious about the safety of our employees and taken adequate measures to make sure that none of our workforces is exposed to face any of the above-mentioned situations. So, in an attempt to synchronize everything in perfect harmony, we have adopted a few safety measures that will not only keep the employees safe from contaminating the deadly virus, but also contribute towards keeping the society safe in the face of a public emergency. Let us now take you through some of the essential measures that we had decided to keep your workplace safe in front of Corona Virus.
1. Encouraging Work from Home
Post COVID-19 was declared a Pandemic by the World Health Organization (WHO), and the world was slowly yet steadily getting engulfed by its ill-effects, we had made every arrangement possible for our employees to work comfortably from home. This served two purposes:
a) They did not get exposed to any scope of getting contaminated
b) Office was conducted without any hindrance
The COVID-19 being one of the severely contagious diseases, we have left no stone unturned to make sure that all our employees adhere to the norms of physical distancing while at work. For those employees who could not miss coming to office, we made sure to sanitize the entire place with disinfectants on regular intervals.
2. Actively Arranging Awareness Campaigns
We understand that consistency, leadership and repetition are the three most essential elements of effective crowd control. So, for the starters, we had put posters and banners all over the premises to contribute to heightened awareness. We have also made these awareness campaigns, including food safety measures, hand washing guidelines and such other memo accessible to our remote employees. They will not be able to present themselves at the office premises. This has enabled all our employees to get adequate education and knowledge of the various situations and their solutions. We have made sure that they are aware of what is supposed to be done if they ever face situations. They would take the right steps if they came into contact with a sick person, handling resources such as food and personal items, implementation of the proper hygiene methods, identifying the warning signs and symptoms or even seeking the right help in case of an emergency. We have always encouraged them to be self-reliant without breaking the safety protocols.
3. Eliminating the need for Business Travels
We have always prioritized the health and safety of our employees. And, looking at the current scenario, we strongly feel that travelling to other destinations via public transports should be subsequently banned at the moment, considering the safety of employees and health impacts. Many countries have already imposed travel bans as travelling is considered as one of the quickest ways of aggravating the pandemic. So, to make sure that we reduce the chances of their exposure at the onset of a public health emergency, we discourage them from travelling and seek shelter to a different form of technology to communicate to our long-distance associates.
4. Felicitating Telecommunication
The economic ramifications of the pandemic have taught us vital lessons in the most brutal ways possible. While many companies have been forced to reduce their workforce to a great extent to comply with the norms of social distancing, we have adopted the simple measures of telecommunication. This way, all our workers were not only in production but also out of the office. However, everything is maintained with discipline through the extensive use of employee monitoring software and threat protection tools of various kinds. This way, we are always at the edge for keeping our data safe and our employees on track. Limiting face-to-face interactions for reducing interpersonal contacts does not mean we have to sack our staff. Technology has the answer for everything today!
5. Screening or limiting visitor accessibility
We believe in being well-prepared and alert. Mental agility needs to be enforced to combat a situation such as the COVID-19. Otherwise, your entire existence is on the verge of getting rattled like how. So, we focus extensively on screen and limiting visitor access to our premises. We understand that at the outset of a pandemic like the Coronavirus, which has already affected more than seven million people, anyone and everyone can be at the risk of contaminating with the virus. While many are affected without showing any sign or symptom, screening the visitors for the common signs is the only way to reduce the escalation of the disease through a threshold. Also, reducing the visitor to our premises has ensured to keep our office safe and employees healthy.
So, these were five of the most effective ways that we enforced to keep our workplace safe in the face of Corona. We hope you all can also take note of the same and protect your employees and associates from the malicious of COVID-19!