11 Benefits of Hashtags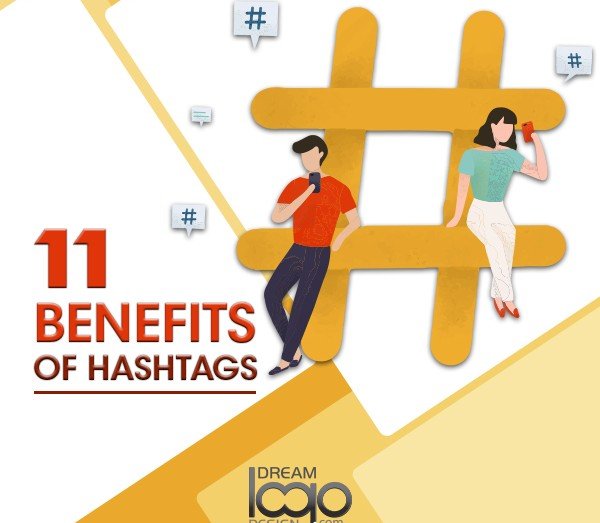 Introduction
Nowadays, the hashtag is much more than just the pound key on your phone; it has become an indispensable content marketing and eMarketing strategy and social media tool for categorizing posts and making content easily searchable. By using the right hashtags, your business can be more visible on social media and encourage audiences to join in on the conversation. Hashtags gained popularity over microblog sites first and were soon supported by many well-known social networking sites, including Twitter, Facebook, Tumblr, Instagram, Pinterest, and Google+.
11 Benefits of Hashtag
By using hashtags, small and large businesses alike can benefit from the popularity of these social media platforms. A hashtag can be incredibly valuable if it is used strategically. You can use them to expose your content to more people, raise brand awareness, target a specific group of people, boost your search traffic optimization tool, and use trending topics and hot topics to your advantage, among other things. The following list will show 11 benefits of using hashtags.
1. Hashtags are Great for Promoting Your Business
The use of hashtags allows your audience to take part in your conversations. Your social media followers will be able to follow what's happening in real-time when you establish a hashtag for a promotion or event. To be effective with hashtags, you should use them moderately. In your posts and updates, you will not need to include them all. You should also avoid using long hashtags.
2. Hashtags Encourage Audience Engagement
By using hashtags, you can open up conversations for your audience depending on which social platform you are using. At the time of deciding which hashtags to use, you should keep in mind that hashtags are used differently on each platform. For example, hashtags that are used on Instagram are likely to describe the picture and video content more than anything else. Other social media platforms, such as Twitter, have hashtags that are focused on a certain topic or group of people that you want to engage.
Use Appropriate and Specific Hashtags for Each Platform
If you are using hashtags on different platforms, make sure you use them appropriately. In most cases, you will be given guidelines for picking and using the appropriate social media platform. When you use the most relevant and popular hashtags on each platform for your business and events, you will be able to reach more people. In addition, by using the paid search campaigns, you will target your audience better and improve the conversions rate of your social media account. Target audiences usually result in more engagement.
3. Hashtags Make Searching More Efficient
The use of hashtags can greatly simplify the process of finding relevant posts as well as specific posts. Search results will be constantly updated when hashtags are popular. Social media platforms and search engines make hashtags more visible when you optimize conversations, content, and updates. Using hashtags is an effective way to search for content and people who are speaking about specific topics.
4. Hashtags Make It Easier To Find You
You will be able to conduct more efficient searches with hashtags, as mentioned earlier. When someone searches for you or what you offer, they do the same. Your audience can use hashtags to search and discover what your business offers across multiple platforms. Twitter and Instagram both have hashtag search options. People who are interested in your services, as well as existing customers, can use hashtags to search for information and posts about you.
5. Hashtags Attract More Followers
The use of hashtags on some social networks, such as Instagram, will help you reach more people, and this will almost always lead to more followers. This can be used as a lead generation strategy for your social media account. Your business becomes more visible when you have more followers. The use of hashtags is more helpful on other platforms for representing the topic of a post and helping users to find related content more quickly.
6. Hashtags Help You to Establish Relationships with Followers
Establishing relationships with your followers can be done in a unique way by using hashtags. People love sharing important moments, events, and purchases through hashtags. They can help you make the most of these social media practices. This enables the opportunity for real customer engagement and more exposure for you. Creating relationships with your followers is possible since people enjoy posting, and you want your followers to be engaged.
7. Hashtags are Great for Cross Promotion
As soon as you understand which hashtags are best suited to your business or event, you are likely to use them across multiple platforms. These hashtags are consistently used across different platforms to create multiple conversations. You will gain more exposure and engage more customers with this.
8. Customers Can Easily Give Their Input
Customer feedback will have a tremendous impact on your reputation and business methods. By using social media platforms, you have direct access to the opinions and ideas of your customers. Additionally, they give you an idea of what is hot and trending on the social media platforms that you may have missed otherwise. Hashtags also help you to gather customer feedback and encourage customer engagement, as you can easily find the reaction of the customers about events, promotions, and properties by using hashtags.
9. Hashtags for Photo Content Description
A great photo is the best way of advertisement for selling any product or offering any service. It is important to reach as many people as possible when you post your photography on social media platforms. One of the main business goals of your social media accounts is to gain followers, likes, and appreciation from the viewers. You should use the best hashtags along with relevant ads to describe what you are selling or offering.
10. Hashtags Specify Your Niche
In most cases, buyers have a certain mindset. You can use the best hashtags to promote your properties that suit their requirements, regardless of whether they are looking for luxury homes, ranch-style properties, or vacation homes. For example, you may own an Italian restaurant in Mont-Royal. Using Hashtags like #italianrestaurant, #MontRoyalitalianrestaurant, #MontRoyalrestaurant, etc., you can specify the specific details of your niche, location, and specifics.  Recently, YouTube has launched an optimized landing page for users to discover niche content and videos.
11. Hashtags are a Powerful Marketing Tool
The most important thing is to make sure you know the hashtags that are most relevant to your business and clients in order to use them efficiently. The use of hashtags can help your business reach its full potential when using social media marketing online.
Conclusion
Increasingly, hashtags (#) are being used to facilitate digital interaction, bringing people from all over the world together under one idea. Though hashtags have cemented their popularity in the digital landscape, many people still do not understand what a hashtag is or how it can boost their business.