10 Reasons Why You Should Switch from Wix to WordPress?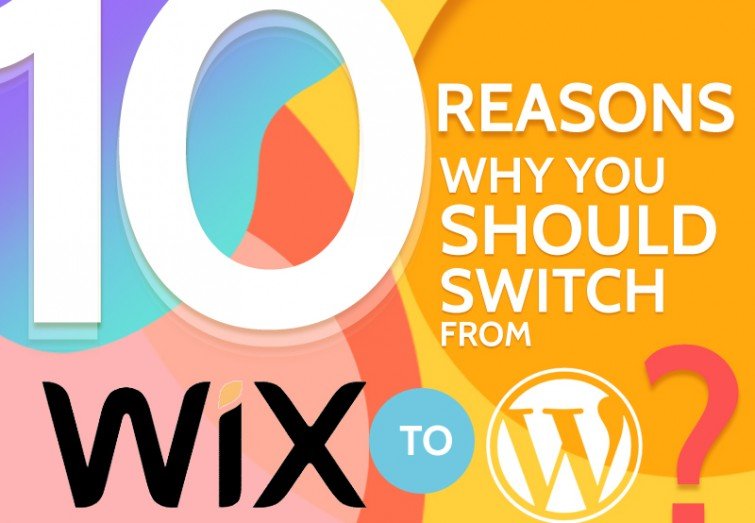 A website is the face of a business. Business owners invest money and time in designing a great website not only to market their products or service but to create an online platform which can be a perfect alternative to their brick and mortar store. Websites today are more professional and build in such a way so that they can give competition to others.
If you a non-technical person and prefer to hire professional web designers to create your website, there are many factors that you need to keep in mind. For example, choosing the right content management system (CMS) for your website is essential. Creating a visually appealing website is fine, but when it comes to select the right CMS, you should be more careful as you may need to upload/remove new contents in the long run.
While WordPress and Wix are both considered as the most popular CMS for professional websites, there are differences between the two. For example, the ease of use of WordPress can easily make it the better choice over Wix. Apart from that, there are many other reasons why you need to switch from Wix to WordPress.
WordPress is a Self-hosted Platform:
The self-hosting nature of WordPress platform gives it a uniqueness. With WordPress, you have the right to choose your own hosting company and run your website in the same. You also have the right to switch between the web hosting service providers according to your wish. On the contrary, to run a website on Wix, you must choose it to host your website as well. This means you have to stick with only one hosting forever. Therefore, if in case you feel that your website is running slowly due to the poor hosting, you cannot just go for another one and transfer your website's data to another hosting service provider.
WordPress is the Most Popular CMS:
WordPress is the most popular CMS and mostly used in the world. Therefore, you will have countless opportunities and online support to help you if in case you need assistance to manage your WordPress website.
Open Sources Platform:
WordPress is an open source platform, which gives you the chance to access its codes more frequently and use your theme, plug-ins etc. This gives you an overwhelming ability to customise your website according to your wish. On the other hand, Wix only has some limited number of tools and apps, created by their team, and you can integrate Wix tools into their website builder.
Unlimited Free Themes and Theme Modification:
With WordPress, you can have the opportunity to choose from an infinite number of free themes to design your website. Besides, there are premium themes that you can purchase as well. Also, the themes can be modified and adjusted according to your design requirements. When it comes to building a website with Wix, you will have more than 400 templates to choose from. However, none of them is customizable, meaning you cannot modify the code or make any specific changes to the design.
Unlimited Plug-ins:
Similar to the themes, you can have access to unlimited number of free plugins in WordPress. Also, WordPress gives you the ability to create your own plug-ins and customise an existing plug-in according to the requirement. Unlike WordPress plug-ins, Wix offers self-made apps to manage their website, but there are a lot less to choose from.
Better Search Engine Optimization (SEO):
WordPress gives you a chance to optimise your website according to the latest SEO parameters. WordPress website is very SEO friendly with numerous SEO features in it. You can use WordPress plugins to add meta descriptions to your pages, analytics, search console code and others. However, Wix offers minimal SEO features.
Heaven for the Bloggers:
If you are a blogger, WordPress is a heaven for you. WordPress was initially launched as a platform for blogging. Creating a blog post is very easy in WordPress, and even the non-technical users can publish their blogs as quickly as writing a story in a notepad.
WordPress is More Affordable:
When it comes to the cost of building a WordPress website, it is more affordable than any other platform. With WordPress, you have to pay for the initial set up of your domain, plus there is an ongoing hosting fee. After that, you can freely run your website by using the free themes, plug-ins available to you.
Wix offers a free website builder tool, but it comes with too many advertisements, which you cannot remove. Also, Wix doesn't give you control over the domain name. While many of the Wix apps are free, you will have some limitations of use if you don't upgrade the same to the premium version.
Ownership Rights:
The most pathetic thing is that Wix doesn't let you own your website, domain content and hosting, unlike the WordPress, which is a self-hosted platform and gives you the ownership for all content you upload in your website.
WordPress Community & Support:
If you need help or support, you can quickly look for the WordPress community, which is full of experienced web developers, who are ready to assist you. However, with Wix, you will always need to go to Wix.com for any assistance.