10 Benefits of WordPress Hosting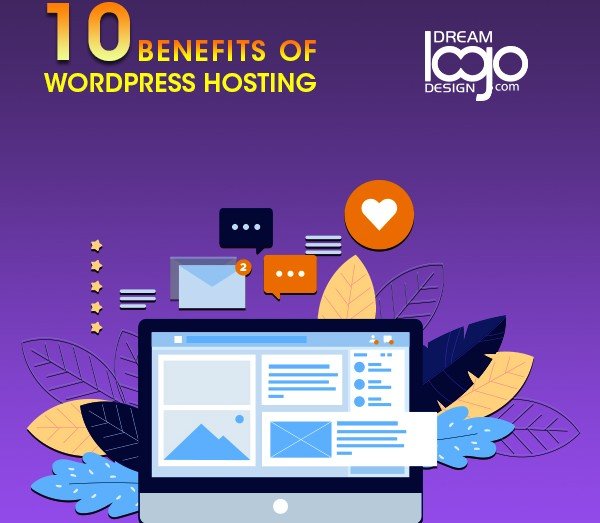 Introduction
The WordPress website statistics indicate that 74 million websites and blogs are hosted by the platform. However, people are often confused by what hosting options are available for their WordPress site. Besides its powerful hosting features, it offers reduced loading times and speed along with enhanced search traffic options. It actually helps to create brand awareness and business goals and increase conversions rate, lead generation for your website. Some WordPress hosting providers offer 30-day free trials so that you can experience the service firsthand.
10 Benefits of WordPress Hosting
WordPress hosting offers extra benefits like automatic backups, security, regular updates, and more, which we will discuss in greater detail in the context of this article.
Support from WordPress Experts
While hosting companies often offer support, managed WordPress providers take advantage of a support team that knows WordPress inside and out. They will be able to assist you with optimized landing pages, plugin conflicts, relevant ads, tricky themes, paid search campaigns, and server issues. WordPress experts know exactly what settings a site needs to run at its best. They can offer reputable recommendations for WordPress-related questions as well. Since managed hosting providers specialize in a specific CMS, the people behind them are more knowledgeable in it and can help with a wide variety of WordPress questions.
The Strong WordPress Security Practices
No matter how safe your website is, you should always keep security in mind. Managed WordPress hosts certainly are not foolproof ways to protect your site, but you will benefit from built-in security enhancements. You can easily recover your site if something goes wrong, thanks to most managed hosting providers who offer nightly backups. Managed hosts not only provide backups but also optimize their servers for WordPress security, eliminating the need to worry about security plugins! Furthermore, it supports two-factor authentication, strong password enforcement, and limited login attempts.
Faster Sites and Better Performance
One of the biggest benefits of managed WordPress hosting is that their entire tech stack is built specifically for WordPress. The result of this will likely be better uptime, a faster loading time, and fewer interruptions. Having a managed WordPress host will provide you with major benefits because it knows how to optimize your server based on the themes and plugins you are running. The managed hosting provider will also be able to provide performance enhancements such as CDNs, servers in various countries, or even automatic scale-out technologies.
One-Click Staging Sites & Local Environments
In order to avoid a white screen of death, it is best to only make small changes in a staging environment. Are you wondering what the staging area of WordPress is? It is a development environment where you can safely experiment with changes before they are pushed into production. No matter whether you consider yourself to be a developer or not, it will benefit any website owner. A staging site is usually included in most managed WordPress hosting plans as an add-on. Setting one up and taking changes live only takes a few clicks. So, anybody can maintain a secure production site.
Features that Go Beyond Server Setups
Having fast and secure servers is essential for a high-performing website, but there are a lot of other things a managed WordPress host can do for your business that are equally valuable. You can use these tools to enhance workflows, collaborate with colleagues, and even learn. Managing a hosting company is much more than simply providing servers; it is like working with a partner. It is worth finding a managed WordPress host that supports your ideal workflow if you want to get the most value from them.
Features at a Glance
Features of WordPress host that will help you to:
Easily collaborate with your team, clients, or a one-time contributor
Develop themes and plugins templates
Demonstrate the site before it goes live
Transfer hosting bills to clients
It is Easy to Add SSL Certificates
Traditionally, you would have to communicate back and forth between your hosting provider and your certificate provider to install an SSL certificate.  An SSL certificate can be installed in a few clicks with a managed WordPress hosting provider. Hosting companies actually played a major part in making SSL certificate installation and accessibility easy for website owners. Many WordPress-managed hosts are now offering free SSL certificates as it is seen as an online best practice. A managed hosting provider can also assist you in obtaining an advanced SSL certificate.
The Ability to Resell Hosting
Approximately 30% of websites run on WordPress. It means there is a large market for hosting out there, making WordPress one of your best opportunities for reselling. There is no surprise that managed WordPress providers encourage reselling of their products. In many cases, reselling workflows are supported by referral programs, partner programs, and sometimes even add-ons of their own. As a result, managed WordPress hosts often make it easy for you to resell hosting, which improves your capacity to generate new revenue streams.
Easy Site Management
Managed WordPress hosts will allow you to organize all of your sites in one place. There is not any need to jump between providers or struggle with different setups; all your sites will be managed out of one place. You will spend less time spinning up new sites if you simplify your providers, especially if you are adding more clients or expanding your agency. By working with a managed host, you and your clients will enjoy a hassle-free setup.
Quick Access to Development Tools
You can access all the common developer tools right from the WordPress hosting application, no matter whether you are developing a new site or troubleshooting one already in place. While some use cPanel, others offer their own personal dashboard that makes the entire experience more appealing and intuitive. With a managed host, you will also have staging sites and local development environments at your disposal. This allows you to design and develop your site quickly and efficiently for any number of clients or sites you are working on.
Hosting by WordPress Lets You Focus on Your Business
Overall, managed WordPress hosting can be an excellent option for you since they will handle all of this for you - and you can focus on what you actually like to do. It is the purpose of managed providers to simplify the process of hosting WordPress sites so that you can work on developing your craft instead of learning the ins and outs of servers. The additional workflow tools will not only increase your business efficiency but will also help you collaborate better with your client and team members.
Conclusion
Fortunately, managed WordPress hosting offers an easy solution for those who run WordPress sites, especially if they are a business. Actually, nowadays, it can be used as an eMarketing or content marketing strategy. There are a lot of benefits offered by this kind of service, and it will undoubtedly save you time and eliminate the stress of manually setting up servers.